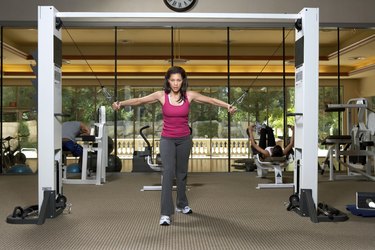 Anytime Fitness is a fitness facility that offers unlimited access to its members without holding "regular" business hours. In 2009, Anytime Fitness expected sales to exceed $150 million and continue growing. To fulfill the needs of its members, Anytime Fitness offers an extensive equipment list.
Treadmills
Treadmills are a standard piece of equipment in a fitness club, and Anytime Fitness offers several different choices. Depending on the size of the individual gym, most Anytime Fitness clubs will have five to 10 treadmills. Two popular models are the 93Ti and 95Ti, which feature a shock absorption system to minimize the impact on your joints. Both models have a built-in 17-inch LCD television with heart rate monitoring. The machines also have treadmill workouts that fit any fitness level.
Free Weights
Anytime Fitness offers essential pieces of equipment for strength training, such as dumbbells, Olympic plates, Olympic bars and preloaded barbells. The free weight area at Anytime Fitness is organized with adjustable benches and dumbbell racks to allow for a variety of exercises, including biceps curls, shoulder press, squats or chest presses. Regardless of your fitness or strength level, you can select the weight that meets your needs to reach your fitness goals.
Fitness Bikes
Fitness bikes offer an alternative to treadmills for cardio training. Anytime Fitness will typically offer different types of fitness bikes, including interactive bikes, recumbent bikes and traditional fitness bikes. The interactive bikes include a video gaming screen where you steer the bike through the course. As you travel the course, the resistance on the bike will adjust based on terrain or hills. Recumbent bikes feature a seat, backrest and handles with heart rate-monitoring. Traditional fitness bikes feature an adjustable seat with ergonomic handles and an accessory tray for a magazine or water bottle.
Strength Training
If you prefer to perform strength training on machines rather than with free weights, Anytime Fitness offers several choices. Common strength training machines found at Anytime Fitness includes cable machines, multi-stations, leg presses, bench presses and a squat rack. Cable machines and multi-stations provide the versatility to perform a number of exercises by easily changing the position of the pulleys and the handle or bar. Exercises commonly performed on the cable machines include lat pull downs, tricep press downs or seated rows. The leg press machine offers a lower body exercise that trains the hamstrings, quadriceps and calf muscles.