Excess belly fat is a problem for many Americans. It is a source of inconvenience and can be the first sign of a need to exercise and adjust your diet. What you may not realize is that there is more than one type of belly fat and that each type of belly fat has negative consequences on individual health.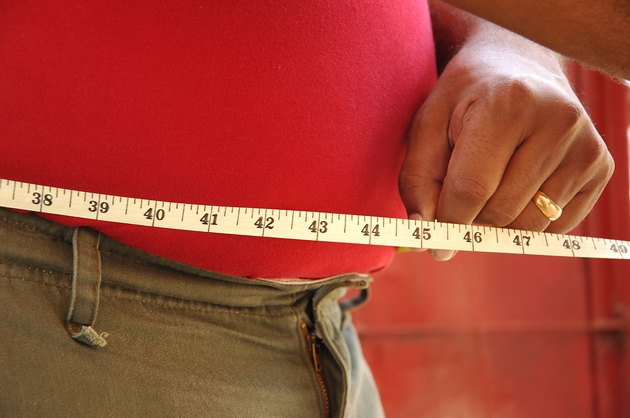 The Problem With Belly Fat
Excess belly fat is more than an inconvenience and issue of vanity. Excess belly fat can pose serious health problems. Because abdominal fat cells are active cells, they can produce hormones in the body that can lead to disease. Some of these diseases include heart disease, diabetes, breast cancer in women and men, colorectal cancer, high blood pressure, metabolic syndrome and gallbladder problems. Reducing excess belly fat will not only reduce your risk for these diseases, but also increase your fitness.
Subcutaneous Fat
Subcutaneous fat is the fat just under the skin. If you are wondering why you cannot see your six-pack abs, it is probably because subcutaneous fat is covering them. The cells in this type of fat are active and can contribute to the development of disease, but the placement and activity level of the cells of this type of fat makes it less dangerous than visceral fat.
Visceral Fat
Visceral fat is sometimes also call intra-abdominal fat. This is because visceral fat is found between your organs in the midsection. The activity level of the cells of visceral fat is what experts like Tim Church, the medical director of The Cooper Institute in Dallas, believe cause your body to be at a higher risk for heart disease and diabetes. And according to Anne McTiernan, lead researcher of a study at the Fred Hutchinson Cancer Center in Seattle, visceral fat is likely to be the fat you will lose first through diet and exercise. McTiernan recommends aiming for 30 to 45 minutes of brisk walking five days per week, but suspects that 60 minutes of physical activity would be more beneficial in reducing belly fat.