If your health care provider has informed you that your insulin is high, you have every right to feel concerned. Insulin is a crucial hormone secreted from your pancreas, and it plays a major role in energy production. When you eat carbohydrates and your blood sugar rises, your pancreas releases insulin to bring blood sugar levels back to normal. Insulin helps glucose get into your cells so your body can use it for fuel. High insulin is a sign of insulin resistance and can lead to problems with glucose control.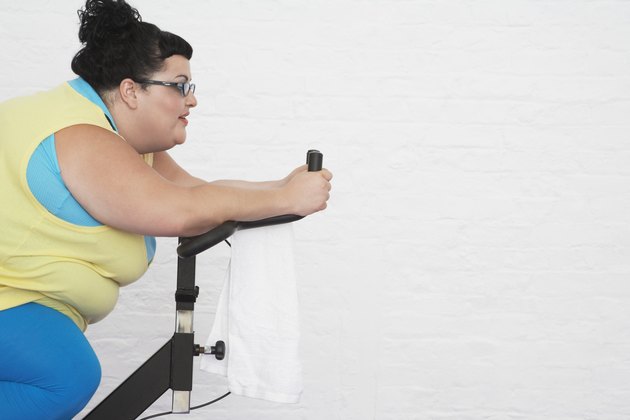 Insulin Resistance
When you have insulin resistance, your body is insensitive to the effects of insulin. The pancreas secretes more insulin to compensate for this and helps glucose levels stay within a healthy range. Most people who have insulin resistance aren't aware of it, according to the National Diabetes Information Clearinghouse. The pancreas can compensate by producing higher levels of insulin for many years. Eventually this can lead to type 2 diabetes.
Domino Affect
Prediabetes commonly occurs in individuals who have insulin resistance, according to the NDIC. In prediabetes, the insulin producing cells in your pancreas, called beta cells, are no longer able to keep up with the added demand to produce enough insulin to overcome insulin resistance. Once this happens, glucose levels rise above normal, because a lack of insulin is not able to keep glucose within a healthy range. Over time, higher-than-normal glucose levels set the stage for type 2 diabetes.
Potential Causes
Science has yet to determine the exact cause of insulin resistance. Experts believe, however, that excess weight, particularly around the midsection -- along with lack of exercise -- are contributing factors, according to the NDIC. Regularly consuming excess calories promotes weight gain, and as your waist circumference increases, so does your risk. Belly fat produces hormones and other substances that can cause insulin resistance, explains the NDIC.
What You Can Do
The good news is that you can do something about it. Increasing your level of physical activity and losing weight through dietary changes can help the body respond better to insulin and reverse insulin resistance, according to the NDIC. You can start by walking for 30 minutes for five days out of the week of the week and by cutting your calorie and fat intake. When you indulge in regular physical activity, working muscles burn stored glucose and remove glucose from the blood to use as fuel. So, exercise plays a role in helping to balance blood sugar levels. Talk to your health care provider about a diabetes prevention diet and lifestyle program. Individuals at risk of getting diabetes cut their risk by 58 percent with diet and lifestyle changes, according to the Diabetes Prevention Program, which was a multicenter study published in the February 7, 2002, issue of the "New England Journal of Medicine."