If you're trying to lose weight, walking 6 miles every day while making changes to how you eat is a good way to go. How much weight you lose will depend on the number of calories you eat vs. the number you burn through walking and other activities. Before you start your walking and weight-loss diet, consult your doctor to discuss your health and any special diet needs.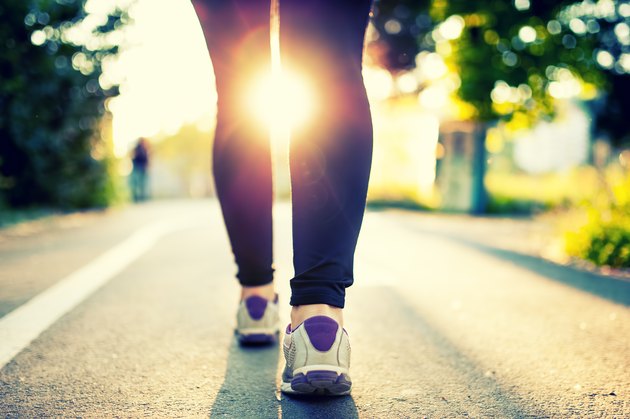 Weight-Loss Basics
Every weight-loss diet works the same way. To lose unwanted pounds, you need to find a way to create a negative calorie balance so your body uses calories -- ideally from your stored fat -- for energy. This is usually done by burning more calories with planned exercise, such as walking, and consuming fewer calories than your body needs.
One pound of fat has 3,500 calories. While weight-loss calorie needs vary, it's generally thought that in order to lose 1 pound a week, you need to create a 500-calorie negative balance every day. For example, a 5-foot-6-inch woman weighing 150 pounds needs 1,930 calories to maintain her weight without any exercise. To lose a pound a week, she'd need to eat 500 fewer calories per day -- only 1,430 calories.
For good health, you shouldn't eat fewer than 1,200 calories a day if you're a woman and 1,800 calories per day if you're a man, unless asked to do so by your doctor. Some people, such as larger, younger men, can cut more than 500 calories a day from their diets and therefore lose more weight over the one-month period.
Calories Burned Walking 6 Miles
How many calories you burn walking depends on three factors: distance, speed and your weight. Distance matters more than speed, however. A general rule of thumb is that a 180-pound person burns 100 calories per mile walking at a pace of 4 miles per hour, or 600 calories for 6 miles. A 150-pound person burns about 500 calories in 6 miles, and a 125-pound person burns about 400 calories. No matter your weight, when walking at a pace of 4 miles per hour, it will take you about an hour and a half to walk the 6 miles.
Monthly Loss from Walking and Dieting Combined
Taking it all together, how much weight you lose in a month walking 6 miles every day and following a reduced-calorie diet depends on your starting weight and how many calories you cut. So a 180-pound person who walks 6 miles per day and eats 500 fewer calories creates a daily 1,100-calorie deficit, which in 30 days equals 33,000 calories and leads to a 9.5-pound weight loss over the month. A 150-pound person walking 6 miles per day and eating 500 fewer calories would create a 1,000-calorie daily deficit, which in 30 days equals 30,000 calories and leads to an 8.5-pound weight loss, and a 125-pound person following the same walking and diet routine creates a 900-calorie daily deficit, which equals 27,000 calories over 30 days, leading to a 7.7-pound weight loss.
You shouldn't lose more than 2 pounds a week as a rule. Losing too much weight too quickly may lead to more muscle loss than fat. In this case, if you're losing too quickly walking 6 miles a day, you may not need to cut as many calories.
Eat the Right Foods
When you're restricting your calorie intake to lose weight, you want to make sure you eat the right foods so your body gets everything it needs for overall good health and weight loss. That means more whole foods that are naturally rich in nutrients and low in calories, such as fruits and veggies; whole grains such as whole-wheat bread and quinoa; healthy proteins such as chicken, salmon and beans; and low-fat dairy or dairy alternatives. It also helps if you limit your intake of junk food, including soda, fast food, frozen meals and chips, which are high in sugar or salt or unhealthy fats.
To keep hunger at bay and get enough energy up for your daily walks, eat regularly throughout the day with three meals and one or two snacks. Control calories and portions by filling half your plate with fruits and veggies, leaving one-quarter for your protein and one-quarter for your grain.
Fueling Your Daily Walk
Walking 6 miles a day is an ambitious feat, and while weight loss may be your goal, you want to make sure your body is properly fueled so you can get those miles in at a strong pace. Carbs -- fruit, grains and veggies -- are the fuel your muscles need to power your body as you walk. Eat your carbs one to three hours before walking to get the energy you need without upsetting your stomach. Good carb-rich ideas include a peanut butter and banana sandwich, yogurt and strawberries or whole-grain crackers and cheese. Also be sure to drink 16 ounces of water before your walk -- especially if it's hot and you're walking outside -- and continue to drink as you exercise.
Refuel after your long walk with a snack consisting of carbs and protein -- a glass of low-fat chocolate milk or turkey and an apple -- within 30 minutes of finishing. During those 30 minutes after any workout, your body needs food to replenish energy stores and repair and build muscle. Also, continue to rehydrate with another cup of water.
Consult a registered dietitian to help design an individualized healthy meal plan to go with your walking regimen.