Intense workouts like running and HIIT often steal the spotlight when people think about forms of exercise that come with a lot of physical and mental health benefits. But walking has more than 20 benefits, including everything from lowering your body fat percentage to toning your abs, easing lower back pain and reducing your risk of heart attack and stroke.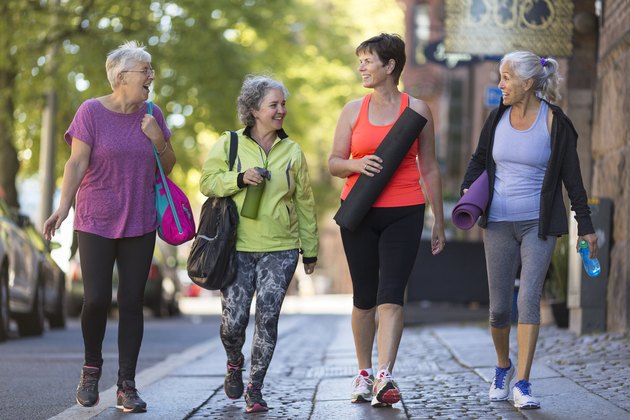 Walking also helps improve your mood, boost endorphins, reduce fatigue and lower your stress hormones. What's more, it's absolutely free and and you don't need a lot of time: Only 15 to 40 minutes a day five days a week can help improve your health.
To help remind you of all the amazing reasons you should be walking, the LIVESTRONG.com team created this printable and pinnable infographic: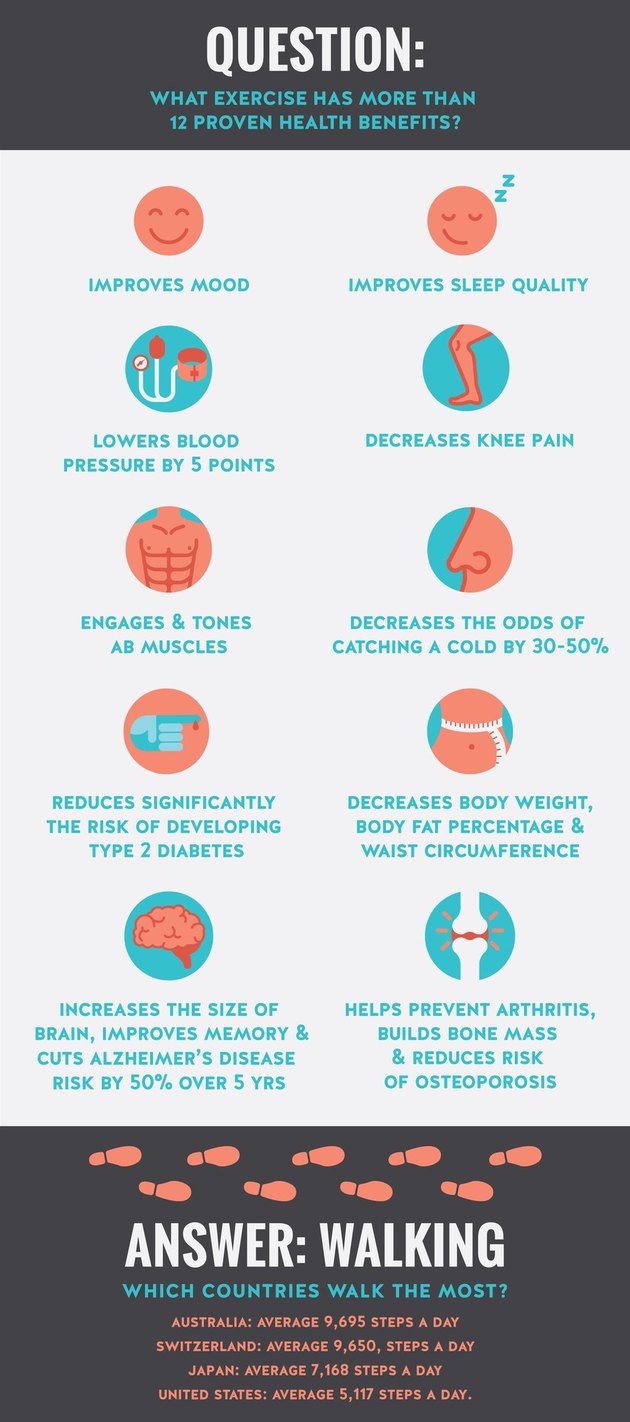 The Health Benefits of Walking
Tips to Walk More Throughout Your Day
At work, go outside during your lunch break and walk for 15 to 40 minutes. Or ask your co-workers to take walking meetings.
At home, make walking your catch-up time with your family. Walk your dog every night also counts. Both you and Fido need the exercise!
Tell yourself to walk just a bit more. Each extra 10 minutes you walk at a decent pace adds about 1,000 steps or more.
Get yourself a pedometer or download a free mobile app such as Every Body Walk!, RunKeeper, Strava or MapMyWalk.
What Do I Need to Start Walking?
It's a great idea to invest in a pair of supportive shoes designed primarily for walking. Cross-training and running shoes are not designed for walking. As The Walking Site points out, "A walker's foot hits heel first and then rolls gradually from heel-to-toe. So, you will need a flexible sole and more bend in the toe than a runner. You should be able to twist and bend the toe area."
And that's it! Lace up your shoes and get walking.