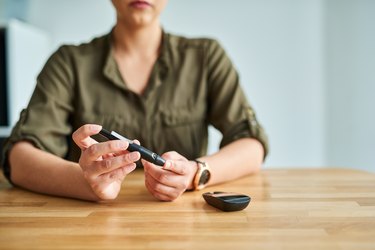 If you check your blood sugar levels in the morning, you may feel as if the results of your blood sugar test set the tone for your entire day. After all, when your glucose levels are higher (or lower) than your goal, you may have to start adjusting your daily routine right away.
What to Expect From Your Blood Sugar in the Morning
After an overnight fast, a normal blood sugar level is less than 100 milligrams per deciliter (mg/dL), according to the American Diabetes Association (ADA). But, according to Susan Spratt, MD, an endocrinologist and associate professor of medicine at Duke University School of Medicine, not everyone with type 1 or type 2 diabetes has to shoot for "normal" levels. (One exception, she says, is people who are pregnant or trying to get pregnant.)
"If you're young, the goal may be to get your fasting blood sugar levels to less than 120 mg/dL," Dr. Spratt says. But if you're older and have other health conditions, that number may be higher, she says.
The ADA points out that not everyone will have the same blood sugar level goals. Instead, your endocrinologist or doctor will calculate your target number based on your age, how long you've had diabetes, whether you have health conditions like heart disease and other factors.
Keep in mind, too, that your fasting blood sugar levels can be too low. For example, a morning blood sugar reading below 70 mg/dL can indicate a hypoglycemia, or low blood sugar.
Target Blood Sugar Levels for Pregnant People With Diabetes
It's possible for diabetes to cause problems during pregnancy. For example, according to the Centers for Disease Control and Prevention, people with type 1 and type 2 diabetes who have uncontrolled blood sugar levels could experience an increased risk of having a premature baby, needing a C-section and more.
Gestational diabetes — a type of diabetes that occurs in a pregnant person who has never been diagnosed with diabetes before — can also cause complications. These include giving birth to a baby who is larger than average and an increased risk of needing a C-section. The ADA suggests that pregnant people shoot for a target fasting blood sugar level of 95 mg/dL or less before a meal.
Keeping your blood glucose levels within the target range will help protect you and your baby.
How to Test Your Blood Sugar Levels
After you wake up in the morning, check your fasting blood sugar levels using a blood glucose meter or continuous glucose monitor (CGM). Before you use a blood glucose meter, the ADA recommends washing your hands (this will eliminate any contaminants that can cause errors or inaccuracies on the reading) and using the lancing device to get a drop of blood. After you hold the test strip against the drop of blood, your blood sugar levels should appear on the meter.
High Blood Sugar in the Morning: Is It the Dawn Phenomenon?
If you have high blood sugar levels in the morning, you may be experiencing the dawn phenomenon, the name given to an increase in blood sugar that usually occurs between 2 a.m. and 8 a.m., according to the Mayo Clinic. One reason this occurs: During the early hours of the morning, our bodies secrete higher levels of a hormone called cortisol, says Dr. Spratt. When cortisol levels are high, it can make you more resistant to insulin, a hormone that helps regulate your blood sugar levels.
"Some people have a striking dawn phenomenon," says Dr. Spratt. "You can look at their continuous glucose tracing [with a continuous glucose sensor] and see that their blood sugar level suddenly goes up at 3 a.m." If this is the case for you, your doctor may adjust your insulin medication or suggest you use an insulin pump (a small device that delivers insulin to your body).
Other Reasons for High Morning Blood Sugar Levels
If you continuously wake up with high blood sugar levels and haven't eaten a bedtime snack the night before, your doctor may need to prescribe you more basal insulin (i.e., a type of insulin that's released to the body gradually throughout the day), says Dr. Spratt.
However, if you typically eat a snack that contains carbohydrates before going to bed and don't counteract it with rapid-acting insulin, your blood sugar levels may be higher in the morning as a result. Switch to a snack that won't raise your blood sugar levels — for example, a pairing of ham and cheese or a few bites of non-sweetened peanut butter, she says.
Lastly, if your blood sugar levels dip too low in the middle of the night, your body may release hormones that "rescue" you from dangerously low levels, according to the Cleveland Clinic. The result is that your liver releases stored glucose, causing your blood sugar levels to be higher than usual in the morning. This is called the Somogyi effect.
If you're experiencing low blood sugar in the four to six hours after a meal, that's a sign that your basal insulin dose is too high, says Dr. Spratt.
"A lot of people have lows of which they are not aware of," she says. "They wake up and their blood sugar is high and assume they must need more insulin at night." But, she explains, it's important to check your blood sugar at 2 a.m. or 3 a.m. to make sure you aren't experiencing a drop in glucose levels.
Talk to your doctor or health care provider about your morning blood sugar levels; together, the two of you can come up with a goal and adjust your treatment plan accordingly.
Was this article helpful?
Thank you for your feedback!
Is this an emergency? If you are experiencing serious medical symptoms, please see the National Library of Medicine's list of signs you need emergency medical attention or call 911.