When it comes to running a marathon, your nutrition plan is just as important as your training regimen. The food eat you provides the energy your body needs to keep going, even when it seems like you'll never get past mile 20. Start with consuming the right number of calories -- that's about 19 to 26 calories per pound of body weight, depending on your age and gender, according to registered dietitian Janice H. Dada in "Today's Dietitian" -- and then focus on consuming the right foods in the right macronutrient ratios.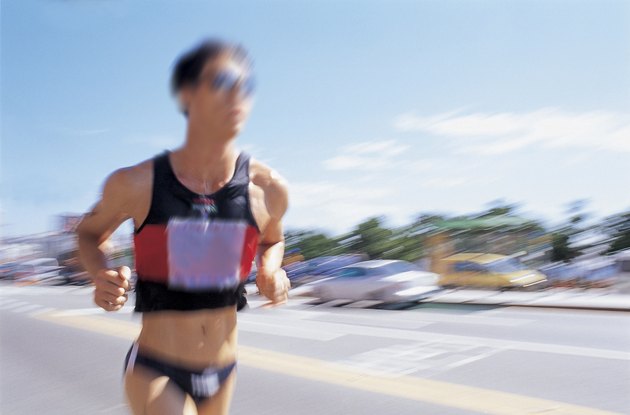 The Importance of Carbohydrates
Although all three macronutrients -- protein, fat and carbohydrates -- are important to a marathon runner, carbs should be the emphasis of your diet plan because it's your body's preferred source of energy. Carbohydrates convert to glycogen to be stored in the muscles; your body uses that glycogen while running. The "wall" you might hit after a number of miles is a result of depleted glycogen stores. The amount of carbs you need per day depends on how far you're going that day. If it's an easy day with just a 30- to 45-minute run, Competitor advises you eat 3 to 4 grams of carbs per kilogram of body weight. For runs that last 120 minutes or longer, such as during your long runs or the marathon itself, consume 8 to 10 grams per kilogram of body weight as part of your diet plan.
Protein and Fat
Just because carbohydrates provide the bulk of your energy while running doesn't mean that protein and fat consumption aren't a vital part of your diet plan. Protein helps your muscles repair and grow, while fat is essential for a variety of bodily functions.. Registered dietitian Allegra Burton says that marathon runners need as much as 50 percent more protein than sedentary adults. Your diet plan should include about 12 to 15 percent of total calories from protein, while less than 30 percent of calories should come from fat. Be sure not to eat too much fat on your diet plan, particularly before you work out -- fat takes longer to digest and can slow you down.
Focus on Food Quality
A marathon runner's diet is not all about macronutrient ratios; the quality of the food you eat matters as well. Competitor recommends six high-quality foods make up the bulk of an endurance runner's diet: vegetables, fruit, nuts and seeds, whole grains, lean meats and fish and dairy. It also suggests avoiding four low-quality foods -- refined grains, fatty meats, sweets and fried foods. Dada also says that runners should take in plenty of antioxidant-rich foods -- such as fruits and vegetables -- to fight the free radicals created by the extra intake of oxygen while running.
On Race Day
On the day of your marathon, plan out your diet in advance. Start the day with a light yet carb-rich breakfast such as a whole-wheat mini-bagel topped with peanut butter and a banana. Sports therapist Katie Hiscock says that after 90 minutes of running, it's time to refuel with high-glycemic index carbs such as dried fruit, oranges or honey. Aim to take in around 120 to 140 calories of carbohydrates per hour of running. When the race is over, eat a blend of protein and carbs, such as chocolate milk or a fruit smoothie made with protein-rich Greek yogurt.