If you regularly hit the gym or the trail for a long, intense exercise session, pay attention to what you consume afterward. A snack or meal containing carbohydrates and protein affects how you recover and improve as a result of your efforts.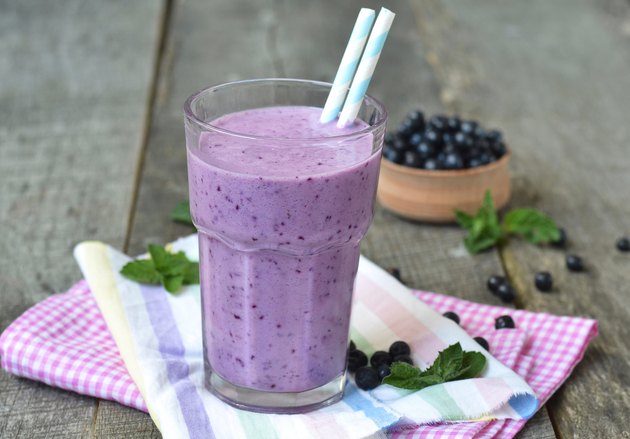 Those trying to lose weight may be inclined to skip the post-workout meal to save calories, but this is a mistake. Active people trying to lose weight should emphasize the post-workout meal to maximize the impact of their session, to recover faster so they can hit the gym again sooner and to prevent excessive hunger that may cause overeating later in the day.
Importance of Post-Workout Meals
You don't need a meal if your workout is a 30-minute walk around the neighborhood, but if you're training for a marathon, a century ride, a triathlon or just lifting heavy weights, eating after training session is critical. Replacing any calories you burned during exercise may seem counterintuitive when you're trying to lose weight, but fueling up right after your workout supports weight loss.
After a particularly heavy or long workout, a post-workout meal helps refill the energy stores you burned off and provides protein to worked muscles to help them repair themselves. If you plan to work out the next day, refilled energy stores means you'll have the energy and strength to exercise intensely and burn more calories.
Consuming the right kind of meal after a workout also encourages your body to hold onto lean mass, rather than burn it off for energy. When trying to lose weight, you want to lose fat, not muscle, because this gives you a toned look, boosts your metabolism and promotes good health.
Post-Workout Weight-Loss Meal
When you work out, your body uses up glycogen — a type of stored carbohydrate used for immediate energy — from your muscles. A post-workout meal containing quality carbohydrates — such as whole grains, starchy vegetables and fruits — helps refill these stores.
You also want the post-workout meal to contain a complete source of protein — such as whey powder, meat or soy. Complete proteins contain all the amino acids you can't produce on your own to promote muscle growth and repair. The branched-chain amino acids, specifically valine, isoleucine and leucine, are especially important in promoting recovery. Whey protein, casein, beef, chicken, soy, eggs, fish and some seeds and nuts are all sources of BCAAs.
A post-workout meal doesn't have to contain hundreds of calories. If weight loss is your goal, aim for just 200 to 300 calories in your after-exercise meal. Be sure to include these calories in your daily tally, and consume a total for the day that's 300 to 500 fewer than what you burn to promote a loss of 1/2 to 1 pound per week. This is a slow enough loss to not compromise your performance at the gym, but rapid enough to produce noticeable results.
Timing of Post-Workout Nutrition
A post-workout meal should be consumed about 30 to 60 minutes after you finish exercising. During this time, your body is able to use the nutrients — particularly the calorie-containing carbs and protein — for fuel, instead of for fat storage.
Low-calorie but nutrient-dense, portable options abound. Carry a shaker bottle with a scoop of whey protein powder mixed into fruit juice; pack a banana and a peanut butter packet; or open a can of tuna and eat it with a few 100 percent whole-wheat crackers. Portable options ensure you ingest your meal in the optimal time — rather than waiting until you get somewhere to prepare it. Premeasuring your meal also prevents overeating, which can sometimes happen if your workout left you feeling famished.
Post-Workout Meal Examples
Eating a combination of carbohydrates and protein in a 4-to-1 ratio may benefit endurance athletes, such as marathon runners, while a 2-to-1 or 1-to-1 ratio benefits strength-training efforts. Such specific measuring of macronutrients isn't essential, though.
Post-endurance meals containing carbohydrates with a small amount of protein include a smoothie made with half of a banana, whey protein and milk; stir-fried vegetables with 2 to 3 ounces of tofu; 2 to 3 ounces of chicken breast with a small sweet potato; or oatmeal with a 1/2 cup of cottage cheese. Other protein-heavy post-workout meals appropriate after strength-training include whey protein powder mixed into milk, Greek yogurt with berries or scrambled eggs with a slice of whole-wheat toast.