Good nutrition is important for everyone, but athletes in particular feel firsthand how not eating properly can affect performance. Their need for calories is greater than the average person, ranging from 2000 to 5000 calories a day, depending on gender, according to Kim Tirapelle, a registered dietician who works with college athletes at Fresno State University. If you're an athlete who lets good nutrition fall down on the priority list, consider the ways it can impact both your performance and health.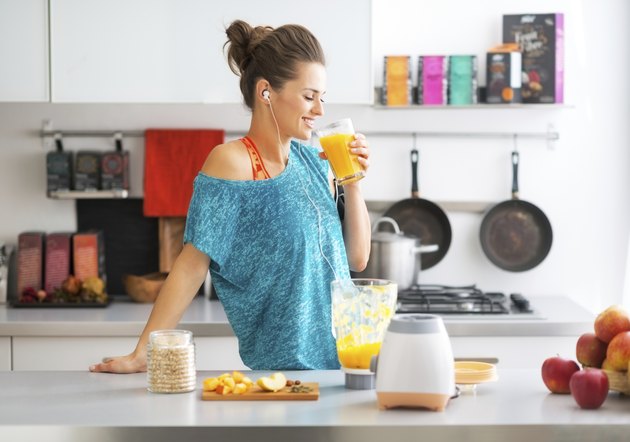 Energy and Performance
Carbohydrates, protein and healthy fats provide the fuel needed to maintain energy. Carbohydrates are involved in regulating your blood sugar and glycogen level in your muscles, which is vital for preventing muscle fatigue. While watching fat intake is important, severely restricting it from your diet is unwise. Fat provides essential fatty acids, and your body uses it as an energy source, particularly if your activity lasts longer than an hour. In fact, it can provide up to 75 percent of the energy endurance athletes need for long-term aerobic performance, according to Dr. Jennifer Anderson, a registered dietician and professor at Colorado State University. Protein helps build new tissue and is also used as an energy source. Your need for protein is higher if you're involved in resistance training.
Weight Control
Good nutrition is also central to maintaining a healthy weight. Weight can be a hot-button issue in athletics, especially if you're a female. If you need to lose weight, severely restricting calories, protein or fat is not only dangerous for your body but also negatively impacts your athletic performance. The American College of Sports Medicine recommends filling up on high-fiber vegetables, fruits, whole grains and legumes to get essential nutrients. Lean protein sources and low-fat dairy foods are also recommended. Working with a registered dietician can help you identify any unhealthy food behaviors and create an eating plan that addresses your unique needs.
Hydration
Staying hydrated is vital when you're working out or participating in sports. Not maintaining fluid balance in your body affects performance and puts you at risk for the effects of dehydration. Water provides musculoskeletal lubrication as well as helps to transport nutrients throughout your body. Dehydration can occur in any environment, but it's a major concern if you're engaged in physical activity in hot or humid conditions. Water is the usual go-to source for staying hydrated, but if you're engaged in intense activity for an hour or more, drinking a sports drink is advisable to replace lost electrolytes.
After the Game
Whether you win or lose, your mind is likely not on nutritional concerns after a game. Yet making it a priority is important, especially if you don't meet energy or fluid needs during activity. Most athletes don't consume enough fluids during events, so restoring balance post-game is essential. The American College of Sports Medicine suggests consuming high-sodium foods such as pretzels, cheese and soup in these cases. Eating a small meal containing carbs, fat and protein within 30 minutes of competition is ideal but may be an unrealistic commitment. If this is the case, try snacking on nutritious foods like whole-grain bagels, apples or bananas.