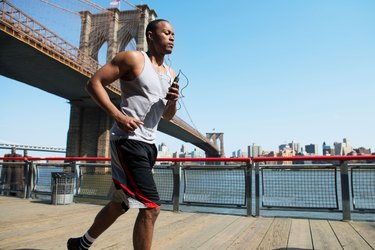 We understand why half-marathon training can be intimidating: It's 13.1 miles, and it can take hours to finish. But with the right training schedule, anyone can run a half-marathon.
In fact, the half-marathon distance is so accessible that your very first race can be a half-marathon — no prior experience required! — but preparation is key.
That's why we spoke to experts for everything you need to know about half-marathon training: how to stay motivated, what to look for in a solid half-marathon training plan and more. So if you're wondering, how should I train for my first half?, read — then run — on.
The Half-Marathon Training Guide for Beginners
You've already made the decision to train for a half-marathon, so first you'll want to choose which race you plan on registering for.
Consider the time of year and race course, so you can train in similar conditions. "Choose a race course that isn't drastically different from where you train," says Cary Morgan, founder of Cadence Run Coaching. "Don't choose a race with tons of elevation gain if you train at sea level, and don't choose a summer race in the southeast if you train in a cold climate."
And no, you shouldn't run a half-marathon next weekend. If it's your first race — and you've never run before — Holly Johnson, director of SRQ Running, which offers training for runners in Sarasota, Florida, recommends training for six months. If you're currently running three or more miles a day at least three times per week, Johnson says a 12-week training plan is enough.
The Running Gear You Need
Once you've chosen the race, you need to make sure you have the proper gear. You'll want to get fitted for shoes at your local running store. Getting professionally assessed involves analyzing your gait and stride to see which shoe is going to be best for your feet.
If you've been training a bit already, you'll want to inspect your shoes to make sure the outsole and tread aren't worn down. Typically, running shoes should be replaced every 300 to 500 miles. If it's time for a new pair and there's an updated model of your go-to shoes, you should still get re-fitted since models can change from year to year.
In addition to running shoes, you'll want to make sure you have the proper half-marathon gear, such as appropriate apparel for the season and any supplemental gadgets like a handheld water bottle or foam roller.
Why You Need a Training Plan
"Most people can go out to a local 5K or 10K with little or no training and cover the distance," says Morgan. Not for a half-marathon. "Most people are amazed how following a structured plan improves their chances of being successful in [those] races."
There are so many plans out there — available in apps, magazines and blogs — that will prepare you to cross the finish line. But if you want to be as successful as possible on race day, either hiring a coach or finding a training group at your local running store is the best way to go.
Tip
A coach can customize a plan for you at every stage of the training process. That way, if you happen to miss a few runs when you're sick or injured, your coach can adjust the schedule to keep you both on track and healthy.
"I always say, writing the plan is 15 percent of what I do as a coach," says Johnson. "The other 85 percent is working on mental strength, nutrition and hydration, plus preparing for weather variables."
What a Solid Half-Marathon Training Plan Looks Like
So what does a half-marathon training schedule for beginners consist of? Be ready to run multiple times per week and cross-train; you'll also want to reserve a few days to rest so your body can recover.
Most runners can expect to see one long run, a few shorter runs (sometimes speed workouts), cross-training and recovery days per week on a typical training schedule.
The big caveat here is if you haven't done speed work before, in which case, don't start now. "Adding both speed work and distance each week can be a recipe for injury or over-training for a first-time half-marathoner," says Nicole Gainacopulos, owner of Momentum of Milwaukee. "If you've already been doing some speed work, you can do one day of speed work during the week."
The Perfect Week of Half-Marathon Training
Here's what your week could look like:
One long run (usually on Saturday or Sunday)
Three medium-length (3 to 7 miles) runs (swap one of these for speed work if you have more experience)
One day of cross-training
Two rest days (one should be the day after your long run)
The Best Cross-Training for Half-Marathon Runners
"The best type of cross-training is the one you enjoy most, but hiking and using the elliptical are good options because they mimic running," says Morgan. "Strength training is also an important form of cross-training, with an emphasis on core work to maintain efficient running form."
Gainacopulos adds that you should do core work two or three times per week, separate from your cross-training days.
What's a Taper?
Another important thing to look for in a training plan is a tapering period. The taper usually takes place one to two weeks before the race and involves cutting down mileage so your body can rest before exerting itself in the race.
It may seem weird to not run as much as possible right up to race day (a lot of training plans won't even have you run 13 miles before the half-marathon), but as the saying goes, "trust the taper."
"When it's getting close to race day, the idea of tapering seems insane," says Gainacopulos. "So many runners make the mistake of running too hard right up to the day of the race because they're afraid of losing their fitness if they don't. But in the last few weeks, it's the rest more than the work that makes you strong. Your aerobic capacity (the best gauge of aerobic/endurance fitness) won't decrease in three weeks."
The Challenges of Training for (and Running) a Half-Marathon
The biggest challenge in training for a half-marathon? Following the schedule. This involves not only making time for training during a busy week, but also staying motivated.
Even though you should do almost all of your runs at an easy, conversational pace, not every run will be easy. In fact, some will be downright hard. You may even intentionally skip some. Should you miss a run or two, know that your training isn't doomed.
"It's generally not a big deal if you miss a day or two of training," says Morgan. "If you're only running three to four days a week, you can substitute a missed run on a previously scheduled off day."
Tip
"The long runs are the bread and butter of half-marathon training, so do your best not to skip them," says Morgan.
If you are sticking to the schedule and find you're in a motivational slump, remembering why you are training and reviewing your goals is a good move. "Write a list of why you're training for the race," says Gainacopulos. "If training starts to get difficult, pull the list out for motivation."
For many runners who are doing their first half-marathon, just finishing the entire distance is a completely reasonable goal. Remembering that you are putting in the work to be able to cross the finish line on race day — and visualizing yourself doing so — is a great way to keep moving forward on the hardest of days.
If you're still struggling, find a gym buddy. "Other people can be highly motivating," says Johnson. "Signing up with someone else as a training buddy can also be hugely helpful in terms of motivation and accountability."
Sample Half-Marathon Training Plans
Ready to start training? Consider one of these half-marathon training schedules for beginners: