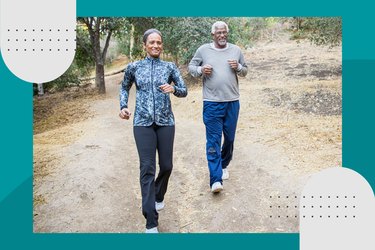 LIVESTRONG.com may earn compensation through affiliate links in this story. Learn more about our affiliate and product review process
here
.
You've started running, and it feels good. Good enough that you're considering running a 5K — a smart choice, considering the 5K (or 3.1 miles) is a great distance for new runners and established athletes alike.
It's fun and doable, and if you've been walking, running or run/walking two to three days a week for at least two months, you're ready. Building your mileage can still be challenging, and there might be days when you don't feel like running at all, but the reward is worth it: You'll feel fitter and stronger and amazed that a distance or pace that used to be hard now feels comfortable.
If you've been toying with the idea of running your first 5K — either on your own or as part of our Best 5K Ever Challenge — you'll get everything you need to build endurance and stay motivated with the five-week training program below, created by Andrew Kastor, coach of the High Sierra Striders in Mammoth Lakes, California.
New to the Best 5K Ever Challenge?
Follow This 5K Training Plan for Beginners
Your goal: Run your first 5K.
You're ready if: You've been running, walking or run/walking two to three days a week for at least two months.

Tip
Print out your training calendar here or save it on your phone so you'll see it every day and stay on track.
This plan builds from an easy run/walk to 2.5 miles of steady running, giving you the distance you'll need to hit the big 3.1 on race day. Each week, you'll increase the amount you run.
You'll run four days each week for the next five weeks, with a rest or cross-training day in between. "The every-other-day schedule minimizes the risk of injury and provides a mental break," Kastor says. Alternating running days also ensures rest days fall on weekdays and weekends, so that the plan can fit into your work and family life.
Your weekday workouts are all measured by time, because it's often easier to check the clock rather than calculate mileage. Sunday's run is in miles so that you can begin to gain a sense of your pace per mile. "Mile workouts are also confidence builders," Kastor says. "Knowing how far you've run offers assurance that you can cover the distance on race day."
Each run begins with five minutes of brisk walking and ends with five minutes of easy walking. You might be tempted to skip these — but warming up and cooling down help you transition into and out of exercise safely, Kastor says. Warm-ups and cooldowns also increase your total workout time, which helps build the endurance you'll need on race day.
"For new runners, the goal is to increase the time you spend on your feet while avoiding injury and having fun."
What These Workouts Look Like
All runs should be done at an easy effort — about a 5 on a scale of 1 to 10. Aim for a conversational pace: It's OK to be a bit out of breath, but you should feel like you could still carry on a conversation. Faster, harder running increases injury risk, Kastor says.
During the first two weeks, the workouts alternate running with a minute of walking. So, "2 x 5 minutes running, 1 minute walk" means you'll run for 5 minutes, walk for 1 and then repeat. Similarly, "3 x 5" means you do that three times.
Those walking breaks are strategic: They help you build distance safely and make adapting to running easier and more enjoyable.
These workouts are steady runs done at a comfortable pace. If you're struggling to finish these runs, slow down.
Long runs build endurance, the base of all distance running. If you don't live near a walking path that has miles marked, measure the distance in your car, head to a local track (four laps equals one mile), use U.S. Track and Field's mapping tool, download an app like MapMyRun or consider investing in a fitness tracker.
Your long runs should closely mimic race conditions, so if you plan to run your 5K outside, try to do these training sessions outdoors, too — but you can also run on a treadmill.
Rest days are full days off from exercise. If you're feeling fresh enough for some cross-training activity, do a workout other than running, such as yoga, swimming, biking, dancing or anything else that you enjoy. Just keep this added exercise easy on the days before your long runs so that you don't start these key workouts fatigued.
Tip
Plans change sometimes. You can rearrange your training for different days of the week to best fit your schedule. Just do your best to preserve the every-other-day routine.
More Helpful Resources for Your First 5K