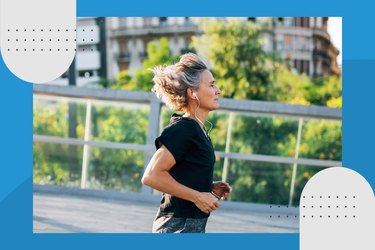 Training for a race doesn't always leave enough hours in the day for a well-rounded fitness routine. And while running is a great cardio workout with loads of physical and mental health benefits, you'll get stronger and leaner — not to mention protect yourself from injuries better — if you combine it with a strength-training program.
New to the Best 5K Ever Challenge?
Follow This 5-Week Running and Strength-Training Plan
Your goal: Build muscle and minimize injury risk while training for a 5K.
You're ready if: You've been running two to three days a week for at least four months and completed at least one 5K race already.

Tip
Print out your training calendar here or save it on your phone so you'll see it every day and stay on track.
You'll run three days a week for the next five weeks. You'll also sprinkle in one to two strength training days, one to two rest days and some cross-training and active recovery. Alternating between running and other exercise gives your muscles time to recover from each workout while still staying active.
Each run begins with a five-minute warm-up (like a brisk walk or easy jog) and ends with a five-minute cooldown with walking and stretching. You might be tempted to skip these — but warming up and cooling down help you transition into and out of exercise safely.
What These Workouts Look Like
These workouts are steady runs done at a comfortable pace — about a 5 on a scale of 1 to 10. If you're struggling to finish these runs, slow down.
Interval training involves short bursts of speed followed by rest or recovery periods. For each workout, after your warm-up, you'll run (or sprint) as fast as you comfortably can for the prescribed time. Then, you'll either run slower or walk to recover.
Your speed bursts should be fast enough to challenge you for the duration but not so much that you have to stop completely. This is especially important during the 2-minute speed bursts in Week 3. Similarly, your recovery should be fast enough to keep your heart rate up but not so fast that you can't speed up.
Long runs build endurance, the base of all distance running. These are measured in miles rather than minutes on your training calendar to help you get a better sense of what your 5K race will feel like. You want this pace to be harder than an easy run, but not as fast as you can or you risk burning out.
Your long runs should closely mimic race conditions, so if you plan to run your 5K outside, try to do these training sessions outdoors, too — but you can also run on a treadmill.
Adding strength sessions to your 5K training plan not only rounds out your workout routine, but it can also help you run faster. On days you choose to strength train, pick from one of the following workouts:
You don't have to forgo other workouts you love over the next five weeks. Use your optional cross-training day to get your heart pounding and your muscles working with Pilates, swimming, Zumba, CrossFit or any other activity you enjoy.
Rest days are full days off from exercise, and they're the perfect time for some self-care. Soak your tired muscles in a warm bath, catch up on your favorite show, write in a journal — the point is to give yourself a mental and physical break so that you don't end up overtraining or injured.
Unlike full-on rest days, active recovery days involve some physical activity, but it shouldn't be strenuous. Try walking, yoga, stretching or foam rolling to continue to burn calories without overworking your muscles.
Tip
Plans change sometimes. You can rearrange your training for different days of the week to best fit your schedule. Just do your best to keep running and strength training days evenly spaced out.
More Helpful Resources for Your Fittest 5K