The fat on your body is not all created equal. Essential fat, such as that in your bone marrow, central nervous system and in your heart, is critical to basic body functioning. Storage fat, however, comes from eating excess calories and can sometimes make your jeans too hard to button. Some storage fat is acceptable; it helps regulate your body temperature and cushions your organs. Too much body fat -- especially the kind that makes your waistband expand -- can endanger your health. Fortunately, this belly fat usually responds first to dietary and exercise efforts.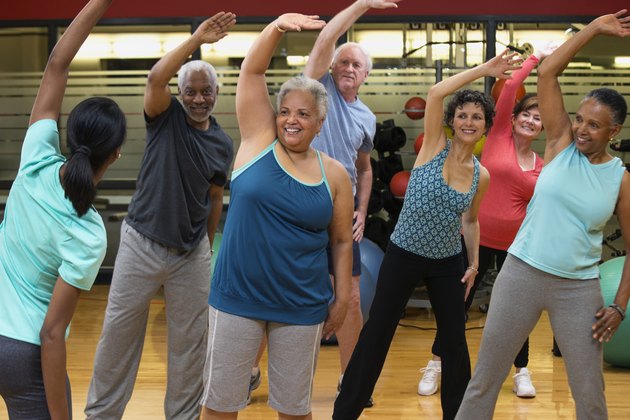 Types of Storage Fat
The fat you see in cuts of beef is intramuscular fat, and you have it throughout your skeletal muscles, too. You also store fat underneath the skin, a type of fat called subcutaneous fat -- the kind that's pinchable in places like the belly, behind and arms. The most deadly type of fat you can harbor is belly, or visceral, fat. This fat surrounds the internal organs and can make the abdomen protrude forward or drape like an apron. A waist size of 40 inches on a man or 35 inches on woman indicates an excessive amount of this fat and elevates the risk for chronic disease, including heart disease, type 2 diabetes and some cancers.
Fat Lost First
When you reduce calories below what you burn and exercise more, you'll lose that harmful deep-belly fat first. The metabolically active nature of visceral fat, which is what makes it so threatening in terms of your health, also makes it vulnerable to loss.
Subcutaneous fat is far more stubborn and harder to lose. Subcutaneous fat may not be aesthetically pleasing to you, but it doesn't carry the same health risks. Your body holds on to it for cases of starvation, emergency or, in the case of women, childbearing. Intramuscular fat may be used for energy; your ability to use this fat more efficiently increases with your fitness level.
Proportional Fat Loss
You can't target from where on your body you want to lose fat. Your body mobilizes excess fat for energy when it senses a calorie deficit. Your belly fat is some of the first fat to be mobilized, but the longer you stay on a diet and exercise plan, you will notice weight loss in other areas too.
Weight loss is usually proportional, so your body shape will stay intact. If you're a hefty pear shape, when you lose weight you'll shrink to a more petite pear, but still have a comparatively larger lower body and smaller shoulders. The less belly fat you have to lose, the sooner your body will dip into subcutaneous stores for loss.
How to Lose Body Fat
Regardless of the type of fat you want to use, the process is the same. You must reduce your calorie intake below what you burn daily. A deficit of 500 to 1,000 calories is usually recommended as this yields a healthy 1- to 2-pound per week loss. For petite or inactive women, a 1,000-calorie deficit may cut calories too low, so cutting only 250 to 500 calories may be recommended. Losing weight too quickly increases the amount of muscle you lose, instead of fat, and increases the likelihood weight will be regained.
Determine your daily calorie needs using an online calculator or by speaking to a dietitian. From that number, subtract 250 to 500 calories to determine how many calories you should eat daily. Make those calories come from nutrient-rich foods like lean proteins, whole grains, vegetables, fruits and low-fat dairy.
Create the rest of your deficit by adding 250 to 500 calories of physical activity daily. A 4 mph-walk for an hour burns about 340 calories for a 155-pound person, or a 30-minute session of swimming laps burns about 372 calories, for example. Being active all day with simple chores also increases your calorie burn.
To encourage your body to maintain muscle mass as you target fat for loss, strength train a couple times per week at minimum. Use resistance bands, dumbbells, your body weight or weight machines to perform an exercise for every major muscle group with at least one set of eight to 12 repetitions, inducing fatigue by the last couple of efforts.