Reducing your waist circumference has nothing to do with hundreds of crunches and sit-ups. To remove fat from your mid-section, you must change your eating habits and increase the amount of physical activity you get each day. There is no magic pill or starvation diet that will allow you to lose your waist and keep off the pounds. Lifestyle changes will reduce your waist circumference and keep off the excess fat.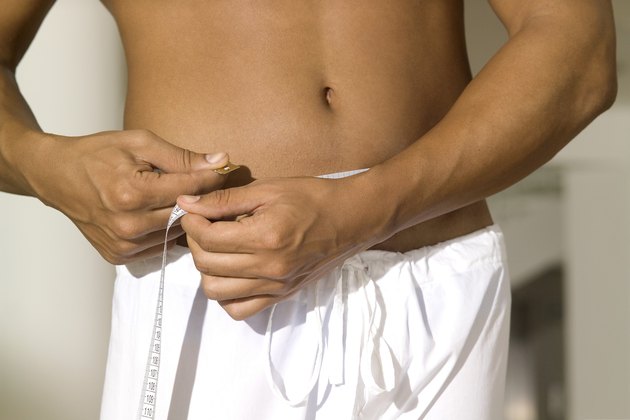 Step 1
Remove high-calorie items from your diet and substitute them with low-calorie items. Your diet should consist mainly of fruits, vegetables, whole grains and lean meats. Check food labels carefully to ensure the food or beverage you're about to consume is low in calories. Remember that nutritional labels are based on one serving of the item, so you need to measure the amount you consume and do your math accordingly.
Step 2
Aim to cut 500 calories from you daily calorie intake. There are about 3,500 calories in one pound of fat, so by cutting 500 calories from you daily calorie intake, you will lose about one pound per week. Cutting calories does not mean you're eating less food. Aim for foods that are high in fiber since these will be most filling and offer several nutrients.
Step 3
Perform 60 minutes of moderate-intensity aerobic activity each day. Exercising from 150 to 250 minutes per week will give you only modest weight loss results, but getting over 250 minutes per week will burn a significant amount of calories, and you will see the difference in your waist circumference. If a person weighing 170 pounds takes a brisk walk for 60 minutes every day, this person will burn 397 calories per day. Burning this many calories in combination with a low-calorie diet is guaranteed to give you results.
Step 4
Do strength-training exercises every other day to help your body burn calories more efficiently. Strength training can be done with your own body weight, resistance bands, dumbbells, barbells or machines. Break your muscle groups into upper body, core and lower body and work only one group per day. To ensure you're lifting enough weight, your muscles should tire after about eight repetitions and the last repetition should be difficult to finish. Perform three sets of eight on each exercise.
Step 5
Add physical activity to your daily routine whenever possible. Take the stairs instead of the elevator, park farther away than necessary and take walks during your breaks at work. The more physical activity you include in your daily routine, the more weight your waist will lose.
Things You'll Need
Fruits

Vegetables

Whole grains

Lean meats

Notebook

Resistance bands (optional)

Dumbbells (optional)

Barbell (optional)
Tip
If you can't exercise for 60 straight minutes each day, try breaking the time into chunks. Try exercising 20 minutes in the morning, 20 minutes in the afternoon and another 20 minutes in the evening.
If you work behind a desk or other area that allows your hands to be free, resistance bands can easily be thrown in your bag and stored in a desk drawer. Track your progress in a notebook. Write down the calories you consume and the physical activities you perform for the day. You also can keep measurements of your waist in the notebook so you can watch your numbers decrease.
Warning
Performing exercises incorrectly increases your risk of an injury. Always consult with a fitness professional before performing exercises with additional weights. If you're underweight, but are trying to decrease your waist size, you may have an eating disorder. Consult with your doctor or a mental health therapist.
Don't be fooled by fat-free and low-fat foods because these items can be loaded with extra sugars and calories. Fat free is not calorie free.