Radiation treatments for cancer include external beam radiation therapy and internal radiation therapy treatments. When patients receive external beam radiation treatments, they are not radioactive and no precautions for the family are necessary. Internal radiation therapy uses a pill, liquid, implant or temporary source to put radiation inside the body to kill the cancer cells, and may require certain safety precautions for staff and family while the patient is in the hospital or at home, according to the National Cancer Institute.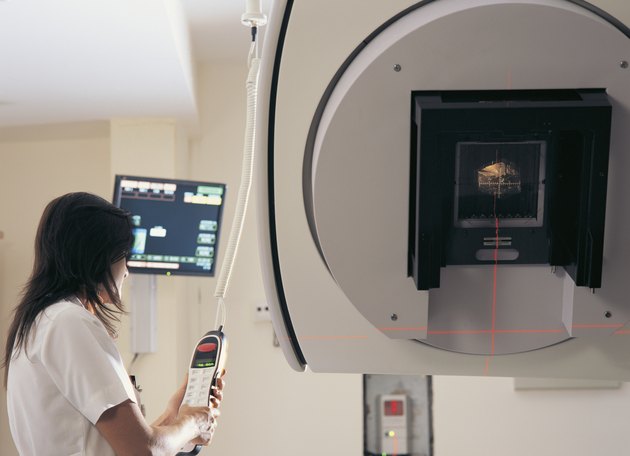 Time, Distance and Shielding
The most common safety precautions related to preventing unnecessary radiation exposure are limiting time near the patient, maintaining a safe distance of three to six feet from the source of the radiation and using lead shielding to protect family and staff.
Internal Radiation
Internal radiation is placed in a body cavity and then removed when a certain dose is reached. In the hospital, a private room is used that sometimes has lead-lined walls or moveable panels. Family and visitors may not be allowed in the room when the radiation source is first put in the patient. Visits should last 30 minutes or less each day. Sit or stand away from the patient and near the doorway or behind the shielding panel. No children under 18 or pregnant women should visit. When the source is removed from the patient, the patient no longer gives off radiation.
Brachytherapy
Brachytherapy uses a solid form of radioactive source placed in the body near the cancer. Sources may be implanted and remain in the body, like seeds used in prostate cancer, or ribbons that move in and out of the body using a machine. If seeds are left in the body, the saliva, sweat and urine are not radioactive so no special precautions related to fluids are necessary. With seed implants, the radiation is contained within the prostate, but pregnant women should not have close contact with the patient. Maintaining a distance of three to six feet from the patient is considered safe for pregnant women. Patients with implanted seeds should not hold children age 18 or younger and visits should be limited to less than one hour at a distance of three feet or more during the first month, according to the National Cancer Institute. Ribbons of radioactive material put in the body via catheters and a machine and then removed require no precautions as there is no radioactivity left in the body.
Systemic Radiation Therapy
Taking a radioactive pill or liquid or receiving a solution administered via a vein makes the saliva, urine and perspiration radioactive. Not sharing the patient's toilet, frequent hand washing, not sleeping with the patient and not sharing food utensils is recommended. Time and distance requirements and good hygiene practices should be used both in the hospital and at home. According to the American College of Radiology, radioactivity in the saliva, urine and perspiration should be gone in two to three days, but infants and children should avoid prolonged contact with the patient for several more days. Infants should not be breastfed once systemic radiation is administered and patients should not get pregnant for one year after treatment.
Diagnostic Tests Using Radiation
There is no risk to family members from diagnostic tests such as PET scans and bone scans that use a very small amount of radioactive substance similar to x-rays.
Is This an Emergency?
If you are experiencing serious medical symptoms, seek emergency treatment immediately.