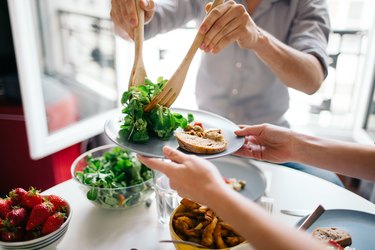 Are you over- or underestimating portions? Well, if you're confused when it comes to portion sizes, you're not alone.
For starters, dining out can totally skew your idea of what a healthy helping looks like. Sometimes the portions you receive at restaurants can be enough to feed three people!
In fact, the National Heart, Lung, and Blood Institute reports portion sizes have nearly doubled over the last 20 years. That's right: The three-inch wide, 140-calorie bagel of yesteryear has since morphed into twice the size and calories.
So what can you do to mitigate this portion distortion? Whether you're trying to slim down or just eat healthier in general, portion control plates — sometimes called portion size plates or meal portion plates — might be your simplest solution.
First, What Is a Portion Control Plate?
ICYMI, half your plate should contain fruits and veggies, while the remaining half should be divided equally among protein and grains.
We chatted with Lagevin to better understand what to look for in a portion control plate, and chose our top picks based on the following criteria:
Accurate portion sizes
Easy to use
Aesthetically pleasing
Widely available
Good reviews
Ready to give it a go? Check out these popular portion control plates that'll help you go from mind‌less‌ to mind‌ful‌ eating in a snap.
1. Health Beet Portion Control Plate and Dairy Bowl
Pros
Free of BPA, phthalates, PVC and melamine
Microwave- and dishwasher-safe
Labels make portioning easy
Cons
No physical dividers between each food group
Some reviews say the colorful decals peel off the plates
Designed by nutrition experts, these colorful plates are perfect for serving balanced meals according to the USDA dietary guidelines. Each of the food groups is labeled clearly to help you keep portions in the right ratio. Plus, they're conveniently dishwasher-safe and don't contain harmful chemicals.
2. Precise Portions Go-Healthy Travel Portion Control Plate Set
Pros
BPA-free
Dishwasher- and microwave-safe
Cons
Only one color option
Some reviewers say the lids don't always stay on well
Practicing portion control even when you're away from home is a lot simpler and more convenient with these dietitian-designed plates. Made with BPA-free plastic, these dishes come with leak-proof lids that'll keep your pre-portioned meals fresh and mess-free wherever you go.
The best part? They're super durable and safe to use in the microwave and dishwasher.
3. Meal Measure Portion Control Plate
Pros
Budget-friendly
Makes it easy to measure out exact portions of food
Cons
A bit bulky; won't lay flush against plates that aren't completely flat
This easy-to-use portion control tool measures healthy portions of food on almost any plate. You simply place it on the dishes you already have, fill each cavity with the appropriate food group, lift it when you're ready to eat and voila: perfect portions! What's more? Every cavity has two lines indicating a cup and half a cup, so you can be even more precise about your portion sizes.
4. Health Beet Portion Plate for Kids and Toddlers
Pros
Colorful design
Free of BPA, phthalates, PVC and melamine
Dividers make it good for picky eaters
Microwave- and dishwasher-safe
Cons
Some reviews say the letters wash off
This plate is designed to hold the correct portion sizes for kids ages 2 to 12 and introduce them to healthy eating. It includes dividers, which make portioning food easier and is also a plus for picky eaters who don't like foods to touch. What's more, the colorful design makes it visually appealing and easy for kids to pile their own food on the plate.
Tips for Choosing a Portion Control Plate
Before you purchase a portion control plate, first think about who will be using it. Only you? Your kids? Keep in mind that children need slightly different portions than adults, so you'll have to buy a kid-friendly option for little ones.
And remember that the plate model will need to be tweaked for athletes, too, because they need more calories and carbs, Langevin says.
If you have a health condition, such as diabetes, or you've undergone bariatric surgery, look for a portion plate specifically meant for people with your condition.
If this is something you'll be using every day, you'll want to make sure it's aesthetically pleasing to you. If you enjoy taking it out of the cabinet, you'll be more likely to consistently use it, which will help you see results.
Benefits of Portion Control Plates
Not only do portion control plates curb portion distortion, they're also a great visual reminder to eat your fruits and veggies, which provide essential vitamins and minerals. Unfortunately, most people aren't getting enough of these nutrient-packed, disease-fighting foods. In fact, only 1 in 10 adults consumes the USDA's suggested amount of fruit and vegetables each day, according to the Centers for Disease Control and Prevention.
Portion control plates can also be useful aids for weight loss. By filling half your plate with fruits and greens, you automatically limit high-calorie and high-starch foods, Langevin tells LIVESTRONG.com. For example, instead of an overflowing bowl of spaghetti and meatballs, pack half your dish with broccoli or spinach. This one simple swap can save you between 300 and 500 calories.
Langevin also recommends meal portion plates for people with diabetes because they help regulate your intake of starchy carbs and promote high-fiber veggies and protein. That's why the American Diabetes Association endorses the plate method as an effective, no-fuss way to manage blood glucose levels.
Because portion control plates support mindful and balanced eating, they can also be helpful guides for anyone recovering from an eating disorder, says Langevin, adding that it's always best to consult a registered dietitian to create an individualized food plan if you're struggling with disordered eating.
Lastly, portion control plates can be used to educate kids about healthy eating habits. "They help children learn what their plate portions should look like, increase their nutrient intake and reduce overeating," says Langevin. Plus, they make packing nutritious school lunches a breeze.
How to Use Portion Control Plates
When using with portion control dishes, stick to non-starchy veggies as much as possible, says Langevin. Translation: Count potatoes as a carbohydrate, not a veggie. And, for those with diabetes, corn and peas fall into the starch category too.
In terms of carbs, choose whole grains like brown rice, quinoa and rolled oats. For that matter, at least half of all the grains you eat should be whole grains, according to the USDA. And beware of foods labeled with words like "multi-grain," "stone-ground," "cracked wheat" or "seven-grain." Often, they're not whole-grain products.
Though most portion plates don't include sections for fats or dairy, you still need both — in moderation — for a balanced diet. For fats, Langevin recommends incorporating healthier options like olive oil and avocado. She also suggests swapping animal-based dairy with unsweetened plant-based products for a great calcium boost with fewer calories.
Once you've plated properly, Langevin advises you to eat your fruits and veggies first, then move to your protein and end with your starches. This order guarantees that you're not missing out on those important plant-based vitamins and minerals.
And don't feel the need to lick your plate clean. "Eat when you're hungry and stop when you're satisfied," says Langevin. "Don't push yourself to finish what's on your plate if you're full."
Tip
What if you finish everything on your dish and you're still craving more? Wait at least 10 minutes, Langevin says. (It takes 20 for your stomach to tell your brain you're full.) If you're still starving, help yourself to another serving of low-calorie, hunger-satiating veggies.