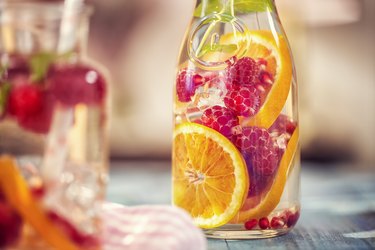 We all know that water is the ideal beverage of choice — but, sometimes, it just doesn't cut it. Unfortunately, many popular drinks we reach for on the regular (think soda and juice) are packed with sugar. And your daily coffee or tea isn't innocent here, either.
Most of us pour much more sugar into our day than we realize: The American Heart Association recommends no more than 6 teaspoons per day of added sugar for women and 9 teaspoons for men — yet the average adult consumes a whopping 17 teaspoons of added sugar per day.
Plus, researchers found that too much sugar can have a negative effect on our health and is linked to heart disease, chronic inflammation and weight gain, per an April 2014 study published in JAMA.
The good news? There are plenty of ways to reduce our added sugar intake and rely more on the naturally sweet stuff.
1. Fruit
Sure, fruit contains sugar — but it doesn't contain added sugars. Along with the naturally occurring sugar, you also get fiber and a variety of vitamins and minerals. Infusing water with fresh fruit is a great way to perk up a glass of water — and your energy levels.
Chrissy Carroll, RD and triathlon coach at Snacking in Sneakers, likes to toss sliced strawberries or pineapple chunks into her water, which adds sweetness and a hint of flavor. "You'll want to drink more because it tastes so good, but you get to skip out on the added sugar that comes along with other sweeteners," she says.
Muddling, or pressing ingredients against the side of a glass or pitcher to release their fresh juices, is another great way to add flavor. Try muddling some fresh raspberries and mint in a pitcher and then top with plain seltzer and ice. You'll have a refreshing beverage and some nutritious fruit to boot!
2. Sugar-Free Simple Syrup
Trying your hand at home as a bartender or heading to a party? Sometimes you just need a simple syrup. Enter Swoon, a sugar-free simple syrup that gets its sweetness from monk fruit extract — a zero-calorie sweetener derived from the monk fruit.
Swoon seamlessly integrates into any beverage, cold or hot. So whether you're drizzling it into a homemade cocktail or adding a splash to your morning latte, you'll get all the sweetness without the added sugar.
3. Homemade Tea Mixes
Experimenting with a variety of tea can keep things interesting. First, choose two different teas and brew them together, creating your own combination. Then, grab a pitcher and make a large batch. Allow it to cool, and then keep it in the refrigerator for iced tea any time. Add additional flavor with sliced lemons, limes or fresh mint if you're looking for a bit more punch.
Here are a few go-to tea combinations:
Peppermint tea + green tea
Chamomile tea + berry tea
Black tea + elderberry tea
White tea + lemon verbena tea
Hibiscus tea + lavender tea
4. Faux Soda
There are many flavored seltzers on the market today, but why not make your own? Juice your own fruits and mix the juice with unflavored seltzer for a fizzy treat that will remind you of soda, but with far less added sugar, Carroll recommends.
Bold flavors, such as grapefruit, pomegranate or tart cherry juice work well, and you'll want to aim for a 3:1 ratio of plain seltzer to juice. So, 6 ounces of plain seltzer mixed with 2 ounces of 100-percent pomegranate juice would equal one serving.
5. Spices and Extracts
Spices and extracts are a fresh way to add flavor to beverages without adulterating them with added sugar. It may not be your first thought, but a few drops of vanilla extract in a steaming cup of tea will lend a delicious yet subtle aroma and taste.
How about adding a dash of cinnamon or nutmeg to your morning coffee? Or, if you're brewing at home, add spices directly to your coffee grounds. Try using 1 to 2 teaspoons of spice per 12-cup pot.