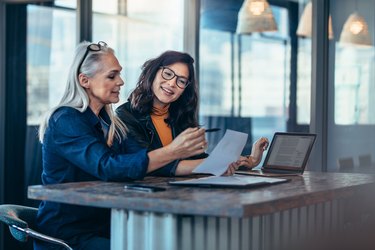 Together with Athleta, we're compiling actionable wellness advice you need from the experts—and Well+Good is bringing it to life all year long at events in NYC. Here, Ladies Get Paid founder and CEO Claire Wasserman shares the basics on how to negotiate your salary.
Negotiating your salary isn't exactly something you innately know how to do. It can be awkward and nerve-racking—but ultimately, your financial wellness can impact every aspect of your life, so learning the basics on how to tackle the conversation is vital.
Claire Wasserman, founder and CEO of Ladies Get Paid—a community that provides tools and resources to help women find their power in the workplace—knows a thing or two about the salary conversation, and how it can be a point of stress and frustration for many people (especially women).
You'd think that getting your work done well would automatically result in a periodic raise, but that's not always the case, says Wasserman. "In order to be recognized and rewarded, you have to find ways throughout the year to make sure your manager is aware of what you've done—and the impact it's had on the business," she says.
That means that every week, you're jotting down all the milestones you've hit or accomplishments you're proud of—and not just a couple days before you plan to meet with your manager. This intel will come in handy when your annual review rolls around or the right opportunity pops up.
Keep reading to learn Wasserman's four steps for negotiating your salary.
1. Make This a Positive Learning Experience
Instead of coming at the negotiation with a sense of dread, come at it like you're working on a skill that you need to hone (which you totally are). "View it as an opportunity to demonstrate to your employer how well researched you are, articulate about the business and your place in it, and how you're passionate about what you do," Wasserman says.
And remember: It's not you against your manager or employer—you all want to be in a positive working environment, and this is a natural step in your career progression.
2. Have an Open Dialogue With Your Manager
"Managing your manager means making sure you're on the same page about your priorities and how they define success," Wasserman says. "Meet as often as possible, and when you come to them with challenges, present possible solutions." This shows that you're engaged in your work and will subsequently make you feel more comfortable when you have that one-on-one sit-down to talk about your potential raise.
"Your manager is most likely overworked, so anything you can do to show initiative and make their lives easier, they'll be enormously grateful to you," Wasserman adds. You can't expect your manager to know every single thing you do, because they also have jobs to do—so having these regular check-ins will prove to them that you're invested and deserve this next step.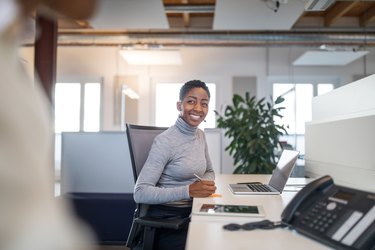 3. Do Some Research
Prior to speaking with your supervisor, gather all the information you need. "Doing research (finding evidence) removes the emotion from the conversation," Wasserman says. When you're well-informed, it takes the uncertainty out of the conversation—you're just simply stating the facts.
4. Figure Out Your Bottom Line
Having a solid understanding of the market value of your role is key—but what happens from there? You need to figure out what number you're personally comfortable with. "Make a budget of all the things that you want to spend and then make a list of everything that is attractive about the company (skills you'll learn, easy commute, fancy title)," Wasserman says.
Determining a clear picture of your own expenses—and also the attributes of the job you value outside of monetary compensation—can help you arrive at the right salary. Ready to ask for a raise?
Is this an emergency? If you are experiencing serious medical symptoms, please see the National Library of Medicine's list of signs you need emergency medical attention or call 911.