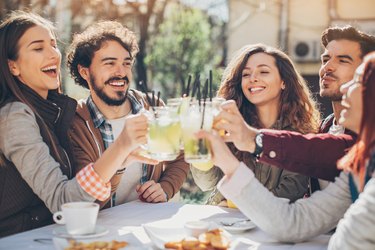 So you've decided to embark on "Dry January" — a month-long journey of abstaining from alcohol as a way of starting the year off right. Whatever your motivation, there are definitely health benefits to taking a break from booze.
For starters, taking a short break (like during the month of January) may lead to long-term changes in your drinking behavior. A 2016 study in ​Health Psychology​ found that those who successfully completed Dry January actually drank less in the months to follow.
Yes, alcohol contains empty calories, but it also messes with your sleep and can increase your chances of getting sick. While you might fall asleep faster post a few glasses, your quality of sleep won't be great. Drinking interrupts your circadian rhythm and actually prevents you from getting deep, restorative sleep. And because alcohol suppresses your immune system, you're more susceptible to infections and colds, according to the Cleveland Clinic.
But taking part in Dry January doesn't have to mean "No-Fun January" or "Anti-Social January." Even though you're not imbibing alcohol, you can still go out and socialize with friends and perhaps enjoy a mocktail — aka alcohol-free cocktail — or two.
These mocktail recipes save on calories and are crafted with more wholesome ingredients. Ask a bartender to concoct these for you when you're out or try your hand at them in your own home to jazz up your weeknights.
1. Instead of a Moscow Mule, Try Our Gingery Kombucha Mocktail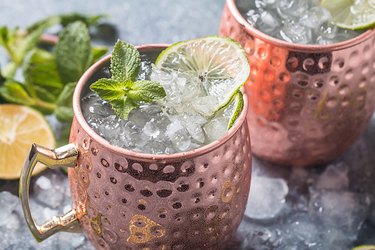 While tasty, a typical Moscow Mule calls for 2 ounces of vodka, 3 ounces or more of ginger beer and a squeeze of fresh lime juice, which totals to about 173 calories and 10 grams of added sugar per drink.
You'll save about 135 calories and 3 grams of sugar. Plus, kombucha is a source of probiotics and antioxidants, making it a much healthier swap over the ginger beer, as outlined in a January 2019 ​Nutrients​ paper.
​Recipe: 6 oz. ginger-flavored kombucha + 1 to 2 tbsp. fresh-squeezed lime juice​
2. Instead of a Long Island Iced Tea, Try Our Pomegranate Iced Tea Mocktail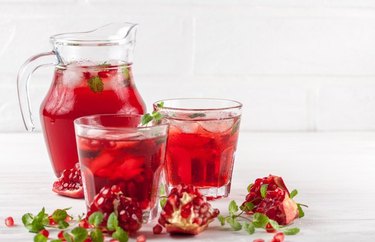 The traditional Long Island Iced Tea is more like a snack with its 250 calories and 19 grams of sugar per drink, thanks in part to the four different liquors it features.
This Dry January, skip the nasty morning-after headache and empty calories with our healthier, hangover-free Pomegranate Iced Tea beverage. This drink has just three ingredients — green tea, 100-percent pomegranate juice and fresh mint leaves — to create an earthy, tasty mocktail with just 40 calories and 8 grams of sugar.
We know green tea is good for us but pomegranate juice is, too. A January 2017 meta-analysis in ​Pharmacological Research​ looked at eight different studies and found that pomegranate juice was linked to reducing blood pressure.
3. Instead of a Gimlet, Try Our Kimmy Gimlet Mocktail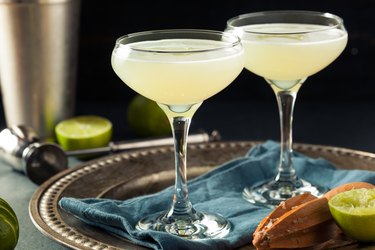 A traditional gimlet features gin, lime juice and simple syrup. Delicious? Yes. Dry January-approved? No.
The classic gimlet contains about 226 calories. Instead, try our healthier take with the Kimmy Gimlet. This drink, to be taken as a shot, combines fresh basil, fresh lime and maple syrup, which creates an intense flavor you'll love, and contains only 60 calories.
Muddling the basil leaves first helps to release the flavors of the herb so they'll blend with the lime juice and maple syrup. Basil boasts potent anti-inflammatory properties, according to a May 2019 paper in ​Genes & Nutrition​.
4. Instead of a Lemon Drop, Try Our Whole Lemon Spritzer
Lemon Drops — the shot and the cocktail — can be delicious but they're a far cry from being remotely healthy. The cocktail combines two ounces of vodka, a half-ounce of triple sec, one ounce of simple syrup and one ounce of fresh lemon juice, which provides 207 calories and 19 grams of sugar per drink.
Instead, enjoy our healthier take with our Whole Lemon Spritzer. The refreshing drink features lemon, water, sparkling water and honey. Simple and delicious, and it only has 24 calories and 5 grams of sugar per mocktail. Lemons are a great source of vitamin C, an antioxidant that supports our immune system and collagen production, according to the National Institutes of Health.