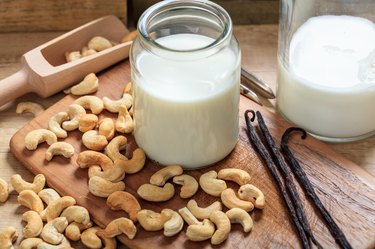 Rich and creamy cashew milk is a popular nut milk and can be an excellent substitute for cow's milk whether you're dairy-free or looking for new plant-based options to add to your smoothie or recipes.
Cashew milk is easy to whip up yourself, putting you in charge of the ingredients and keeping it free of additives that may be found in commercial varieties.
"Common additives include gumming and thickening agents like carrageenan or gellan gum," Chrissy Carroll, RD, says. "While these are considered safe in the food supply, some people report gastrointestinal side effects when they take in large amounts of gums."
A May 2012 article in ‌Biochimica et Biophysica Acta‌ found carrageenan to be pro-inflammatory in animal models and human cells. At this point, most commercial brands have stopped using carrageenan in their nut milks out of an abundance of caution — though there are a few brands out there that still use it.
Homemade cashew milk isn't only free of additives but it's also creamy, delicious and surprisingly easy to make. Plus, it doesn't produce pulp as almond milk does, so there's no need to strain it (one less step of work!).
Because the cashews blend entirely into the final mixture, no nuts, fiber or nutrients (such as magnesium, potassium and protein) are separated from the final beverage.
‌Nutrition per one cup of unsweetened cashew milk:‌ 130 calories, 10 g fat (1.5 g saturated fat, 0 g trans fat), 7 g carbs (0 g fiber, 1 g sugar), 4 g protein
This recipe yields approximately 5 cups of cashew milk, which will stay fresh in the refrigerator for up to 5 days.
1 cup raw cashews, soaked at least 4 hours or overnight
4 cups water
1 ½ teaspoons vanilla extract

Pinch of kosher salt
1 to 2 tablespoons maple syrup, honey, agave, or monk fruit extract (optional)
Pinch of cinnamon (optional)
Pinch of nutmeg (optional)
Drain and rinse cashews.
Place cashews, water, sweetener of choice (optional), vanilla, salt and spices (optional) in a high-powered blender. Blend for 2 to 3 minutes, starting on low and increasing speed gradually, until the mixture is smooth and creamy.
Place cashew milk in a container and store in the refrigerator.
‌Is It Cheaper to Make Your Own Cashew Milk?‌
If you buy raw cashews from the bulk bin at your grocery store, making cashew milk at home can be cheaper than the store-bought options.
Tips for Getting the Best Cashew Milk
Making cashew milk at home might require just three simple steps, but you'll want to follow these best practices to ensure your cup is perfectly creamy:
The longer the cashews soak prior to making the cashew milk, the easier it will be to get a creamy texture.
If the cashew milk is grainy, you can strain it in a nut-milk bag or cheesecloth
If you sweeten the cashew milk, a little goes a long way! Use your favorite sweetener — honey, maple syrup, or anything else you enjoy.
To make thicker or thinner cashew milk, simply adjust the amount of water (use less water if you want it creamy and more water if you want the milk a bit thinner).
Creative Ways to Use Cashew Milk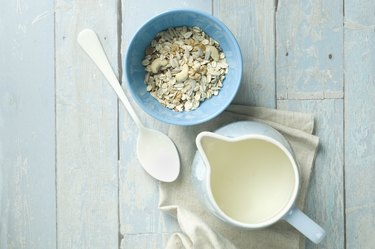 Here are five ideas to help you get your daily dose of cashew milk:
Use it in your coffee or tea, or try it in chocolate milk or Mexican Hot Chocolate.
Use it as the base liquid for a smoothie. Just add whatever fruits and veggies you like!
Use it as the liquid component of stove-top or baked oatmeal recipes.
Use it in your next batch of mashed sweet potatoes.
Swap in cashew milk for dairy products to make creamy, dairy-free soups, sauces and purées.
Was this article helpful?
Thank you for your feedback!