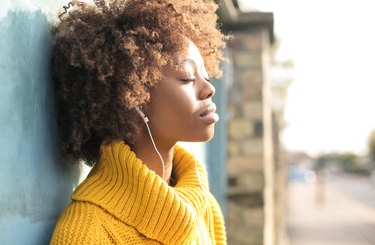 Stress from personal, environmental and racial traumas are difficult to manage. They exact a psychological and physical toll on all people of color. Meditation helps reduce stress and reaffirms our identity and place in the world.
Meditation can be one of many healthy habits you use to cope and recharge. "It can help your creativity, your intuition, your connection with your inner self," says Burke Lennihan, RN, a registered nurse who teaches meditation at the Harvard University Center for Wellness.
Meditation has many benefits. In a January 2014 review in ​JAMA Internal Medicine​, meditation was linked with improved anxiety, pain and depression. According to the Mayo Clinic, mindfulness meditation in particular can help increase positive emotions and decrease anxiety.
But with so many forms of meditation, it can be a challenge to find one that reflects you. Heart-centered meditation quiets the mind and brings awareness to the heart, according to Harvard Health Publishing. Mindfulness meditation encourages you to focus objectively on negative thoughts as they move through the mind to achieve a state of calm. Transcendental meditation involves repeating a mantra to quiet thoughts and achieve greater awareness.
Experiment with guided meditations of different types that might be right for you. To start, try these four Black-led meditations to help you recharge.
1. Stay in the Present With Black Girl in Om
Founded in 2014 by yoga and meditation guide Lauren Ash, Black Girl in Om is a mindfulness organization, lifestyle brand and global community that creates spaces for Black women to breathe easily and promotes the inner beauty of women of color. Their site offers a meditative course called Divine Disruption, a self-paced journey that includes daily journal prompts, weekly thought exercises and guided meditations.
Dedicated to Black girls everywhere, their free meditation invites you to participate wherever you are, whether it's in bed, on your walk to work or in the car with your parents. The meditation invites awareness of inner experiences, such as bodily sensations, thoughts and memories. Paired with soothing music, this meditation allows you to observe stray thoughts and let them float in and out of awareness without judgement.
2. Honor Your Feelings With Candice Nicole Hargons
Candice Nicole Hargons, PhD, is a counseling psychologist and an assistant professor in the University of Kentucky's counseling research program. Hargons offers retreats, workshops and training for people and organizations around sex, relationships and intimacy; she's also passionate about race, leadership development and social justice.
You can hear Hargons's drive for social justice in her uplifting and empowering meditations dedicated to Black Lives Matter. These meditations — one for Black participants and the other for non-Black "allies and/or accomplices" — offer safe spaces to heal racial trauma as well as peaceful and positive mantras for hope and restoration, like: ​Your humanity is not a question​ and ​You don't have to justify anything to anyone​.
Her meditations aim to integrate the heart, mind, body and soul. She encourages listeners to be present and experience any emotions that may come up as you take ownership as an individual instead of representing an entire race.
3. Vary Your Meditation Subject Matter With Liberate Meditation
Liberate Meditation is the leading BIPOC (Black, Indigenous and people of color) meditation app. Founder Julio Rivera created the app in 2019 when he couldn't find online meditation resources to meet his needs, he told Buddhist media site Lion's Roar that year.
Today, more than 50,000 users tune in for the Liberate meditations to reduce stress and anxiety, as well as BIPOC-specific meditations and more than 240 talks covering internalized racism, microaggressions and honoring ancestors.
Users can select meditations from one to 20 minutes that aim to help you move past opinions, self-blame and criticism to foster love for your connections to yourself and others.
"We want to help empower people, not only in meditation, but to show them there's something they can do about their suffering," Rivera told Lion's Roar.
Available on Android and iPhone, Liberate Meditation offers a free seven-day trial, with the option to extend to either a monthly or annual subscription.
Sisters Stacey and Jasmine Johnson created Black Zen to make meditation accessible, relatable and effective for people of color. Founded in 2016, Black Zen is a social movement dedicated to changing the course of human tolerance. Users can access affordable curated meditations for the home, office or community, as well as a six-week beginner's guide to meditation.
In addition to meditations, Black Zen also releases podcasts about wellness, covering topics including grief, strengthening resolve and restoring wellbeing. Their joyful and witty style of guided meditation includes plenty of cultural references, as well, to help you recharge with humor and fun.
Is this an emergency? If you are experiencing serious medical symptoms, please see the National Library of Medicine's list of signs you need emergency medical attention or call 911.