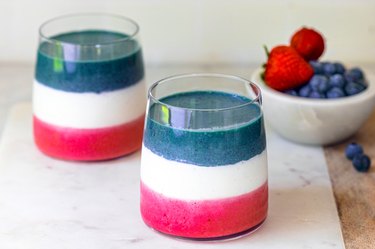 Smoothies are one of those amazing things that are delicious and good for you (if you make them the right way). And when you can blend one that's also pretty and festive, just in time for Fourth of July? Even better.
We tapped recipe developer and blogger Yumna Jawad, the genius behind Feel Good Foodie, to create a red, white and blue smoothie that's easy to make, beautiful and a special tribute to the Fourth. The best part: It's loaded with nutrients and made with just a few wholesome ingredients.
One of the potential pitfalls of smoothies is that sometimes they can pack in a lot of sugar — it's easy to go overboard with too much fruit, and some smoothies also sneak in added sweeteners like honey, syrup or agave. What's more, some smoothies also don't provide enough protein or healthy sources of fat, so they aren't satisfying — which means you'll end up hungry an hour later.
However, this layered smoothie is as balanced and good for you as it is pretty, thanks to the thoughtfully chosen ingredients.
It features both coconut milk and Greek yogurt for healthy fats and protein. "Coconut milk provides satiety while Greek yogurt is a good source of calcium, protein and probiotics," dietitian Maya Feller, RD, CDN, tells LIVESTRONG.com.
Plus, it doesn't have any added sugar — the sweetness comes from blueberries, strawberries and bananas. Berries are high in fiber and lower in sugar than many other fruits, so you get more of what you want and less of what you don't. And the bananas provide some potassium, a mineral that helps maintain healthy blood pressure levels.
"The fruits provide antioxidants, phytonutrients, vitamins and minerals as well as gut-friendly fiber," Feller adds.
Aside from the blueberries, the blue layer gets its vibrant hue from blue spirulina, an algae that's chock-full of nutrients. "Spirulina is an excellent source of plant-based protein and is a potent antioxidant," Feller tells us.
Try the smoothie recipe below to upgrade your Fourth of July festivities in minutes.
Red, White and Blue Smoothie Recipe
1 cup strawberries, frozen
¼ to ½ cup blueberries
2 bananas, sliced and frozen
1 cup plain Greek yogurt
1 15-oz can coconut milk, divided
2 teaspoons spirulina (or more if needed)
Step 1
Place the frozen strawberries with ½ cup coconut milk in a blender. Blend until smooth. Divide the mixture between 2 cups and set in the freezer for 5 minutes while creating the next layer.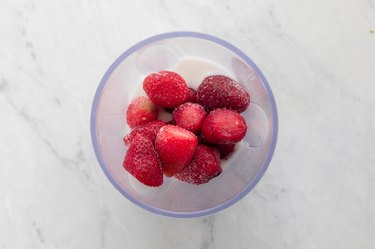 Step 2
Rinse the blender. Add ½ cup coconut milk along with the Greek yogurt. Blend until smooth. Carefully pour over the strawberry layer, dividing between the two cups. Freeze for 20 minutes.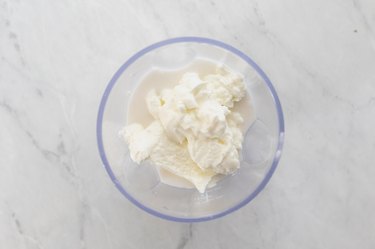 Step 3
Add the frozen bananas, remaining coconut milk, spirulina and ¼ cup blueberries to the blender; blend until smooth. Adjust the blue color by blending in more spirulina or blueberries as needed. Carefully pour over the white layer, dividing evenly.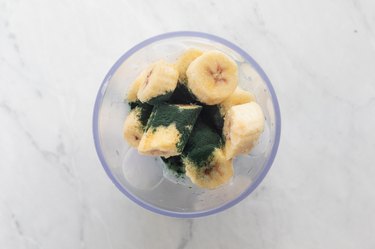 Step 4
Use a straw or spoon to mix the layers before enjoying, if desired.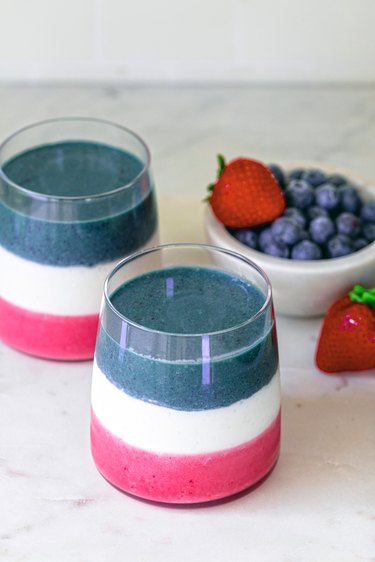 Tips
Use frozen fruit for best results: Although you could use fresh fruit, the layers won't freeze as quickly. Frozen fruit will also lend thickness to the smoothie.
Swap the milk: Coconut milk is rich and adds thickness, but you can substitute dairy milk, almond milk or another milk of choice, if you prefer.
Make it magic: For a bright blue color, use Blue Majic Spirulina. Other types of spirulina will give you a more muted green shade.
Try a dye: You can use a natural food dye in the blue layer if you prefer.