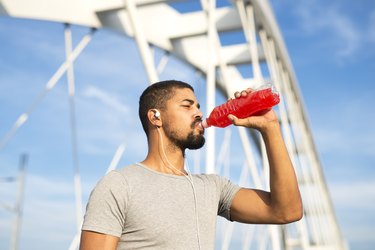 When you feel a 3 p.m. slump coming on, it can be tempting to reach for a super sugary snack or a giant iced coffee. But while a quick fix might help in the moment, you might regret it later on.
"People naturally reach for a sugary snack when they're feeling tired or fatigued. But this quick hit of added sugars can leave you feeling sluggish," says V8 nutrition scientist Elise Deming, RDN. "A moderate amount of caffeine and eating balanced meals and snacks throughout the day can help keep your energy levels steady."
Speaking of steady energy, V8 +Energy® — which offers as much caffeine as a cup of coffee from tea instead, while also giving you extra fruit and veggies — is a better-for-you option than your standard sugary energy drink when you need a pick-me-up.
To ensure you're getting the most from your energy boost, Deming gave us a few tips on what to look for the next time you reach for an energizing sip.
Like Deming covered above, energy drinks don't need a ton of added sugar to be effective (in fact, too much sugar can lead to a crash). V8 +Energy has no added sugar, and instead relies on real fruit juice for its sweetness. Plus, there's only 60 calories or less per can. And, if you prefer your beverages bubbly, try the 11.5-ounce V8 +Energy Sparkling — like all V8 +Energy products, it contains 50 percent less sugar than the leading energy drink.
Extra Nutritional Benefits
Just because you're drinking a beverage specifically for energy doesn't mean it can't offer other benefits as well. One V8 +Energy has one combined serving of veggies and fruits (flavors include pomegranate blueberry, black cherry, orange pineapple and more), giving you a leg up on the USDA's recommended nine half-cup servings of produce a day. "You can feel good about the added benefit of fitting in a combined serving of fruits and vegetables without any added sugar," Deming says.
Yes, energy drinks (V8 +Energy, included) give you a burst of energy from caffeine. But additionally, V8 +Energy is also a great source of B vitamins, which are important for their involvement with energy, according to a January 2020 review in Nutrients.
"B vitamins are an important part of energy metabolism, or the process of turning the food we eat into fuel our bodies can use," Deming says. "Without sufficient B vitamins in our diet, our metabolism would not work properly." Power on.
Was this article helpful?
Thank you for your feedback!