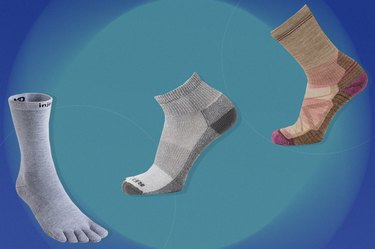 Whether you're trekking between rocks or jumping through puddles, the last thing you want is your socks slipping down into your hiking boots causing blisters.
To keep your feet dry, cool and protected, you need to choose socks for hiking wisely, according to Melissa Garcia, DPT, CSCS, a Washington-based physical therapist and certified strength and conditioning specialist. That means considering the weather and terrain you're hiking in and thinking about the amount of cushioning and ventilation you want your socks to provide.
Here's how to find the best hiking socks, including several pairs you'll want to add to your cart.
Some manufacturers market socks according to gender, so we have listed both women's and men's picks below, when applicable. However, the main difference between most men's and women's socks is foot size. So, it's best to shop according to your shoe size.
1. Darn Tough Hiker Boot Full-Cushion Socks
Merino wool, nylon and Spandex blend
High cushion level
Moisture-wicking
Made of a combination of Merino wool, nylon and Spandex, these cushioned socks are perfect for a long-distance hike, especially in cooler weather, according to Garcia. The thicker fabric provides more insulation while also absorbing shock from rough terrain.
But even if you're hiking during the summer months, you don't have to worry about overheating because Merino wool naturally regulates temperature and fights odor-causing bacteria. Plus, these hiking socks have a performance fit, which means you can hit the trails blister-free.
2. REI Co-op COOLMAX EcoMade Lightweight Hiking Quarter Socks
Lightweight and breathable fabric
Seamless toe pads
Quarter height
Those who prefer an ankle-length hiking sock will love this comfy pair. Thanks to REI's COOLMAX fabric, these socks promise an ultra-light and breathable fit, which makes them perfect for warm-weather treks, Garcia says. They also provide just the right amount of cushioning in the heels and toes to keep your feet and joints happy.
They're also made from recycled plastic, so you can feel extra good about investing in a pair.
3. Smartwool Performance Hike Light-Cushion Crew Socks
Merino wool reinforcement
Underfoot cushioning
Snug fit to prevent blisters
In addition to being thermoregulating and moisture-wicking, the other great thing about Merino wool is its durability. These Smartwool socks have Merino wool woven into the heels, where fabric tends to wear very quickly.
These hiking socks also have a cushioned underfoot for extra comfort on the bumpiest trails. And because they're a wool and nylon blend, Garcia says these socks are a great fit for all kinds of weather.
4. Injinji Liner Crew Toesocks
Five-toe design
Slip-free fabric
Odor-resistant
Injinji's toe socks have a unique five-toe design that bends and extends with your foot, guaranteeing that they stay put throughout your hike. Plus, the COOLMAX, nylon and lycra fibers make them lightweight, breathable and odor-resistant.
Although you can wear these socks on their own, Garcia likes to layer them under a thicker wool pair for snowy, cold-weather hikes.
4 Tips for Buying the Best Hiking Socks
Much like boots, hiking socks come in different heights, including no-show, quarter length, crew and knee-high. The best height for you depends on your boots and the terrain you plan to hike in. Generally speaking, if you have tall boots, your socks should be higher than the cuffs to prevent chafing and blisters, according to REI.
But even if your boots are ankle-length, you may still want taller socks for grassy or rocky hikes to protect your legs along the trail.
2. Find Your Personal Fit
Fit is a personal preference, so you'll want to try a few different pairs to nail down your favorite. Garcia recommends you go with a snug fit if you want a pair that fits more like your everyday socks. This will help prevent the socks from moving around in your boots as you walk.
Most hiking socks are made of a blend of performance fabrics, including wool, polyester, nylon, silk and Spandex, per REI. Why choose socks with fabric blends? Different fabrics all play a part in providing a certain level of comfort, support and protection.
For example, experts recommend wool socks for their thermoregulation. Lycra offers breathability. And polyester, nylon, silk and Spandex are great for wicking moisture away from your feet.
Bottom line: Look on the package for a pair of socks that blends wool with synthetic fabrics.
4. Choose Cushioning Wisely
While some prefer an ultra-lightweight sock, others like the extra cushioning. But the best socks for hiking also depend on the weather. Cushion-free and lightweight pairs are great for warm conditions, while thicker socks are ideal for cold-weather hikes or backpacking trips.
Sock packaging or online descriptions should all make note of cushion level, fabric, and height, so make sure to keep these features in mind.