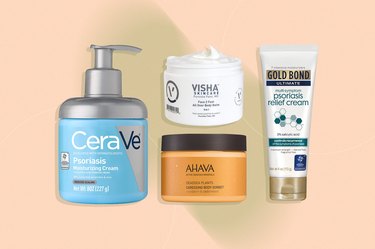 Psoriasis can be a fairly unpleasant skin condition, as it results in flare-ups of itching, inflammation and tenderness that can last for days or even weeks.
"Psoriasis is a genetic skin condition that results in the body's immune system attacking the skin, resulting in plaques of thicker skin," says Purvisha Patel, MD, a dermatologist at Advanced Dermatology and Skin Cancer Associates in Memphis, Tennessee. "The thicker plaques can split and crack, causing the nerves beneath the skin to fire," triggering that itchy, inflamed feeling.
While the condition can occur anywhere, it's especially common in sensitive areas like the elbows, knees and buttocks. Luckily, there are plenty of over-the-counter psoriasis creams and lotions that can help.
So, what's the difference between a cream and a lotion? "A lotion is usually formulated with a higher water content than oil, making it lighter, thinner and more easily absorbed," says Kemunto Mokaya, MD, a board-certified dermatologist in Houston. "Creams are blends of oil and water with a higher oil concentration, making them richer and thicker in consistency than lotions. Creams form a better barrier than lotions but can feel greasy."
Here are some great OTC psoriasis lotions and creams that are recommended by dermatologists.
The Best Psoriasis Creams and Lotions
We tapped dermatologists to share their recommendations for the best creams and lotions for people with psoriasis. The products below were chosen based on the following criteria:
Ingredients
Effectiveness
Availability
Cost
Find more information on how we choose and review products here.
1. CeraVe Moisturizing Cream for Psoriasis
Pros
Contains ceramides for moisture
Exfoliates skin
Repairs the skin barrier
Cons
Pricey compared to some other options
"This has urea and ceramides to help exfoliate the thicker skin and moisturize the skin beneath," Dr. Patel says.
Dr. Mokaya also recommends this cream because it "has 2 percent salicylic acid to exfoliate and remove scales, and has great ingredients like lactic acid, niacinamide (which calms skin), ceramides for barrier repair and shea butter" for soothing the skin.
2. Cortizone 10 Anti-Itch Lotion for Psoriasis
Pros
Relieves itching
Budget-friendly
Cons
Some reviewers say it can feel greasy
Because this cream has 1 percent hydrocortisone, Dr. Patel says it can really help with the annoying itching that often accompanies psoriasis. And while it's an "Amazon's Choice" favorite, it's also very reasonably priced.
3. Gold Bond Ultimate Psoriasis Cream
Pros
Contains salicylic acid to exfoliate
Good for rough patches of skin
Cons
Some reviewers say it's too thick to use during the day
This cream contains 3 percent salicylic acid, which Dr. Patel says "should help exfoliate the rougher parts of the skin and make it smoother."
This makes it a good pick for knees and elbows, too.
4. Visha Skincare Face2Feet All Over Body Balm
Pros
Natural anti-inflammatory
Soothes cracked skin
Cons
Pricey compared to some other options
According to Dr. Patel (who created this balm), this cream has natural anti-inflammatory ingredients that can help soothe cracked skin while also acting as a moisturizing agent.
It also promises to improve the quality of your skin and increase its elasticity, so it's got quite a few perks.
5. MG217 Medicated Multi-Symptom Moisturizing Cream
Pros
Contains moisturizing ingredients like shea butter and aloe vera
Contains salicylic acid
Fragrance-free
Cons
Salicylic acid can be drying on delicate facial skin
"It contains 3 percent salicylic acid, and also has great moisturizing ingredients like shea butter, avocado oil, panthenol (provitamin B5) and aloe vera," Dr. Mokaya says.
6. AHAVA Dead Sea Body Mud
Pros
Contains minerals
Vegan and paraben-free
Cons
Some reviewers say the scent is too strong
"Dead Sea mud has long been heralded as a healing treatment for a variety of skin concerns, including psoriasis, due to the high mineral content," says Audrey Kunin, MD, a board-certified dermatologist and the founder of DERMAdoctor.
The creamy product contains vitamin E, Dead Sea minerals and a calming mandarin and cedarwood scent. It's also vegan and paraben-free.
7. Dermarest Psoriasis Medicated Treatment Gel
Pros
Recognized by the National Psoriasis Foundation
Medicated salicylic acid and zinc
Relieves scalp itching and redness
Cons
Some reviewers say it can feel greasy on skin
If you want a stronger cream that not only soothes skin but helps reduce the amount of scaling and flaking that psoriasis produces, this one by Dermarest could be a good option. It contains 3 percent salicylic acid and zinc to help reduce patches, is fragrance-free and comes with a tip applicator to help target troubled skin. It can even be used alongside a psoriasis shampoo.
Plus, it's dermatologist recommended and recognized by the National Psoriasis Foundation as a helpful cream for psoriasis.
8. Vaseline Petroleum Jelly
Pros
Protect the skin's barrier
Gentle on skin
Fragrance-free
Dermatologist recommended
Cons
Can be too thick on the skin for use during the day
Does not help get rid of thick scales
Sometimes, good old Vaseline can be just the thing to help protect and calm skin with psoriasis. Petroleum jelly is considered an occlusive, a substance often used in skin care to form a protective barrier on the skin and help lock in moisture, per Michigan State University.
Apply a small amount of Vaseline to your scaly patches and help reduce flaking and itching. You can even wear it overnight if you find the texture too thick or greasy for daytime use.
Just note that, while it is moisturizing, Vaseline does not contain ingredients like urea or salicylic acid to break down skin, so it will not help with thick scales.
9. La Roche-Posay Lipikar Triple Repair Cream
Pros
Made with prebiotics to help exfoliate
Softens scaly skin
Cons
Some reviewers say the moisturizer is too thick to pump through the bottle
Exfoliating can be an important part of taking care of skin with psoriasis. Gentle exfoliating substances (or physical exfoliation through things like dry brushing) can be helpful to slough off scaly, flaky skin.
That's where this lotion from La Roche-Posay comes in. It contains soothing agents like shea butter, glycerin and niacinamide. It also has the brand's prebiotic thermal water, which softens patches so they're easier to exfoliate.
Try this lotion prior to exfoliating for best results.
What to Look for in a Psoriasis Cream or Lotion
1. Contains Salycylic Acid
Keratolytic agents soften and remove extra skin cells, such as those of psoriasis. Dr. Mokaya suggests picking a lotion or cream that contains salicylic acid, as that's the most commonly used and effective keratolytic agent.
The exception may be if the psoriasis is in your armpits or groin, Dr. Patel says, because those areas are more sensitive. In that case, you may want to avoid creams with harsh acids.
2. Has Anti-Inflammatory and Antioxidant Ingredients
Niacinamide, aloe vera and arnica are good ones, according to Dr. Mokaya.
She also recommends opting for a rich moisturizer that contains ​​shea butter or avocado oil to help hydrate your skin.
Tips on Caring for Psoriasis
"Consistency in skin care is key to help keep skin healthy and as rash-free as possible," Dr. Kunin says. "Moisturize twice daily, ideally with an active moisturizer that helps lift away dead, dry skin."
2. Take Good Care of Yourself
Creams and lotions certainly help with the condition, but Dr. Patel says the best thing you can do for your psoriasis is to make sure you get at least eight hours of sleep and drink six glasses of water per day, both of which can help keep inflammation in check.
3. Pay Attention to Your Diet
Inflammatory foods such as soda, snack foods, desserts and alcohol may trigger psoriasis flares, so it's best to limit or avoid them (along with any foods you're personally sensitive to).
Instead, prioritize anti-inflammatory fare like fruits and veggies, fatty fish like salmon and probiotic-rich foods like yogurt and kombucha.
Is this an emergency? If you are experiencing serious medical symptoms, please see the National Library of Medicine's list of signs you need emergency medical attention or call 911.