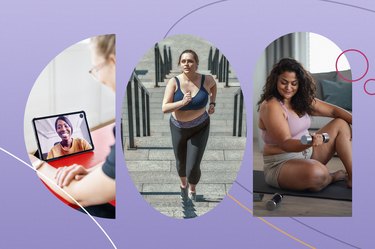 Finding a weight-loss program that doesn't rush or restrict you along your journey but rather creates sustainable, healthy goals is a feat in itself these days.
Take it from adventure-seeking mother, wife and PhD Jennifer Cunningham, who after struggling with her weight for years, finally found Calibrate, a program that not only checks off all of her boxes, but also matches her on-the-go lifestyle. (Paddle-boarding, hiking and running are only some of this family's favorite weekend activities, in case you were wondering.)
Despite her active lifestyle, she could never seem to lose the 60 pounds she gained during her first pregnancy. "It didn't matter how many calories I consumed, or how many calories I burned, my weight stayed the same," she says.
"What was more depressing: My health was suffering. My cholesterol was high, I had prediabetes, and I never felt physically or mentally well. I knew if I didn't find a way to make a change that would tip the scales, my health would continue to spiral."
That's when she began looking for a weight-loss program that would include a doctor and coaching support, and she came across Calibrate. "I was thrilled to learn about its integrated approach and the fact that I would have access to medical professionals and coaches throughout the program," she says.
Not to mention, Calibrate's One-Year Metabolic Reset is a program focusing on its Four Pillars of Metabolic Health (more on this below) — which means no shortcuts or fast tracks, just simple lifestyle switch-ups resulting in sustainable weight loss.
Keep reading for more details about the program, and Cunningham's personal Calibrate review.
Unlike traditional weight-loss programs that operate on the "calories in, calories out" model, Calibrate's mission is metabolic health — without relying on unsustainable calorie restrictions. According to a November 2018 study in ​Metabolic Syndrome and Related Disorders,​ only 12.2 percent of Americans are metabolically healthy, which is why Calibrate digs into the science to help its participants improve their metabolic health.
In addition to unwanted weight gain, poor metabolic health puts people at risk for developing type 2 diabetes, heart disease and other serious health issues, according to the study. To address those problems head on, Calibrate combines one-on-one accountability coaching and tracking, doctor-prescribed medication, a holistic curriculum and community to help people sustainably lose weight and improve overall metabolic health over the course of its 52-week curriculum.
"Calibrate has changed so many different aspects of my life," Cunningham says. "I have built goals, created new skills and maintained those skills throughout the program. It wasn't a generic approach, but a very custom approach to my needs, based on my goals."
In order to make Cunningham's experience custom to her specific needs, the first step of the program was a 45-minute visit with a Calibrate doctor.
For every Calibrate member, that appointment includes going over a comprehensive health intake and lab work, discussing metabolic health and asking questions about the program before really diving in. Then, your Calibrate doctor prescribes an appropriate FDA-approved GLP-1 medication, with lab work and check-ins every three months to measure metabolic improvement.
Alongside the medication, the program offers biweekly one-on-one video coaching sessions to set food, sleep, exercise and emotional health goals that they continue to check in on over the course of the year. And that combination is intentional because it's proven to work — Calibrate's members lost on average 15% of their body weight, according to internal data and surveys of members enrolled in the program over the last 12 months.
"My coach worked with me each week to craft my goals, discuss my concerns and ultimately support my achievements," Cunningham says. "Coaching sessions have provided the support needed through the journey to help create the skillsets for lifelong healthy habits."
GLP-1s (or glucagonlike peptide-1) are naturally occurring hormones made in the gut that send signals to the brain that help to regulate appetite, improve metabolic function and support digestion.
Calibrate doctors prescribe FDA-approved GLP-1 medications that work on the same receptors as your natural hormones, so they're supporting your body's natural processes instead of working against them. "It's not just calories in, calories out — it's biology," Cunningham says.
Depending on the findings from your health history and insurance coverage, you're prescribed a specific GLP-1 in addition to the behavioral changes you'll make throughout your Calibrate year. Calibrate will work with you to help get your GLP-1 medication covered by insurance at a low cost ($25 a month or less), in addition to getting labs covered. In the unlikely event that the team is unable to secure coverage, you'll be eligible for a refund with the medication coverage guarantee.
What Are Calibrate's Four Pillars of Metabolic Health?
Beyond the coaching and medication, Calibrate worked with its Expert Council and Clinical Advisory Board to build the program around sustainable behavioral changes in food, sleep, exercise and emotional health.
The main goals are to make healthier food choices (that include protein, fiber and healthy fats), develop a consistent sleep schedule (7 to 9 hours a night), make exercise a normal and consistent part of your day and to learn to incorporate science-backed stress-reducing methods.
Your coach guides you through learning about and implementing each of those goals each week, and you can always review, modify and, of course, celebrate your customized goals on the Calibrate app and during your one-on-one coaching sessions.
"I'm sleeping better, my stress is reduced and I'm eating much healthier," Cunningham says. "I learned how much one impacts another, how to make adjustments based on my personal needs and how to maintain those habits I set up with my coach for a lifetime."
What Are the Results Like?
Since joining Calibrate, Cunningham has lost 25% of her bodyweight, her cholesterol levels are down and her blood pressure is normal, but she counts the long-lasting nature of her new healthy habits as her biggest success.
"Every other program that I tried would have been short-term, with no results," she says. "Now I have a lifetime of habits — with results — and habits to support those results for the rest of my life."
The best part? Calibrate is so confident that you'll achieve a minimum of 10% weight loss over the course of the year-long program, eligible members who don't hit that number are promised a refund through the The Calibrate Results Guarantee — because it's all about finding healthy results that really work over the long haul.