I spent the first 30 years of my life hiding the fact that I have curly hair. It took a (very) persistent beauty editor at a previous job to convince me that surely, if I found the right products, I would learn to love my natural curls.
But aside from unlearning the internalized, Western beauty standards that taught me for decades to consider my straightened hair more attractive and professional, finding the right products seemed like the most daunting part about it.
Hair — much like the eating patterns, sleep habits and exercise routines I am much more familiar with writing about — is so personal; what feels good and produces the desired results for one person often doesn't for another. I could read as many online reviews as I could find, but I'd need to get my hands dirty — or rather, creamy, mousse-y and gel-y.
Which is why I jumped at the opportunity to review Prose, a personalized hair-care routine I was suddenly seeing ​all​ over my social media feeds. Here's how the experience went for me.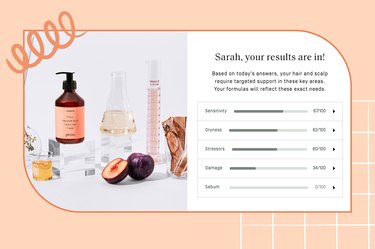 When the Prose team calls their system personalized, they're not kidding. The first step in determining your routine is filling out a 30-question survey that covers age; hair type, length and texture; oil, dryness or flaking; styling habits; diet; shedding and so much more, including your zip code to take into account environmental stressors on your hair.
Even though that sounds like a lot, it really only takes a few minutes to fill in your information and pick your preferences, including for fragrances. I was looking for less frizz, more moisture and (the constant goal) more defined curls. I also find my scalp gets itchy relatively easily, so I didn't want anything to add to the irritation.
Then Prose's algorithm presents you with a line of personalized products including shampoo, conditioner, pre-poo masks and treatments and other styling creams, gels and oils depending on your hair type and preferences.
I opted to stick to the basics — shampoo, conditioner, curl cream — so I could get a sense of how these essentials work for my hair.
I only shampoo about once a week, so this is the Prose product I've used the least. Right off the bat, as a curmudgeonly health journalist, I raised an eyebrow when I saw my shampoo includes CBD, which is typically under-studied and overhyped. But other standouts like hyaluronic acid and collagen made immediate sense for smoothing strands and healthy-ing up my hair.
I love the way this shampoo rids my hair and scalp of product buildup without completely stripping my strands — there's none of that too-squeaky-clean feeling that isn't ideal for moisturized curls.
I also appreciated this small sustainability touch: Prose sent me pumps for each bottle with my first order to keep and reuse for any future orders.
Argan and jojoba oils give my custom conditioner a smooth, nourishing feel. Unlike some drugstore curly conditioners, this one isn't thick and doesn't weigh down my hair.
I also noticed I could use a fair amount less than my normal conditioner to achieve the same silky feel. I appreciated the instructions to leave on for at least three minutes, too; it made many showers that otherwise would have been quick rinses feel like real moments of self-care.
My conditioner is also the best-smelling of all three products. I selected the "floral and summery" Oasis fragrance for my Prose hair care, but the jasmine and white peach are particularly delightful in the conditioner. If your scalp (or nose) is sensitive, you can opt for fragrance-free products.
Loaded with curl-defining polymers (remember those from middle school science class?) and nourishing oils, my curl cream took a little trial and error to get used to. Hoping to make the most of the moderately sized bottle, I didn't want to waste any pumps. But over time I landed on the sweet spot of about three pumps to adequately coat my curls. I found I got the best results when I applied it in the shower with soaking-wet hair.
My biggest pet peeve with curl creams is when they leave a residue on your hands if you touch your hair. You won't get any of that with Prose's curl cream — extra important considering my curls were softer and springier, meaning I always wanted to touch them!
​Buy it:​ Prose.com; ​Price:​ $26 for 5.1 ounces ($22.10 with subscription)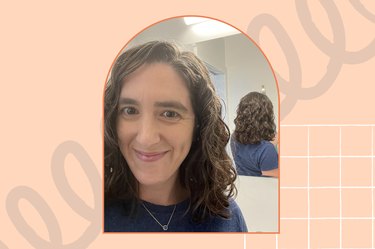 Like any habit you have to stick with, it took about two weeks to notice any real change, but once I spotted some promising results from my new Prose routine, I was pretty pumped.
My curls were becoming more and more defined with each condition (I only shampoo once or twice a week), and I started to figure out exactly how the curl cream worked best for me. At three weeks in, I had such a good curl day, I took an embarrassing number of selfies.
Despite some pretty oppressive July and August New England humidity, my curls were less frizzy than usual, more defined and overall softer and more touchable — a sign the moisturizing ingredients were paying off. I also wasn't fighting the urge to scratch my scalp in the middle of a Zoom meeting as often.
Around this time, I got a friendly email from Prose asking me how it was going so far with the opportunity to personalize my products even further through their Review and Refine process.
This survey prompted me to reflect on how much the issues I had originally reported had or hadn't improved, and promised me, should I choose to order again, I'd get a slightly altered formulation to even better address my concerns. I really appreciated the opportunity to give feedback in hopes of getting even more of what I liked out of these products. You certainly can't do that with an off-the-shelf brand.
As I continued refining my own part of the process, I started setting my curls with a few spritzes of one of my favorite non-Prose products, the DevaCurl Defining Spray Gel ($18.70, Amazon.com) for less frizz and longer hold.
And I mean long: I typically lose a lot of curl definition overnight, even when I follow all the "how to sleep on curly hair" tips (like using a silk pillowcase), but I was excited to see my curls stayed soft and more defined the second day after styling than with other products I've tried.
Even on the third day, I could get away with showing up for virtual work after a fine mist of Ouidad's Monongo Oil ($38, Amazon.com) and no one was the wiser.
At the 30-day mark, I was sold. Even though I thought the bottles seemed small, I still had one-third left of my curl cream, half a bottle of of conditioner and nearly three-quarters of my shampoo. Still, I'm eager to re-up — and I think I might splurge on the Custom Hair Oil ($48), too.
Everyone's hair is different, so of course I can't promise you'll get the results I did. I also can't vouch for the results for folks looking for thicker, fuller hair or who opt to try Prose's hair-growth supplements, which just aren't my cup of tea.
That said, if you're curious like I was to know what all the buzz is about and you have some flexibility in your budget, I think Prose is worth at least a 30-day experiment like mine.
On the topic of budget: Cost is the main downside in the rare negative review you might read of Prose, especially for the size of the bottles. For me, the curl cream is comparable in price to the mousse I was using previously, so it isn't a huge hit to my personal hair-care spending. But if you're looking to save, you'll definitely want to explore the subscription option, which saves you 15 percent.
Is this an emergency? If you are experiencing serious medical symptoms, please see the National Library of Medicine's list of signs you need emergency medical attention or call 911.