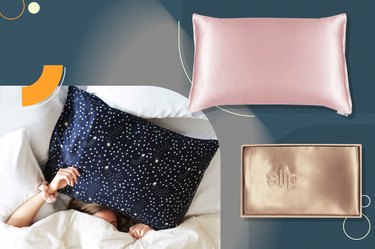 If there's one material that sounds appealing to sleep on, it's most definitely silk. Not only is it soft and smooth to the touch, but it's also luxurious and considered to be as high-end as it gets. What you may not realize, though, is that sleeping on silk can actually be quite beneficial for your health, especially your skin.
Sleeping on silk helps prevent fine lines, wrinkles and sagging by reducing tension on the skin, says Dendy Engelman, MD, cosmetic dermatologist and Mohs surgeon at Shafer Clinic in New York City.
"Because it is a low-friction material, it doesn't 'grab' or pull the skin as much while we sleep, which, over time, helps the skin stay more youthful," she says.
People who are acne-prone can also benefit from silk's moisture-wicking capabilities: "Silk does not absorb or retain as much moisture or bacteria as cotton, for example, so excess oil, sweat and bacteria is less likely to get trapped in the fibers of the pillowcase and then transferred back onto clean skin while you sleep," Dr. Engelman says.
This moisture-wicking feature can also benefit those with inflammatory skin conditions such as rosacea, eczema and psoriasis.
Silk is also gentler on the hair. In fact, you may notice a smoother head of hair and less breakage if you switch to a silk pillowcase, says Deanne Mraz Robinson, MD, founder of Modern Dermatology and Assistant Clinical Professor of Dermatology at Yale New Haven Hospital.
Cotton pillowcases, on the other hand, have more resistance as you move your head around at night, causing breakage, frizz and sleep lines.
The Best Silk Pillowcases
We chatted with dermatologists to better understand the benefits of silk pillowcases and how to find your perfect fit. We chose our top picks based on their recommendation and criteria, including:
Quality of materials
Price
Ease of care
Temperature-regulating ability
Find more information on how we choose and cover products here.
Pros
Third-party lab tested
Soft
Reduces friction
Doesn't absorb skin-care products
Cons
Not super durable, according to some reviewers
Quite possibly the most popular brand of silk pillowcases, Slip is also a favorite among the dermatologists we interviewed.
"Slip uses the highest-grade, long-fiber mulberry silk and has third-party lab tested their claims of reducing friction and absorption of skin-care products compared to the average cotton pillowcase with a 220 to 360 thread count," Dr. Robinson says. "The doctor and research director in me really loves to see this!"
Dr. Robinson is also a fan of Slip's scrunchies for keeping hair gently pulled off the face while sleeping. This, she explains, helps keep harsh skin care products like AHAs and retinols off of those delicate baby hairs around the hairline.
2. Defenage 100% Natural Mulberry Silk Pillowcase
Pros
100 percent mulberry silk
No toxic dyes
Zipper closure
Cons
Pricey
Limited color options
Made from 100 percent mulberry silk, this pillowcase doesn't skimp on quality whatsoever, containing all the natural elements of silk that make it soft and gentle on skin and hair.
With a zipper closure, you can rest assured that this pillowcase will hold on tight to any pillow you place it over.
3. MYK Pure Natural Mulberry Silk Pillowcase
Pros
Has one side of cotton if you want a change in material
Budget-friendly
Hidden zipper
OEKO-TEX 100 percent certified
Cons
Often out of stock onlined
Although this pillowcase is not made entirely from silk, it does feature one side that is 100 percent momme mulberry silk. The other side is white cotton, so it can be a nice swap if you're looking for a change in material.
The fit is convenient for most standard and queen pillows and has a hidden zipper closure to ensure it doesn't slide off in the middle of the night.
4. Plushbeds 100% Pure Silk Pillowcase
Pros
100 percent mulberry silk
22 momme weight
Easy zipper design
Comes with a laundry bag
Cons
Pricey compared to other options
If price isn't a factor, you're guaranteed to not be disappointed by all that this luxury silk pillowcase has to offer.
It's made from 100 percent mulberry silk with 22 momme weight, which is the absolute best. It has a functional design with a zipper closure that ensures the pillowcase stays on the pillow without sliding off through the night.
It comes with a complimentary laundry wash bag that's recommended for use in your washing machine to assure the quality remains.
5. Brooklinen Mulberry Silk Pillowcase
Pros
OEKO-TEX-certified
Free of harsh chemicals
Helps shield skin from damage
Cons
Not machine-washable, according to some reviewers
Not only is this silk pillowcase made entirely out of mulberry silk, which helps shield hair and skin from friction damage, but the brand's direct-to-consumer business model keeps pricing competitive.
It's an ideal material for all seasons and is super breathable. The brand is also OEKO-TEX-certified for chemical safety, meaning it's tested in an independent lab and certified for chemical safety.
​6. Lunya Original Washable Silk Pillowcase
Pros
Made with high-quality silk
Hypoallergenic
Good for people with eczema, psoriasis and rosacea
Cons
Often sold out, according to reviews
Despite the fact that this pillowcase is made from high-quality silk, it can be tossed right in the washing machine with the rest of your items.
Another plus is the fact that it's hypoallergenic, making it ideal for people with sensitive skin, as well as inflammatory skin conditions such as eczema, psoriasis or rosacea.
What to Know Before You Buy
Here are some features to look for when shopping for silk pillowcases.
If you're shopping for anything "silk," it's important to make sure that it is, indeed, made out of 100 percent silk.
"True silk is composed of a protein called fibroin, and comes from insects — usually silkworms, but less commonly, also spiders, bees, ants and more," Dr. Engelman says.
While this might not sound appealing, natural silk as a material is going to be easier on the skin than anything "silk-like," which is probably made using synthetic fabrics like satin or polyester.
Keep in mind that there is no such thing as "vegan silk." If a "silk" product is labeled as "vegan-friendly" or "cruelty-free," it's likely made from a silk-like alternative.
If something is made from real silk, it's important you follow the washing instructions carefully to make sure you don't compromise the integrity of the pillowcase.
Read the label to make sure you're following washing and drying instructions, notes Dr. Robinson. This will help increase the longevity of your pillowcase.
Tip
You should wash your silk pillowcase as often as your other sheets: about once a week.
You can expect the price of real silk to be more expensive than other materials pillowcases are made out of, so it's important to remember that price is often an indicator of quality.
Look for a price range between $40 to $100 for a real silk pillowcase.
Just as with any pillowcase, it's important to make sure that your silk pillowcase properly fits whatever pillow you intend on using it over.
Pillows come in all shapes and sizes, so be sure to take proper measurements before ordering your pillowcase to make sure the natural fibers aren't being tugged and stretched.
Is this an emergency? If you are experiencing serious medical symptoms, please see the National Library of Medicine's list of signs you need emergency medical attention or call 911.