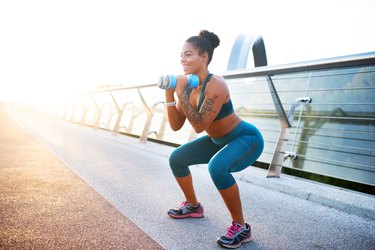 At some point or another, you've probably heard the phrase "don't knock it, til' you try it." When it comes to exercising commando in your leggings, this golden rule definitely applies.
Working out sans undies not only feels heavenly, it can be healthy for your body. Without that extra layer of fabric, sweat more rapidly evaporates, odors stay to a minimum and you cut the risk of chafing, says Jodie Horton, MD, an ob-gyn based in Washington, D.C.
Browse the best leggings for exercising commando and learn how to find your perfect pair.
When it comes to exercising without underwear, for people with vulvas, some leggings are far better fits than others.
So, to eliminate the guesswork (and your risk of disastrous trial runs,) we teamed up with Horton to ID the best leggings for commando workouts. We chose our top picks based on the following criteria. You can learn more about how we cover products here.
Breathability
Fabric
Seam construction
We make deliberate choices about the language we use when it comes to gender. While more brands now carry gender-neutral workout clothes, you'll still typically see clothing brands market their products to men or women.
The main difference between most women's and men's running leggings is the fit: Men's versions tend to be roomier and women's versions tend to be tighter. However, fabrics, quality and comfort should be the same between gender-labeled pairs. We encourage everyone to purchase the products that feel right for them.
The products below are specifically designed and chosen for anyone with a vulva. But just about any person can wear the leggings listed in this piece.
1. Gymshark Vital Seamless 2.0 Leggings
Available in various colors, these workout leggings for women are a stretchy, seamless option that's perfect for a commando workout session. The thick waistband will give your midsection the support and coverage you need, while the built-in crotch panel promises no camel toe.
These bottoms are perfect for yoga, Pilates and even HIIT workouts.
"These are a popular brand liked by many," Dr. Horton says. "Seamless leggings are good because they won't cause chafing or irritation — a great choice for those who want to go commando."
2. Athleta Ultra High Rise Elation Tights
The soft, buttery fabric in these high-rise leggings lend comfort and flexibility as you're contorting into different shapes and poses in your yoga practice. And thanks to its moisture-wicking properties, it keeps you cool through sweaty workouts.
These workout leggings are also rated UPF 50+, so they provide excellent sun protection when you're training outdoors. Available in regular, petite and tall, and nine different sizes, they are flattering on a variety of body types.
A huge fan of Athleta leggings for women, Dr. Horton loves this pair for their added stomach support and soft fabric.
3. Aerie Offline Real Me Xtra Crossover High Waisted Pocket Legging
For those who don't love a seamless fit, these leggings are the next-best choice. With their supportive construction, Aerie's leggings for women promise a chafe-free workout.
They're also built with a fabric panel or gusset across the crotch, which will help prevent discomfort. The bonus is that they have built-in pockets on the sides for storing your phone and other small essentials.
"What makes these leggings unique are the pockets because who doesn't like pockets, and there is no seam in the crotch, so no camel toe," Dr. Horton says.
4. Aoxjox Women's High Waist Seamless Leggings
These beloved leggings are proof that you don't need to shell out a lot of cash to find a decent pair. Thousands of Amazon users give these leggings nearly five stars for their seamless construction and contoured look, which hugs your body in all the right places.
"These are super cute and a great price," Dr. Horton says. "They are squat proof and sweat proof, thanks to the dry technology," which means you won't have to worry about any unwanted reveals during your workout.
Made with 53 percent cotton fabric, these workout leggings for women are definitely a soft, breathable option. Combined with polyester and spandex, they're quick-drying, which means you don't have to worry about sweaty bottoms after your workout.
Although these tights aren't seamless, they're held together with flat-lock seams to help prevent chafing. Plus, they have a four-way stretch so you can squat, jump and lift with ease.
The gusset on these leggings is cotton, so your personal area gets plenty of ventilation while you exercise.
6. All-in-Motion Contour Power Waist High-Rise Capri Leggings with Pocket
Whether you're pounding pavement, doing dance cardio or HIITing it hard, you're going to want to slip into these leggings, which have a capri cut that stops right beneath your knee for extra ventilation.
The flattering high-rise design will fit like a glove without too much restriction, thanks to the moisture-wicking, stretchy fabric, Dr. Horton says.
3 Tips for Finding the Best Commando Leggings
1. Choose the Right Fabrics
When you decide to go commando, you'll want to wear breathable, moisture-wicking fabrics. While cotton is comfy and soft, it's not a quick-drying material, so it's not ideal for sweaty workouts. Save your cotton workout gear for Pilates and yoga (not hot or Bikram) workouts, which you won't leave totally drenched.
Instead, Dr. Horton recommends going for bamboo, nylon or Spandex. These materials pull sweat to the surface of your tights, dry quickly and keep your body (and crotch) sweat-free.
2. Look for a Seamless Construction
Dr. Horton recommends giving seamless leggings (literally, those without any seams) a try because they are flexible and help prevent chafing and camel toe. Seamless leggings also tend to be tag-free so they provide the ultimate comfort and won't irritate the skin.
But if you don't love the feel of seamless leggings, consider flat-lock seams, which won't bulge out of the fabric and rub on your skin.
3. Seek Out Cotton Gussets
Ever wonder why your leggings have a little cotton panel in the crotch area? This cotton gusset is a must-have in your workout leggings, as it promotes comfort, keeps your leggings from shifting around and improves ventilation in the area, Dr. Horton says.
Sitting around in wet bottoms is not only uncomfortable, but it can increase body odor and irritation. Plus, wearing damp leggings for long periods of time can contribute to conditions, like a yeast infection, according to the Mayo Clinic — and that's the last thing you want to deal with.
Was this article helpful?
Thank you for your feedback!