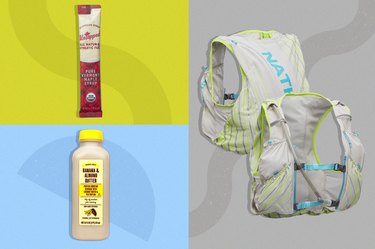 Running isn't easy, and neither is managing diabetes — put the two together and you have a formidable challenge. If you have diabetes, you know that we don't have the luxury of running out the door only wearing the clothes on our backs.
I was diagnosed with Type 1 diabetes at age 9 and got into competitive distance running when I was 13. I can't claim to have figured out how to keep my blood sugars perfectly balanced before, during and after every run in the years since. But I have managed to stay safe and healthy while running with diabetes and training for everything from 5Ks on the road to 50Ks in the mountains.
There are always a few extras we need to carry everywhere. Here are the most important things I bring with me when I'm running.
A Quick Language Note
We make deliberate choices about the language we use when it comes to gender. While more brands now carry gender-neutral workout clothes, you'll still typically see clothing brands market their products to men or women, so we've listed both women's and men's options below when available.
The main differences are usually size and fit (generally, loose vs. tight). However, fabrics, quality and comfort should be the same between gender-labeled pairs.
We encourage everyone to purchase the products that feel right for them, regardless of what the label says.
I do everything I can to set myself up for steady blood sugar during a run, but going low (experiencing hypoglycemia) is always a possibility. That's why no matter how short or how easy the run, I always carry glucose gel or another quick-acting source of sugar.
GU gel packets are my favorite for this because of their smooth and compact packaging, which makes them easy to fit in almost any pocket or hold in my hand without feeling burdened. They come in a variety of flavors and formulas and are easy to buy at specialty running stores or retailers like REI.
Another great option is UnTapped's maple syrup, which raises my blood sugar faster than anything else, including GU, but isn't as easy to find in stores.
If I'm running for less than an hour, my goal is to avoid consuming this glucose — it's with me strictly in case of emergency. On longer runs when I do plan on consuming it, I also need to bring water. Amrie DeFrates, RD, a registered dietitian with Temecula Dietitians, reminded me of this when I asked for her professional opinion on my running fuel.
"One mistake that people can make is taking a GU or something else without fluids," DeFrates says, because "those food items are intended to be followed up with water." Chasing a concentrated glucose gel with water will dilute it to avoid stomach upset and help your body absorb the sugar faster.
For runs close to home or shorter than an hour, I generally disconnect from my insulin pump and only carry my phone and glucose gel. But if I'm heading into the mountains for a long trail run, or planning to spend more than an hour pounding pavement, I'll wear my pump and carry a few extra things. This is where a good hydration vest comes into play: I currently use the Nathan Pinnacle 12.
This vest has a 1.6-liter water bladder and a total of 13 pockets, more than enough for carrying my pump, my phone, multiple glucose gels and extra snacks (because, let's be honest, you can only consume so many gels in a day without wanting to throw up).
I also like the Salomon Pulse Belt, which you can fit a flexible water flask into, and the Ultimate Direction Women's Hydro Short, which comes with two small water bottles that fit perfectly in its back pockets. If you end up using a system with dual flasks or bottles, you can fill one with water and another with Gatorade or another sports drink for even more insurance against low blood sugars.
3. Sports Bra With Pockets
I don't like to feel weighed down when running (who does?) so will always favor running apparel with well-built pockets over extra gear like fanny packs when it comes to carrying essentials. The Brooks Drive 3-Pocket Run Bra is a lifesaver in this regard. The two side pockets (located under the armpits) are perfect for stashing glucose gel and/or a set of keys, while the back pocket allows you to carry a phone between your shoulder blades with zero bouncing.
I use a Dexcom CGM to monitor my blood sugars, and the readings show up on the Dexcom app on my iPhone, so it's helpful to have the phone with me in order to keep an eye on my sugars during each run. I also wear an Apple Watch while running, and as long as my phone is with me, my blood sugars will show up directly on the watch.
If you don't need a sports bra to run (lucky you), it's worth investing in running shorts and pants with well-designed pockets. Some of my favorite women's running shorts are the Ibex Springbok Short and the Janji AFO Middle Short. These both have zippered back pockets that hold phones without bouncing plus additional pockets for gels and keys, and they both come in men's versions, too.
When it comes to fueling for longer runs, DeFrates says, a lot of people will gravitate toward a combination of sweet and salty flavors. (I like to pack peanut butter and jelly sandwiches.) But DeFrates cautions that athletes should stick to consuming mostly carbohydrates instead of protein- or fat-heavy snacks, because our bodies can't digest those macronutrients as well during exercise.
"Pretzels are great," she says, "because you're getting carbohydrates and also salt to keep you hydrated with electrolytes. Other people enjoy dried fruit." I'm partial to dried mango slices and Trader Joe's Many Things Snack Mix, which contains mini pretzels, Chex-like cereal pieces and honey roasted peanuts.
I'll put a few handfuls of mango slices in one small ziplock bag and a few handfuls of the TJ's snack mix in another to carry in my hydration vest on long runs. That's my perfect sweet and salty combination: the dried mango raises my blood sugar quickly and the snack mix satisfies my salt cravings while also providing a little more blood sugar stabilization than the simple sugars in mango alone.
I've found I can tolerate the protein and fat in peanuts and peanut butter, but everybody is different — as DeFrates says, you have to experiment a bit to find what works for you.
5. Pre- and Post-Run Essentials
For most runs, you can get away with carrying very little as long as you've prepared properly: I'd argue that fueling and hydrating well in the hours before your workout is even more important than what you eat and drink during it, especially when it comes to managing your blood sugars.
I've found my blood sugar is more likely to go uncomfortably high during a run if I'm dehydrated, which happens all too easily in the summer. When it's super hot outside I like to add Nuun Daily Hydration tablets to the water bottle I keep on my desk during the work day.
To avoid going low during a short run, I try to start the run when I have very little insulin in my system, which means I can't have eaten very much or at all in the two hours beforehand. (Waking up early and running first thing in the morning is ideal for this approach.)
But I don't enjoy running more than a few miles on an empty stomach. If I'm running longer, I'll drink something that has a little bit of protein and not too many carbohydrates, like a whole milk latté or another Trader Joe's favorite: a banana almond butter smoothie.
That smoothie is the No. 1 thing I shop for during the peak of a training cycle, when I'm doing early morning long runs every weekend. And whenever I have to drive out of town for a race, I buy several and take them with me in a cooler.
Depending on where my blood sugar sits before a run, I will either drink half of this 30 minutes pre-run and save the other half for post-run, or just have the whole thing before running. It only raises my blood sugar slightly, even with no insulin on board, and never upsets my stomach.