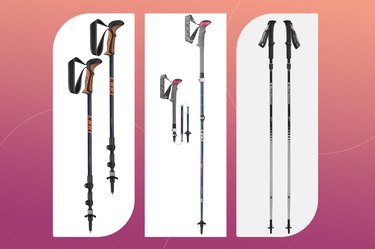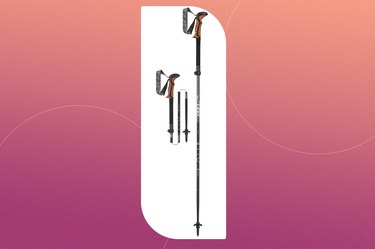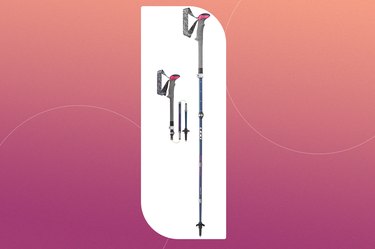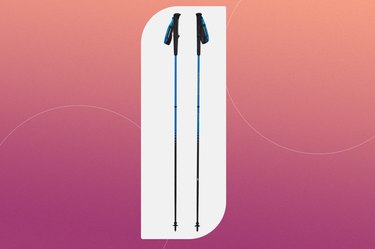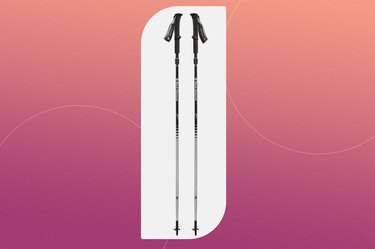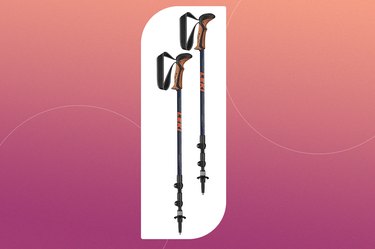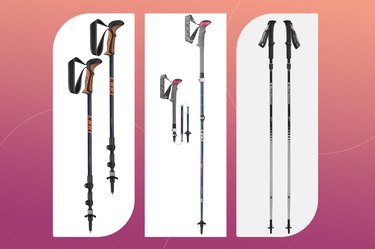 If you're serious about hiking, backpacking or trail running, consider investing in a pair of trekking poles (also known as hiking poles, hiking sticks, or walking poles). This outdoor accessory is a boon to any hiker tackling tricky terrain.
A solid pair of trekking poles can help cushion your knees when you walk downhill and then help propel you up steep hills. "Poles can also correct posture during ascent, keeping your head elevated and your lungs fully expanded," says Wesley Trimble, communications and creative director for the American Hiking Society.
Moreover, they can safeguard against the occasional stumble. "Poles provide two additional points of contact with the ground and enhance stability," Trimble says. If you do stumble, bracing yourself with your poles can help you stay upright.
Ready for a hike? Start with our guide to buying the best trekking poles, along with five solid options.
1. Best All-Around: Leki Micro Vario COR-TEC TA
​Style: ​Folding
​Size: ​110 to 130 cm
​Shaft material: ​Aluminum
​Weight: ​288 g per pole
"I swear by anything made by Leki," says Kimberly Brookshire, professional backpacking guide with Explorer Chick, an adventure travel guide company for women.
This foldable pair is made of aluminum and features an interchangeable basket. "The basket helps keep the pole from sinking in soft surfaces and holes," Trimble says. If you're planning to trek in the snow or boulder fields, a larger basket will help prevent the poles from sinking into snow or slipping between gaps in rocks, he adds.
2. Best for Women: Leki Women's Micro Vario Carbon
​Style: ​Folding
​Size: ​100 to 120 cm
​Shaft material: ​Carbon fiber
​Weight: ​230 g per pole
Women don't necessarily need "women's trekking poles." "The only difference is women's trekking poles are generally shorter and have smaller grips than unisex poles," Brookshire says. "They both do the same job."
However, if you find you need a shorter pole with smaller grips, women's trekking poles could be a good option. This foldable pair is one of Leki's smallest options. It's made of lightweight carbon fiber and packs down to a mere 38 centimeters in length. It also features foam grips that insulate in colder weather.
3. Best Value: Black Diamond Distance Z Trekking/Running Poles
​Style: ​Folding
​Size: ​100 to 130 cm
​Shaft material: ​Aluminum
​Weight: ​Up to 201 g per pole
This Trimble-recommended set offers a ton of bang for your buck. The poles are made of sturdy-yet-lightweight aluminum, and feature an interchangeable tech tip that's compatible with both carbide and rubber tech tips. You can also add a basket if you need it.
When you're not using the trekking poles, simply fold them down. At less than 20 inches when collapsed, you can easily stow them in your pack.
4. Best Shock-Absorbing to Protect Joints: Leki Makalu Lite COR-TEC AS
​Style: ​Telescoping
​Size: ​68 to 135 cm
​Shaft material: ​Aluminum
​Weight: ​247 g per pole
Any trekking poles will help protect your joints from hard landings while hiking or trail running. But shock-absorbing poles like this pair — which Trimble IDs as a great middle-of-the-road option — add an extra layer of protection with a built-in suspension system.
According to the manufacturer, the anti-shock feature in this set reduces impact by as much as 40 percent. Consider investing in these if you have joint stiffness or pain.
5. Best Lightweight for Trail Running: Black Diamond Distance Carbon Running Poles
​Style: ​Fixed length
​Size: ​110 to 130 cm
​Shaft material: ​Carbon fiber
​Weight: ​95 g per pole (120 cm)
Trail runners need to stay fast and light. So if you need a set that's practically weightless, Trimble suggests this slimmed-down pair of trekking poles. Made of ultralight carbon fiber, they weigh in at only 95 grams per pole — that's less than 1 pound total.
These poles also feature a smartly placed mid-shaft ring to help you balance and grip the poles when you're not using them. In other words, they're a cinch to carry even when moving fast.
Keep in mind that these trekking poles have a fixed length, which means you can't adjust them.
3 Tips for Buying the Best Trekking Poles
1. What Style Do You Prefer?
Trekking poles typically come in three styles:
​Telescoping poles:​ This style consists of two or three sections that slide into one another and lock in place. Telescoping poles are the most adjustable of the three pole styles.
​Folding poles:​ These resemble tent poles. They usually have a fixed length, with three sections that fold down in a snap. When you're ready to use them, simply extend the sections and lock them in place with push-button or slide locks.
​Fixed-length poles:​ As the name suggests, fixed-length trekking poles aren't adjustable. They also don't fold or collapse, which makes them tricky to stow. However, fixed-length poles tend to be lighter and easier to use.
"The telescoping and folding poles are great if you don't want to use them all the time," Trimble says. You can easily stash these poles in your pack if you get tired of carrying them.
When it comes to choosing the best trekking poles for you, rent or borrow different types before you fork over your cash.
2. What Size Do You Need?
"The key factor in choosing trekking poles is selecting the appropriate size," Trimble says. Finding the right length helps ensure maximum comfort when hiking while lowering your odds of bending or snapping a pole.
As a general rule: When you stand straight and hold the trekking pole grip, your elbow should make a 90-degree angle with your forearm parallel to the ground. That said, some people prefer poles that are a bit on the long side, Trimble says. Again, testing different trekking poles can help you figure things out before you buy. Thankfully, many poles are adjustable — to a point, that is.
3. Which Material Do You Prefer?
Another key factor in choosing the best trekking poles for you is the pole material.
Most trekking poles are made from one of two materials: aluminum or carbon fiber. Aluminum is the heavier of the two, which means they're typically more durable and stable. However, the added pole weight also increases the required energy to place the poles with each step, Trimble says.
Meanwhile, carbon fiber poles are very light but tend to be more expensive and prone to breaking. You'll have to decide if the weight reduction is worth the higher price tag — and the likelihood the poles will snap if they get caught between two rocks during your hike.