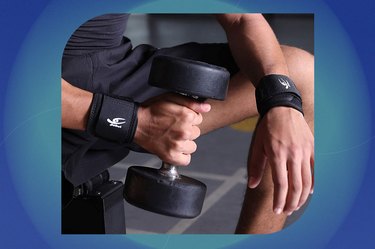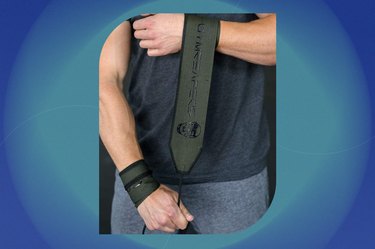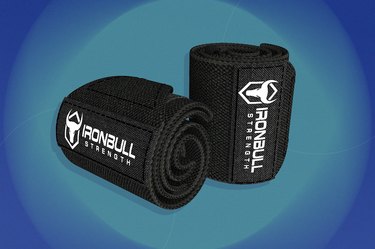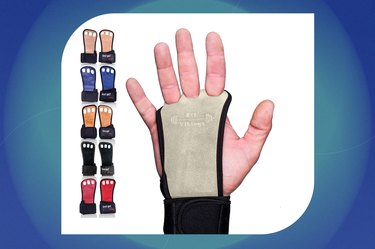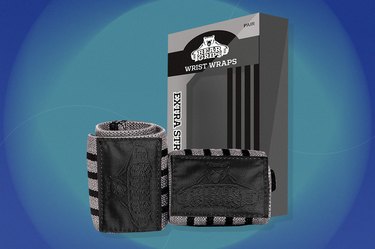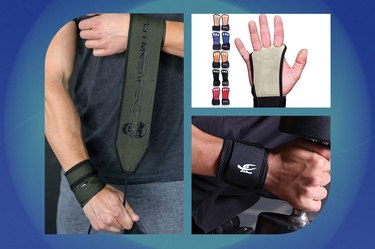 Wrist wraps are a great exercise accessory to keep in your gym bag. After all, they protect some of your most important joints (your wrists) while you lift. But a quick Amazon search produces hundreds of results — option overload.
You'll probably even see a few wrist straps in your results, too. Not to be confused with wrist wraps, lifting straps twist around a barbell to improve your grip and don't actually support your wrist. Wrist wraps, however, are all about stability and joint support.
Luckily, we've taken the confusing research out of your hunt. Browse our expert-recommended options and learn how to zero in on the best wrist wraps for your lifting workouts.
1. Best for General Lifting: HiRui Wrist Compression Strap
If you want to give your wrists a little extra relief while you strength train, these supportive wrist straps can provide all the stability an everyday lifter needs.
These are perfect for day-to-day, non-competitive lifting because they're easy to adjust and take on and off, according to Jereme Schumacher, DPT, a Washington-based doctor of physical therapy.
You can also use these for extra joint protection when you play sports like tennis or basketball. You can even toss them on if you're planning to spend a long time typing on your computer — your wrists will thank you.
2. Best for CrossFit: Gymreapers Strength Wrist Wraps
Most of the best wrist wraps fit relatively stiff and snug, but these are more flexible, making them the best CrossFit wrist wraps you can buy, according to Schumacher.
That's because CrossFit workouts involve a lot of different exercises, all of which demand different levels movement from your wrists. For instance, your wrists should stay pretty rigid during deadlifts, but need to bend during handstands.
Fortunately, Gymreapers' wraps are both adjustable and flexible to accommodate both needs.
3. Best for Grip: Fit Vikings Workout Gloves With Wrist Wraps
For many people in the gym, grip strength tends to be a problem area with a lot of pulling exercises, like deadlifts or rows, according to Schumacher.
While you don't want to neglect training your grip strength in your workout routine (wrist curls can help with that), these wraps have a built-in weightlifting glove to give your grip a little extra traction.
Plus, this wrap protects the skin on your hands from tearing and callousing as you lift.
4. Best for Powerlifting: Iron Bull Strength Wrist Wraps
Providing more support than the average wrap, these are the best powerlifting wrist wraps you can sport, according to Schumacher.
When powerlifting or otherwise moving heavy loads, it's best to seek max support for your wrist to help keep them injury-free. The extra wide, 18-inch band on these wraps offers the high level of stability needed.
"When looking at wrist wraps for powerlifting, [look at] the length," he says. "They generally vary between 12-inch, 16-inch and 18-inch lengths and this affects the wraps' performance and feel [more on that below]. I recommend trying a few different types of wraps to see what works best for you." (Opt for longer wraps for more stability.)
Meanwhile, the wraps' thumb loop only adds to the support.
5. Best for Durability: Bear Grips Wrist Wraps
What sets Bear Grips' wraps apart? They are lined with elastic along the outside to protect the fabric from fraying and catching on your workout equipment. So, you'll be able to use these for plenty of training sessions.
And these have a sturdy thumb loop to help build tension between your hands and wrist while also keeping the wrap in place.
3 Tips to Find Your Best Lifting Wrist Wraps
1. Consider Support vs. Flexibility
The best lifting wrist wraps all do the same thing (support your wrist joints), but some are more supportive and rigid while others are more flexible. Finding the best wrap depends on your activity, according to Schumacher.
If you're buying wraps specifically for powerlifting, a more rigid, stable pair is ideal. Look for a set that's labeled "maximum support" and has a thumb loop.
Meanwhile, the best CrossFit wrist wraps are more flexible and allow you to bend your wrist when needed. Before you buy, check the product label to make sure your wraps work for cross training or calisthenic exercise.
2. Find Your Ideal Length
Many powerlifting wrist wraps come in different lengths. The longer your wrap, the more support you'll get around your wrist.
But there's no one way to find a perfect length without testing a few, Schumacher says. Try three or four different lengths to see which level of stability feels most comfortable while you exercise.
3. Pick Your Perfect Closure
Although most wraps are fastened with Velcro, some are held together with a tie system (like the second pick above).
Both closures keep the wraps stable while you lift. Velcro may be a little easier to adjust single-handedly, but if it touches your workout clothes, can sometimes pick the fabric.