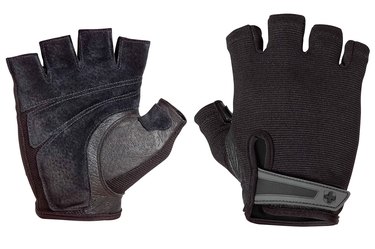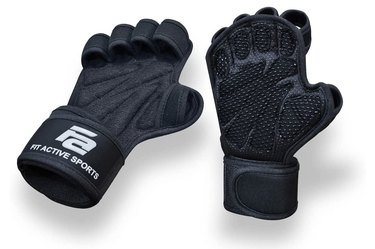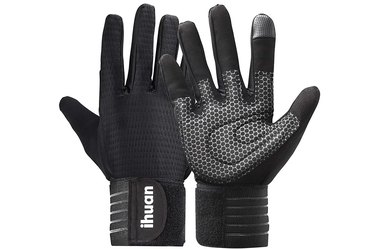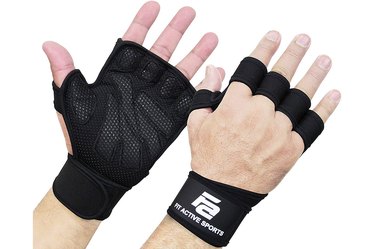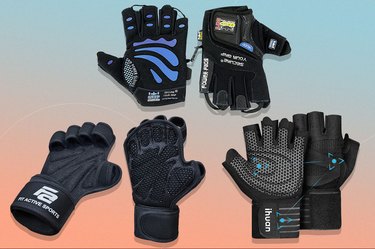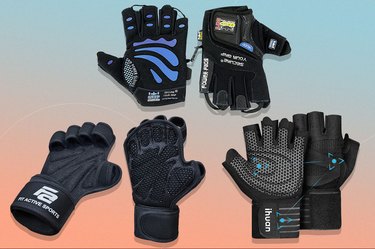 Sure, callouses make you look a little tough, but re-blistering your hands time and time again isn't necessarily comfortable.
A pair of weightlifting gloves can fix that — and more, says Carolina Araujo, CPT, a California-based personal trainer and strength coach.
Lifting gloves protect your hands from the blisters dumbbells and barbells can cause. Plus, they give your wrists extra support for heavier lifts.
Plus, because they up your traction on on the bar, they improve your grip. That's a big factor when lifting, Araujo says. A little extra help in that department can help you power through the end of a tiring set or hit a new personal best.
Browse some of the top pairs on the internet and learn how to find the best weightlifting gloves for you.
Araujo told us everything she knows about weight gloves, and we're passing on that knowledge to you. We chose our top picks based on Araujo's recommendations and criteria. You can learn more about how we cover products here.
Price
Fit
Comfort
Fabric
Padding
Ventilation
1. Best Overall: Ihuan Ventilated Weightlifting Gym Workout Gloves
‌Material: ‌Neoprene
‌Size: ‌S to XL
‌Finger length:‌ Half
‌Feature: ‌Extra wrist support
Anyone looking for an overall excellent glove is sure to love these, according to Araujo. They're foam padded, so they're not too heavy, but still protective. And the silicon on the palm provides extra grip traction.
These also have built-in wrist wraps, which are a good bonus, she says. These help protect your joints and prevent the glove from shifting during exercise.
2. Best for Ventilation: Fit Active Sports Ventilated Weightlifting Workout Gloves
‌Material:‌ Neoprene
‌Size:‌ XS to XL
‌Finger length: ‌Half
‌Feature: ‌Open-hand design
Whereas most weight gloves have fabric around the entire hand, these weight training gloves are open on the back of the hand to let in some air, Araujo says.
They also provide plenty of traction on your weights. "The grip on these is excellent, thanks to the rubber padding on the palm," she says. "When you're lifting with gloves, that's a top priority because otherwise, your dumbbells start slipping out of your hands mid-lunge or curl."
3. Best Full-Finger: Ihuan Full-Finger Ventilated Weightlifting Gym Workout Gloves
‌Material:‌ Microfiber
‌Size: ‌S to XL
‌Finger length:‌ Full
‌Feature: ‌Snug-fitting strap
The hardest part about a chilly garage gym workout? Lifting with cold hands is absolutely brutal. Araujo recommends that anyone who regularly lifts in colder temperatures opt for a full-finger gym glove.
"But don't forget to look for a breathable fabric," she says. "Although you want to keep your hands warm, you don't want them to get too sweaty, either. These have great ventilation, while keeping your hands toasty."
When ordering, keep in mind that, because these cover your entire hand, getting the right size is super important. (More on sizing below). You want a snug fit so the gloves don't shift around while you train.
4. Best Half-Finger: Grip Power Pads Half-Finger Gym Gloves
‌Material: ‌Leather and mesh
‌Size:‌ XS to XXL
‌Finger length: ‌Half
‌Feature: ‌Tabs for easy removal
A little sweat (even when you're wearing the best-ventilated gloves) is inevitable. It's also annoying. That's where half-finger pairs shine. They offer the grip benefits of a full-finger glove with extra ventilation.
"Pulling off a damp glove is like taking off a damp sports bra or sock — it's a workout of its own," Araujo says.
That's why she loves these gloves: They have added fabric tabs on the wrists for easy pull-off.
Unlike other weight training gloves, these are also made with leather, an extremely durable material for strength training, she says. Plus, the mesh helps your hands breathe.
5. Best Barely-There Feel: Harbinger Power Non-Wristwrap Weightlifting Gloves
‌Material: ‌Leather and mesh
‌Size: ‌S to XXL
‌Finger length:‌ Half
‌Feature:‌ Minimal design
This glove takes an overall less-is-more approach, Araujo says. For instance, a lot of other gloves have a wrist strap that goes farther up your arm, but these stay put around the base of your hand.
"You don't want any distractions while you're exercising," she says. "That's why I like these minimal gloves. You don't even notice they're there while you lift."
6. Best Padded: SIMARI Workout Gloves
‌Material:‌ Microfiber
‌Size:‌ XS to L
‌Finger length:‌ Half
‌Feature:‌ Lightweight foam padding
For those who want extra protection on their palms, these gloves are a good choice. The foam padding on these is especially lightweight and protective, Araujo says.
They also have a towel-like fabric on the thumb, so feel free to wipe away any sweat.
5 Factors to Consider When Searching for the Best Weightlifting Gloves
Like shoes or socks, you can buy gloves in a variety of different sizes. But there's no single standard sizing chart. One company may measure their gloves by palm length, while another uses palm width.
So, before you buy a pair, take a look at the company's size chart and measure your hands accordingly.
"You also want the glove to fit relatively snug," Araujo says. "A glove that's too big will be hard to lift with. If the glove moves loosely around your wrist or fingers when you grip a weight, it's probably too big."
You can buy lifting gloves in either full-finger or half-finger length.
‌​Half:​‌ This length gives you plenty of breathability and is generally easier to use in the gym when you need to move weight plates or the pin on the cable machine, Araujo says
‌​Full:​‌ This length is best for training in colder temperatures and help protect your hands from the weather. These are best for those who may train outside or in an unheated space.
Lifting gloves come in all kinds of fabrics, but you want to find one that's breathable, flexible and durable, Araujo says.
‌Synthetic:‌ Most lifting gloves are made of either neoprene or microfiber. These provide breathability and bend comfortably with your hand.
‌Leather:‌ This material is super durable for training, she says. That's why weight belts are often made with it. But you don't want a full-leather glove; that would be quite sweaty. Look for one that's combined with mesh, neoprene or microfiber.​
Wrist wraps aren't a must-have for training gloves, but it's a nice plus. They give your wrists extra stability while you train and help your glove fit nice and snug around your arm, according to Araujo.
But those who want a barely-there feel will probably prefer a shorter glove with no wraps. Or, you can buy your wrist wraps separately and take them on and off as you like.
When you rub fabric against metal, it slips — and can potentially be dangerous. That's why you absolutely need a glove that has rubberized, silicone or leather grips on the palm, Araujo says.
Check product descriptions to make sure your gloves come with plenty of traction.
More Weightlifting Gear We Love