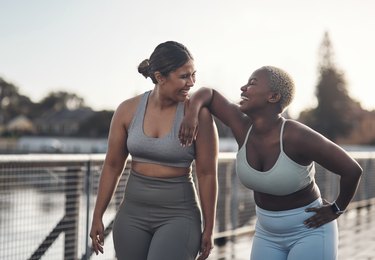 Nothing ruins a workout quite like an ill-fitting, extra-bouncy or chafe-inducing sports bra. But when things truly fit and click into place, magic happens.
"A few things to consider when purchasing a sports bra are the fit, feel, and even the brand you're considering supporting in the process," says Sarah Grooms, CPT, an obé fitness and personal trainer based in New York City.
Need some support? Here's our guide to picking the best sports bras for your body and sweat style, along with 12 trainer-approved designs.
We spoke to personal trainers, workout instructors and other fitness experts with breasts and considered our own experience and testing to determine the best sports bras on the market right now. From there, we narrowed it down to 12 picks in different categories, based on:
Price
Accessibility
Inclusive sizing
Durability
Comfort
1. Best for All Sizes: Girlfriend Collective Paloma Bra
‌Sizes:‌ XXS-6XL
‌Support: ‌medium
‌Underwire: ‌no
‌Fabric:‌ recycled plastic bottles, spandex
Made from recycled water bottles, this best-selling sports bra offers sizes from XXS to 6XL, making it extremely inclusive, so anyone can enjoy it.
"I love this piece because of the built-in bra as well as the supportive yet breathable four-way stretch fabric. It feel comfortable and allows my rib cage to fully expand," Grooms says. "I can wear the Paloma for yoga, running and a night out. It's a staple in my rotation each week!"
2. Best Seamless: Salomon Essential Move On Seamless
‌Sizes:‌ XS-L
‌Support: ‌medium
‌Underwire: ‌no
‌Fabric:‌ polyester, elastane
If you have trouble with underwires digging into your ribcage or seams scratching your skin and rubbing it raw, opt for Salomon's seamless, wireless option, says Erin Bailey, CPT, a Boston-based personal trainer.
This seamless sports bra offers up comfort and breathability, but still has plenty of support, especially for women with small cup sizes. Think: compression without restriction.
3. Best Adjustable: SheFit Flex Sports Bra
‌Sizes:‌ XS-6XL
‌Support: ‌medium
‌Underwire: ‌no
‌Fabric:‌ nylon, spandex
Featuring molded, seam-free cups and thick straps, this high-impact control bra is all about user experience.
"These thick straps won't dig into your skin, and the adjustable back is a great feature to make sure your sports bra fits you as comfortably as your normal bras," Bailey says. A zip-front closure makes it easy to put on and take off.
You can adjust both the bottom band (up to 8 inches of cinch)n and the straps (up to 15 inches of lift) to get a truly custom fit that's comfortable for A through I cups. The straps can also be worn in a crossback or classic H shape.
4. Best for the Price: Champion the Show-Off Sports Bra
‌Sizes:‌ S-XL
‌Support: ‌high
‌Underwire: ‌no
‌Fabric:‌ nylon, spandex, polyester
This option offers full coverage, as well as smooth, molded cups and moisture-wicking performance mesh to see you through high-impact plyometric exercises.
"I like how lightweight the bra is, the thick chest band and that the straps are adjustable — all for an affordable price," says Kristen McParland, CPT, a certified personal trainer based in Somerville, New Jersey.
5. Best for Large Lats: Lululemon Free to Be Serene Bra
‌Sizes:‌ 2-14
‌Support: ‌low to medium
‌Underwire: ‌no
‌Fabric:‌ nylon, lycra elastane
"This is the OG fitness bra in my opinion," says McParland. "It doesn't matter how big your lats are either — this bra will fit and feel great!" It's not uncommon for chest bands to dig into the back muscles, especially if you have built lats, but this bra avoids that with the thin, stretchy back straps.
Fortunately, the Lululemon Free to Be Serene bra has room for your back muscles, and is made with such a soft fabric that you may never want to take it off. While it does provide full coverage, it isn't build for max support. Wear it during lower impact workouts like yoga, Pilates or strength training.
6. Best for Support: Under Armour Eclipse High-Impact Zip Sports Bra
‌Sizes:‌ 32A-42C
‌Support: ‌high
‌Underwire: ‌no
‌Fabric: ‌polyester, elastane
With a next-to-skin fit and super-soft feel, this crossback bra will keep you comfy and supported throughout your workout. A zip-front design makes it a cinch to remove once you're done — no struggling to peel off a sweaty bra post-workout.
"This bra provides great coverage and support, and it lasts forever," says Meghan Hayden, CPT, a certified personal trainer based in New York City.
7. Best Mastectomy-Friendly Design: Coobie Comfort Bra
‌Sizes:‌ S-XXL (28A to 48DD)
‌Support: ‌medium
‌Underwire: ‌no
‌Fabric:‌ nylon, spandex
Breast cancer survivors and oncologists helped review and test this bra, which was made with post-surgical patients in mind. Its seamless design and soft fabric ensure it doesn't rub, chafe or itch, and the thick straps provide good support.
The bra comes with removable pads, and the pockets are large enough to fit most post-surgery molds or prostheses.
8. Most Breathable: Brooks Drive Plunge Run Bra 2.0
‌Sizes:‌ XS-XXL
‌Support: ‌high
‌Underwire: ‌no
‌Fabric:‌ polyester, spandex
This Brooks bra's scoop neckline with a deep-V front-mesh panel is perfect for letting your chest breathe, Bailey says.
It also features moisture-wicking compression fabric and flatlock seams to keep you dry and chafe-free throughout your entire sweat session. "Four way stretch allows the bra to work with your body, versus restrict it," she says.
The back straps also have mesh panels. Heads up that this bra tends to run small, so order a size up.
9. Best Basic Option: Athleta Ultimate Bra
‌Sizes:‌ XXS to 3XL
‌Support:‌ medium
‌Underwire:‌ no
‌Fabric:‌ recycled nylon
When it comes to the best sports bras, there's something to be said for simplicity of design. And this Athleta racerback (in two size options: A to C cup, which goes from XXS to XL, and D to DD+, from XXS to 3XL) rocks it. It provides gentle compressive stability with no muss or fuss.
"The thick straps that don't dig into your shoulders and the material is thick/compressive enough to support workouts like running, HIIT and indoor cycling," Danielle Zickl, LIVESTRONG.com's fitness editor, says.
The SuperSonic fabric made with recycled nylon is also very smooth and moves with you as you exercise. Consider this one a bra-drawer staple.
10. Best for Low-Impact Workouts: CRZ YOGA Women's Low Impact Strappy Sports Bra
‌Sizes:‌ XS-XL
‌Support: ‌low
‌Underwire: ‌no
‌Fabric:‌ polyamide, spandex
This top Amazon brand is an expert favorite, too. "The 'barely-there' feel and moisture-wicking fabric make [this bra] great for a vinyasa class," Grooms says.
Though advertised as a yoga bra, this option is great for Pilates (and everyday wear) as well. It has light support, removable cups and stylish criss-cross straps.
11. Most Stylish: Fabletics Oasis Twist Sports Bra
‌Sizes:‌ XXS-4X
‌Support: ‌low
‌Underwire: ‌no
‌Fabric:‌ polyester, elastane
If you're getting into a low-impact workout and you don't require all too much support to begin with, consider this adorable bra. The all-way stretch fabric moves in sync with your body, and it's moisture-wicking, too.
"I love the tied front design," says McParland, who also raves about how good it feels on. "It's very comfy!"
12. Best Front-Zip: Outdoor Voices Powerhouse Bra
‌Sizes:‌ XS-XL
‌Support: ‌high
‌Underwire: ‌no
‌Fabric:‌ nylon, lycra, polyester
Style meets function with this zip-front bra. Honeycomb mesh in the back offers high breathability, while molded cups provide support without restriction.
"I like to feel empowered during any workout, and the support this sports bra provides is key," says Grooms. "And I enjoy that there's a front zipper, making it easier to take off when sweaty."
This bra's high support makes it a hit for running, tennis and heavy weight-lifting workouts alike. And if you like to wear only a sports bra when working out (especially on hot, sunny days), the Powerhouse bra offers UPF 50 protection from the sun.
3 Things to Ask Yourself When Buying Sports Bras
1. What Level of Support Do You Need?
When you exercise, your breasts are going to move around. But a lot of that can change based on your chest size, as well as your sport of choice.
For example, low-impact exercises like yoga or Pilates might not call for as highly supportive a bra as high-impact activities like running, jumping or CrossFit, Bailey says. And if you have a big chest, you're also going to have more movement than those with a smaller cup size.
So it's important that you choose a bra that can withstand the impact of what you're doing, as well as support your breasts, no matter your cup size. To find the best sports bras for support, look for descriptions like "full coverage,""high neckline," "compression," and "thick or reinforced band."
2. What Cut Works for You?
Are you looking for a classic racerback style, or do you want something with a bit less coverage and design-heavy back straps?
"It definitely matters what you're looking for, as well as your cup size," says McParland. "I'm an A-cup, so I can wear literally any style and have enough support, but I know this is not the case with most women."
If you have heavier or larger breasts, you may want something with a higher neckline, for fuller coverage, that's still breathable. And for those with smaller chests, you can choose a more minimal coverage option. "It's really personal preference from there," says Hayden.
3. What Features Do You Love?
If you have a large chest size, look for a bra with a thick chest strap or maybe underwire in the cups. But if support is less of an issue, a seamless, low-cut option could be more comfortable.
"The fabric will make a major difference in support, or lack thereof, and it can also inhibit your movement if it's not flexible enough for the type of movement you may be doing," says Grooms. Fabrics like lycra, elastane, and polyester are most popular, as they allow for four-way stretch and comfort.
In other words, a bra might look nice online or on the hanger, but you need to be sure that those cute mesh details or zippered front closure actually moves with you and doesn't cause any discomfort.
When shopping online, check for generous try-on and return policies. "You should try on multiple brands, shapes and sizes, until you find the right fit for your body and activity," McParland says.