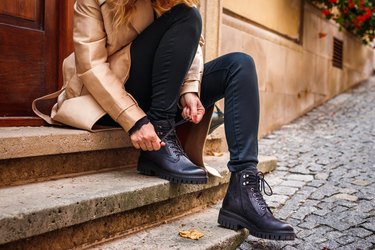 When temperature dip, a pair of boots can help you weather rain, cold and other wintry conditions. But for folks with bunions finding a pair of boots that's protective and comfortable can be a challenge.
Bunions are a bony, sometimes painful, bump that develops near the big toe on the inside of the foot, according to the American Academy of Orthopaedic Surgeons (AAOS). "Bunions are formed due to an instability in the foot, which allows the big toe to deviate towards the smaller toes," says Alissa Kuizinas, DPM. This can is often due to an imbalance in the foot or by specific walking patterns, she says.
What you wear on your feet matters when it comes to developing bunions — and also avoiding pain once you have them. "Because most shoes are designed with a narrow toe box, the big toe is chronically pushed out of alignment, and over time this will increase the instability of the forefoot," Dr. Kuizinas says. Particularly in the case of boots, this tightness (especially in the toe) can cause further pain for individuals with bunions, she says.
The solution: Opt for a boot that allows for plenty of space in the toe area, while also providing ample arch support.
The Best Boots for Bunions
We tapped two podiatrists for recommendations on the best boots for people with bunions, as well as insight into what to look for (and what to avoid) in footwear. We kept these criteria top of mind when selecting boots for inclusion on this list:
Price
Durability
Style or function
Special features, including waterproof material or enhanced arch support
A Quick Language Note
We make deliberate choices about the language we use when it comes to sex and gender, but most brands market their products to men or women. Shoes are no exception. The main difference between most men's and women's shoes lies in the shoe width and size.
Marketing aside, you can opt for any shoe that feels comfortable on your foot. Your best bet, according to the podiatrists we interviewed, is to try on a selection of boots before making a final selection.
1. Best Overall: Lems Chelsea Boot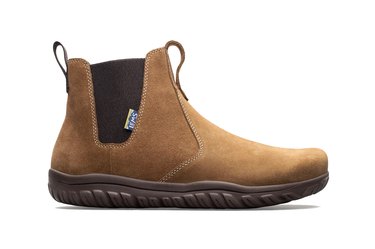 Pros
Available in traditional men's and women's sizes
Ultra-wide base allows for ample movement throughout the foot
Cons
Rugged, outdoorsy look isn't always suitable
When it comes to all the hallmarks of a great boot for bunions — including a wide toe box, a supportive arch and all-around comfort — the Lems Chelsea Boot is a winner, says podiatrist Janine Ferrigno-Taddeo, DPM. "These are versatile, very comfortable and have a great wide toe box for bunions," she says.
These shoes have a zero-drop design, which places the forefoot and heel flat on the ground to encourage a mid-foot strike that helps align the spine and maintain balance
‌Sizes: ‌6.5-11 (women's) and 5-15 (men's)
‌Buy it:‌ Lems Shoes ($135 for women); Lems Shoes ($135 for men)
2. Best Work Boot: Birkenstock QS 700 Steel Cap Regular Boots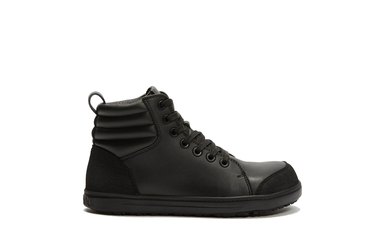 Pros
Boot has unisex sizing
Outer material is formed with water-resistant microfiber
Scratch-resistant, penetration-resistant, oil-resistant and nonslip
Cons
Ordering directly from Birkenstock site requires international shipping cost (in addition to conversion from pounds to dollars)
Dr. Ferrigno-Taddeo is a fan of the Birkenstock QS 700 Steel Cap Regular Boots as a work shoe for two main reasons. First, each shoe has a wide toe box and is zero-drop — ideal for comfort with bunions. The boot also contains a protective steel toe that's critical for safety at potentially hazardous work sites.
3. Best Rain Boot: Xero Shoes Gracie Minimalist Rain Boot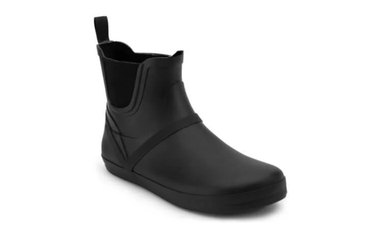 Pros
Comes in a variety of colors
Lightweight design and pull-tab at ankle make boot easy to pull off and put on
Slip-resistant rubber and a chevron tread keep feet sturdy in slick conditions
Cons
Only available in traditional women's sizes
"These rain boots have a wide toe box, are lightweight and flexible, plus, they come in great colors!" Dr. Kuizinas says. These cheery boots are available in yellow, pink, green and black. The boot is wide in general, allowing for extra freedom for the feet and a reduced chance for friction against painful bunions.
‌Sizes: ‌5-12 (women)
‌Buy it: ‌Zappos ($69.99)
4. Best Winter Boot: Aetrex Jodie Fur Arch Support Waterproof Winter Boot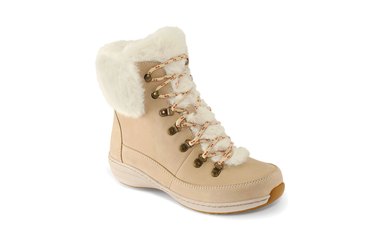 Pros
Available in several colors
Suitable for other foot conditions, too
A padded collar and faux fur lining add extra warmth and comfort in the cold
Made with waterproof material
Cons
Only available in traditional women's sizes
Boot contains a slight heel
"The Jodie Fur Arch Support Winter Boot by Aetrex is a mid-calf, slip-resistant boot lined with faux fur and is waterproof treated," Dr. Ferrigno-Taddeo says. That fur is cozy and functional as temperatures dip. "It also features a built-in orthotic that helps stabilize and align the feet," she says.
These boots are also suitable for people with other foot conditions, such as heel pain and plantar fasciitis. Keep in mind: This boot has a heel that's just over an inch, so if your feet are bothered by height, avoid this pair.
5. Best Hiking Boot: HOKA Kaha 2 GTX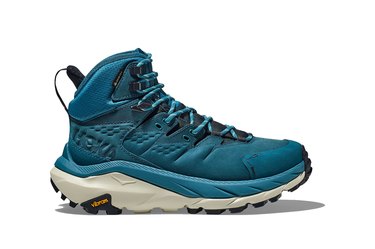 Pros
Available in men's and women's sizes
Comes in multiple shades
Features waterproof GORE-TEX membrane
Abrasion-resistant toe cap and heel keep feet protected
Cons
Pricier option
Boot weighs nearly one pound (15.6 ounces), making it heavier than a traditional lightweight hiking boot or train running shoe
As Dr. Ferrigno-Taddeo explains, these ultra-cushioned boots with great arch support offer forgiving impact on the trail — while also not squishing the toes in too much. She adds that the boot is made with waterproof materials and a built-in "Meta-Rocker" that helps add stability and ensures a comfy stride.
6. Best Tall Boot: Be Lenka Sierra Fleece-Lined Riding Boot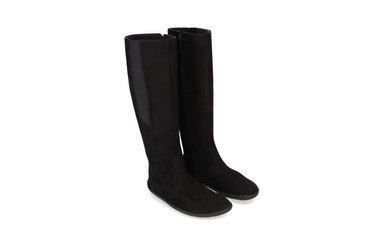 Pros
Available in three shades
Foot-shaped toe box allows toes to splay (keeping pressure off bunions)
Soft leather makes boots malleable (but still sturdy)
Cons
Only available in traditional women's sizes
Pricier option
When it comes to a stylish tall boot for special occasions, Dr. Kuizinas prefers the Be Lenka Sierra Fleece-Lined Riding Boot. That's because the boot contains a wide toe bed (while still remaining sleek) and a warm fleece lining for especially cold days. These boots are available in black, dark brown and matte black.
7. Best Ankle Boot: Aetrex Luna Ankle Boot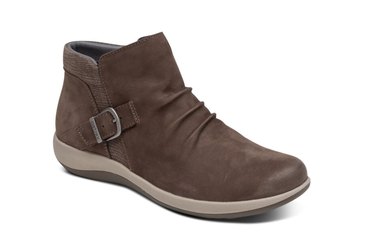 Pros
Available in several colors
Cushioned arch support helps stabilize and align feet
Durable rubber outsole helps provide traction on slippery surfaces
Cons
Only available in traditional women's sizes
Wide in the sole, the Aetrex Luna Ankle Boot is an ideal boot for folks with pain associated with bunions, advises Dr. Janine Ferrigno-Taddeo. It also has an adjustable buckle for strong support through the ankle. These boots are available in three colors: : black, charcoal and dark earth.
4 Things to Look for When Buying Boots for Bunions
Wearing the right shoes is an important element to managing bunions. Here's what to keep in mind as you looking for boots if you have bunions:
1. Ample Space Throughout the Boot (and Especially in the Toe Area)
Shoes that are too tight can rub up against or compress a bunion, making an especially wide toe area key in a boot, Dr. Kuizinas says.
"The most important feature to look for in a boot is a wide toe box," she says. "This means that the shoe becomes a bit wider at the end, rather than narrower, which is how most traditional shoes are made. Giving your big toe room to spread out is key when dealing with a bunion."
"Look for shoes with arch support," Dr. Ferrigno-Taddeo says. "This will help prevent the metatarsal from deviating and will decrease the pressure and pain on the bunion by redistributing the pressure to other areas of the foot."
3. Malleable Material That Conforms to the Foot
Similar to a too-tight toe box, stiff material will compress the bunion. The key in alleviating pain, Dr. Kuizinas says, is allowing it to breathe. Softer materials can help.
"Look for a soft upper material," she recommends. "This will allow the shoe to stretch a bit over the bunion rather than restricting it. Avoid stiff materials."
4. A Low (or Non-Existent) Heel
As Dr. Kuizinas notes, heels can be problematic when it comes to bunions. "Heel elevation will increase pressure on the forefoot, adding instability to the bunion and increasing pain," she says.
Is this an emergency? If you are experiencing serious medical symptoms, please see the National Library of Medicine's list of signs you need emergency medical attention or call 911.