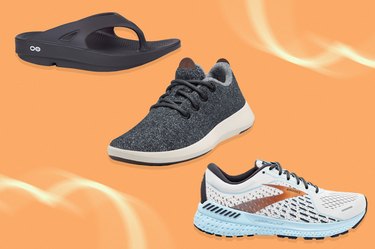 If you're one of the estimated quarter of adults who have a bunion, per the ‌Journal of Foot and Ankle Research‌, you know how pesky a problem this can be — especially when it comes to wearing shoes.
Bunions, or those bony protrusions most often at the big-toe joint, can be more than just unsightly to look at, but they can also be quite painful and even debilitating for some people.
Fortunately, more and more manufacturers are hopping on the bandwagon of making bunion-friendly shoes that are supportive and comfortable — some that even help reduce the progression of the deformity.
The Best Shoes for Bunions
We relied on their expertise and used the following criteria to narrow down our top picks:
Comfort
Support
Materials
Cost
Availability
Find more information on how we choose and cover products here.
Pros
Sustainable material
Lightweight
Flexible sole
Cons
Not available in half sizes
Ethically sourced using laces that come from recycled plastic bottles and insoles that come from castor bean oil, these shoes have gotten quite the reputation over the last few years — but not only for their resourcefulness. They're also incredibly comfortable, especially for people with bunions.
They have a simple, contoured design that allows the shoe to be flexible, supportive and made to last. You can walk around in these shoes all day long and not feel the irritation that most other shoes can cause.
Another perk that customers rave about is the fact that these shoes are incredibly lightweight — clocking in at just 7 ounces per shoe, which is significantly less than most other shoes.
2. Vionic Beach Malibu Slip On Sneaker
Pros
Designed by podiatrists
All-day comfort
Easy to put on/take off
Cons
Not as much support as other Vionic shoes, per some reviews
Dr. Sutera is a big fan of this brand, which offers arch support, cushioning and a deep-seated heel cup. "The three-zone technology that is embedded into their shoes is very foot-friendly," she says.
Vionic's Advanced Motion System (AMS) technology is designed by podiatrists and features a flexible, cushioned outsole and a lightweight, breathable insole that allows for all-day comfort. Whether you're going to the office or heading out for a fast-paced walk, these shoes won't only look stylish, but will also provide the long-term comfort and support your feet crave.
Pros
Cushiony midsole
Wide width
Waterproof
Cons
Not intended for running
Wear down over time, per some reviewers
If you're someone who likes to go on walks, short or long, you're going to need a shoe that won't rub against your bunion. In addition to hugging your foot so there's minimal movement inside your shoe, Kuru shoes feature what the brand refers to as KURUCLOUD — a midsole that's as cushiony as it gets, with an energizing bounce to keep you going during long walks.
They're slightly wider than most shoes and lightweight, so you don't feel pulled down during movement. They're also waterproof, which can come in handy should the weather not cooperate while you're out and about.
(Psst: Check out our other top picks in the walking shoes category.)
4. Brooks Adrenaline GTS 22
Pros
Arch and bunion support
Can be worn every day
Soft cushioning
Cons
Tread wears down over time, according to reviews
Brooks Adrenaline GTS 22 amps up comfort with ample cushioning, added arch support and a secure fit that keeps your foot snug without overcrowding your bunion. While this shoe is made for runners, anyone looking for comfort while in motion can stand to benefit from this shoe — especially those with flat feet.
This shoe features DNA LOFT, which is the softest cushioning out of all Brooks' running shoes, as well as GuideRails technology, which helps encourage your natural stride.
5. KEEN Targhee Hiking Shoe
Pros
High-traction
Waterproof
Supports your ankles, heels and balls of your feet
Cons
Some reviewers say this style is too narrow in the toe box
Whether you're an avid hiker or someone who's looking to explore more of the outdoors, this waterproof hiking shoe will aid your adventures while ensuring your feet are comfortable and secure.
They feature a rubber outsole that has high-traction alongside a dual-density and compression-molded inside that gives your foot the security you need to handle all-terrain without the pressure that can often lead to pain.
The shoe has a torsional-stability ESS shank in the midsole that helps stabilize your foot as you move and a waterproof protective inner and outer layer that won't compromise support due to inclement weather.
6. Oofos Ooriginal Sandal
Pros
Made with a pressure-relieving footbed
30-day money-back guarantee
Cons
Rubber can make your feet sweaty, per some reviews
Not available in half sizes
If you're looking for sandals that will help alleviate the pain and general discomfort associated with your bunion, Dr. Lobkova recommends Oofos. Not only are they made extra wide to accommodate and stabilize the foot, but they feature a proprietary footbed design that helps take pressure off other targeted areas in your body, including your knees and ankles.
Perhaps the best part (for people with or without bunions), in addition to their 30-day money-back guarantee, is the fact that you can toss these sandals in the washing machine when they're extra dirty or just need a refresh.
7. Orthofeet Pacific Palisades
Pros
Designed to support a variety of foot conditions
Stretchy upper material
Wide toe box
Cons
May take some time to break in, according to reviewers
Having flat feet is an inherited condition and one that can actually lead to the formation of bunions, says Dr. Pliskin, chief of podiatry at North Shore University in the Northwell Health System. "A supportive shoe that holds up the arch and decreases the flattening of the medial column limiting pronation will reduce the progression of the deformity," he says.
A great pick for those who are flat-footed with bunions is Orthofeet, which are designed specifically for a wide range of pesky foot conditions, including flat feet, bunions, back pain, plantar fasciitis, neuropathy, Morton's neuroma and more.
In addition to their stretchable upper material, they have a wide toe box to accommodate large bunion growths. They also have arch support, which can provide significant comfort for those with flat feet.
Check out a similar women's version of this shoe — the Sonoma sneaker — on Orthofeet's site.
8. Dr. Scholl's Madison Slip-Ons
Pros
Made with sustainable materials
Convenient slip-on
Ample cushioning
Stylish
Cons
May take some time to break in, according to reviews
If you're looking for an everyday shoe that's equally stylish as it is supportive, consider Dr. Scholl's Madison Slip-Ons. As implied by its name, this shoe just slips right on, which can be quite convenient for people on-the-go.
The Insole Technology provides anatomical cushioning that supports the weight and protrusion of your bunion, and the flexible construction allows free movement without pressure.
If you're eco-minded, you'll be glad to know that this shoe is sustainably made and crafted with a unique microsuede that comes from recycled bottles.
Find the men's version — the Madison CFX — on the Dr. Scholl's website.
Pros
Mimic the feeling of going barefoot
May help reduce bunion pain
Wide toe box
Cons
May take some time to adjust/break them in
Runs smaller than expected, according to reviews
Minimalist — or "barefoot" — shoes aren't for everyone. But these types of "barely there" shoes are meant to mimic the natural way we walk and run, and there's some evidence they might help with bunions. One February 2022 analysis in the ‌Journal of Biomechanics‌ found that minimal footwear — which naturally has a wider toe box than traditional shoes and less cushioning — may help reduce mild to moderate bunions.
It's worth noting that more research needs to be done to back up this finding. But if you're interested in minimal footwear, the Merrell Vapor Glove 5 is a good gateway shoe. It has a wide toe box, tight heel cup and zero-drop heel with minimal padding, but it still looks like a traditional shoe.
Just don't wear these all day long if you're new to minimalist shoes — start slowly to allow your feet and gait to adjust.
What to Look for in Shoes for Bunions
Because bunions are often associated with pain, the last thing you want is to purchase a shoe that makes that irritation worse. For this reason, it's important to read customer reviews to make sure that the pair you are buying only adds comfort instead of taking it away.
Podiatrist Suzanne Fuchs, DPM, foot and ankle specialist at LuxePodiatry in Jupiter, Florida, recommends looking for supportive shoes that help promote better foot mechanics.
"Make sure to have your feet measured and fitted so you get the appropriate sized shoe especially at the width."
She also suggests avoiding shoes with narrow toe boxes, as they can be less supportive than rounded shoes that are more accommodating.
It's important to select a shoe that's wide enough to accommodate the extra room taken up by your bunion. For this reason, it's important to understand the width of footwear needed to fit your specific foot — bunion included.
Dr. Lobkova suggests tracing the outside of the foot with a pencil on a sheet of paper to be able to visualize this better.
"Soft upper material to any footwear will not rub on the bunion joint and thus diminish pain and irritation of the soft tissue surrounding the joint," notes Dr. Lobkova. She recommends seeking out a shoe made with materials like goat leather or neoprene that will conform to the contour of the foot instead of pressing up against the joint.
Was this article helpful?
Thank you for your feedback!
Is this an emergency? If you are experiencing serious medical symptoms, please see the National Library of Medicine's list of signs you need emergency medical attention or call 911.