One of the best things about walking for exercise is that you don't really need any special gear or equipment to get started. But even though you probably have a pair of old sneakers somewhere in the back of your closet, it's a wise decision to invest in a pair of sturdy, supportive walking shoes.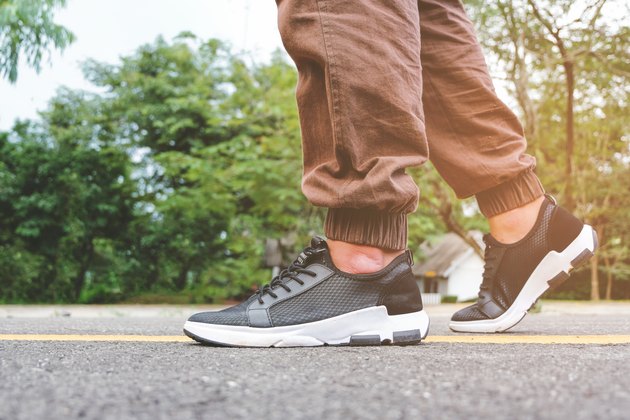 Why? "Walking shoes are specifically designed for the task," says fitness expert Jill Brown. "It's okay to wear old running shoes in a pinch, but realize that you retired them in the first place because they were worn out." Sneakers that are worn out or past their prime don't offer as much shock absorption. That might make you more likely to feel sore during or after your walk or even put you at higher risk for injuries.
What should you look for in a new walking shoe? Everyone's needs (and feet) are a little different, so the right shoe for you might depend on things like your gait, where you plan to walk and if you have issues like knee pain or bunions. To help you narrow down your options, here are 10 pairs worth considering.
Best All-Purpose Walking Shoe: Asics Gel-Contend Walker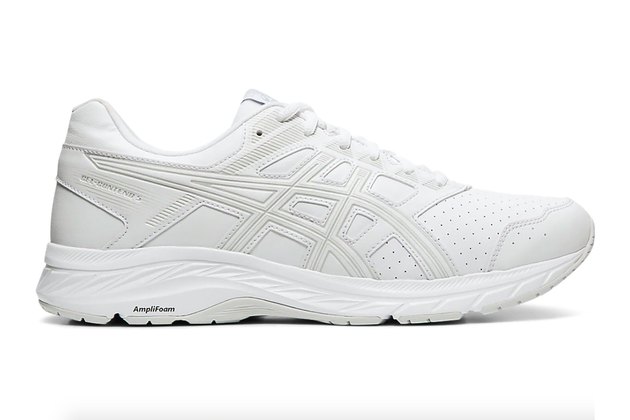 Have a totally average gait and no foot problems or pain? If you're just in the market for something sturdy and comfy and aren't dealing with an injury or a biomechanical issue, the main thing to look for is a lightweight sneaker that offers good shock absorption.
"I personally like a shoe with gel material that cushions to reduce impact," says fitness expert Dempsey Marks. This model by Asics, designed for daily walkers, fits the bill for both women and men. It offers cushioning technology in the midfoot and heel for maximum comfort and has a removable sockliner to keep your feet feeling fresh and dry.
Best Treadmill Walking Shoe: Ryka fEMPOWER Momentum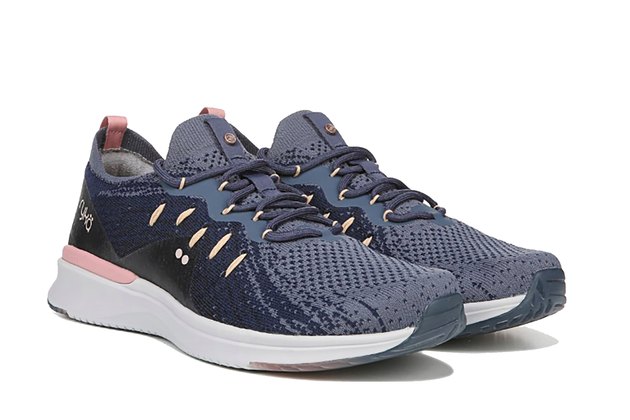 Ryka fEMPOWER Momentum is another lightweight option with plenty of cushioning to keep your feet comfy. What makes them especially good for treadmill walkers? The rubber plate outsole boasts balanced grooves to keep your ankles in line with your knees, which can help you keep your gait steady and reduce the risk for injuries.
Don't be afraid to take them outside, though. The mesh upper offers maximum breathability, so they'll keep you cool if you decide to stroll outside on a warm day.
Best Walking Shoe for Bunions: Brooks Ghost 12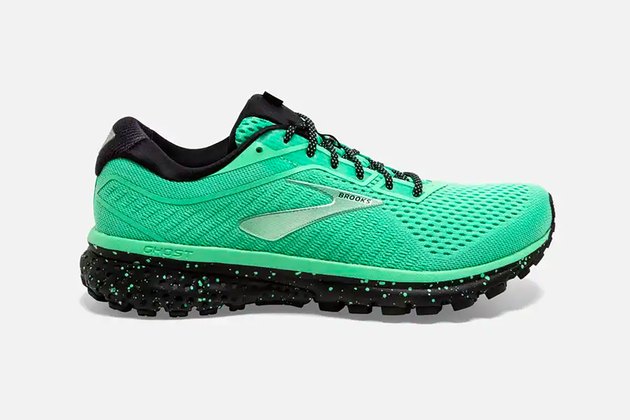 Narrow shoes can put uncomfortable pressure on bunions (bony bumps that can form at the joint of your big toe), but Brooks Ghost 12s help walkers steer clear of that problem. Zappos.com reviewers love that these sneakers have a wide toe box and cushioned insole to give your toes plenty of room. They also have a stretchy, breathable mesh top for maximum flexibility. No crowding going on here!
Best Shoe for Power Walking: Asics Gel Kayano 26
Plan to stroll at top speed? The Gel Kayano is actually a running shoe, but it's also a great option for speedy walkers. These sneaks have earned top ratings for stability and shock absorption on running shoe review sites like RunRepeat.com, boasting a Guidance Trusstic system to enhance your foot's natural gait from heel to toe.
As an added bonus, the ComforDry Sockliner keeps blisters at bay by keeping your feet dry and stops your socks from slipping when you speed up or slow down.
Best Walking Shoe for Plantar Fasciitis: OrthoFeet Coral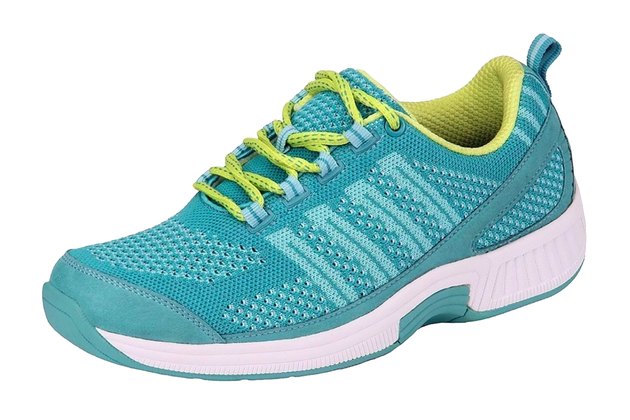 Plantar fasciitis results from inflammation in the connective tissue band that connects your heel to your toes. Since that can lead to tenderness, it's crucial to have a shoe with some flexible cushioning. "Look for a shoe with a soft, rubber sole, as well as heel support to provide shock absorption," Marks says.
OrthoFeet Corals boast pillow-like support to ease pain and minimize pressure points, plus Ergonomic-Stride design and air cushioning to soften every step and promote stability. Just as good: They come with removable orthotic insoles, so slipping in your own custom orthotics is a cinch.
Best Walking Shoe for Flat Feet: Brooks Addiction Walker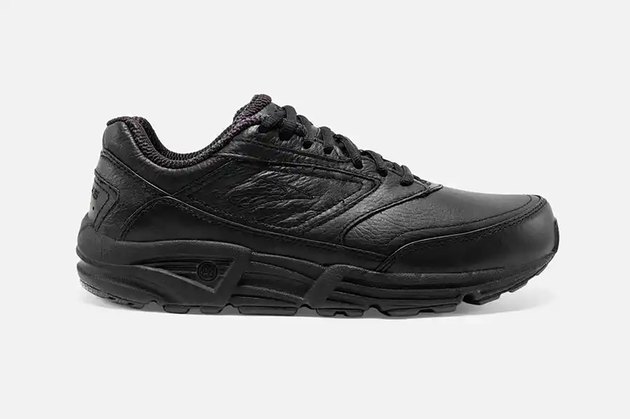 Having flatter arches can put pressure on your heels as you walk, which can leave you sore and uncomfortable. Marks recommends seeking out a shoe with a spacious fit and a wider platform and toe box, which will help your arches remain in a more neutral position. Brooks Addiction Walkers do just that. Plus, they boast slip-resistant soles to keep you steady on any terrain.
Best Walking Shoe for Overpronation: New Balance 813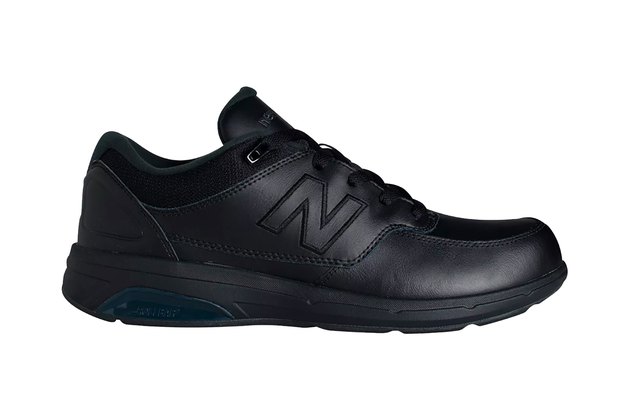 Overpronating can cause the arches of your feet to roll inward, increasing the risk for injuries like shin splints or pain in your heels or back. "You'll need a shoe with more arch support. They're often called 'motion control' or 'stability' shoes," Brown says. New Balance's 813 model offers Rollbar technology, which helps stabilize your foot and keep your arches from rolling in while you walk.
Best Walking Shoe for Supination: Merrell Moab 2 Mid Ventilator
Best Walking Shoe for Bad Knees: Asics Gel Cumulus 20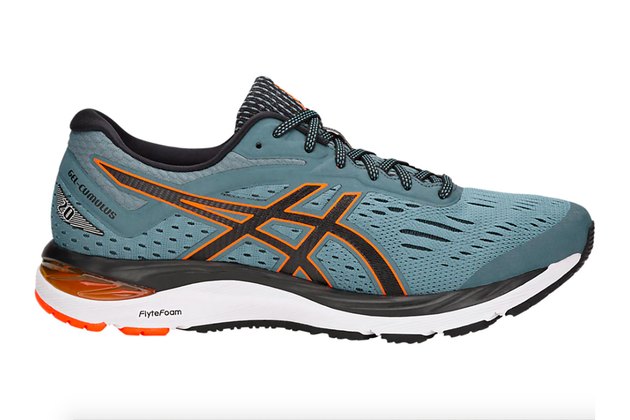 Knee pain shouldn't stop you from walking. In fact, low-impact exercise can actually help keep stiffness at bay and promote better function, according to the Mayo Clinic. The right shoe is a must, though. "They should provide a good cushioning system to help with shock absorption," Marks says.
"Also consider one that has proper arch and heel support to distribute your weight evenly." With rear foot and forefoot gel technology cushioning systems, Asics' Gel Cumulus are a great option.
Best Inexpensive Walking Shoe: Konhill Lightweight Walking Shoe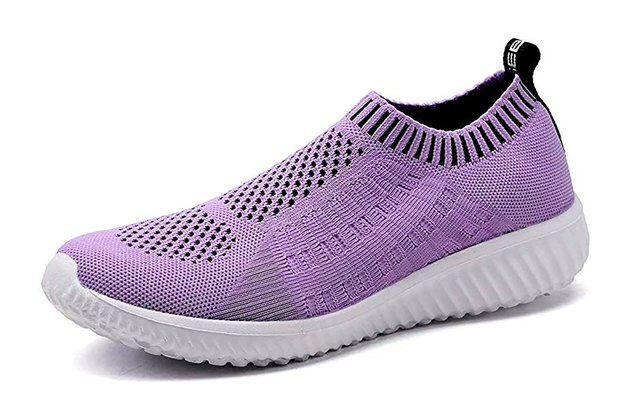 Comfortable, supportive walking shoes are a smart investment — but they don't have to cost an arm and a leg. These mesh, slip-on sneakers are super lightweight and breathable, deliver good arch support and boast sturdy, non-skid soles.
Plus, they've racked up more than 1,400 enthusiastic reviews on Amazon with an average rating of 4.5 stars. And the price is definitely right — around $30. They also come in a ton of fun colors and look good with everything, so you can keep them on even after your walking workout.