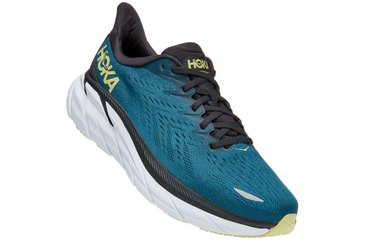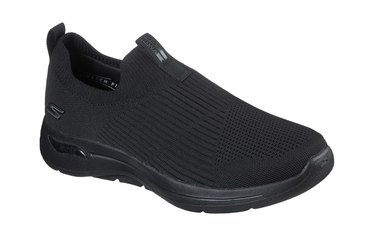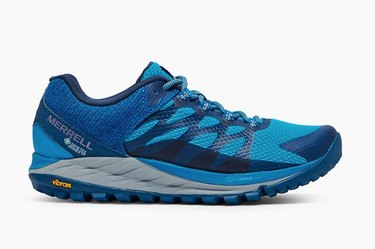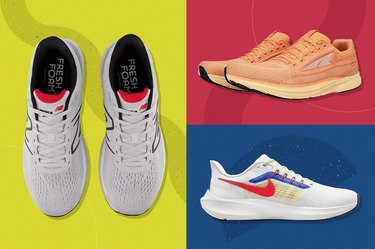 Although they may be stylish, your favorite pair of casual sneakers probably aren't ‌real‌ walking shoes.
Just like you might need cleats for soccer or spikes for track, walking deserves a dedicated pair of shoes. And the exact pair you need depends on a few factors, including your foot shape, arch height, joint health, body size and exercise style.
Treat your feet well and consider these 10 pairs of walking shoes, all recommended by a physical therapist.
We chatted with Melissa Garcia, DPT, CSCS, a Washington-based physical therapist who works with plenty of walkers to get the scoop on the best walking shoes out there. We chose our top picks based on criteria including:
Support
Comfort
Cushion
Durability
Manufacturers typically market shoes according to gender, so we've listed both women's and men's picks below.
However, the main difference between most men's and women's shoes is shoe width and size. In some cases, men's shoes are built for wider feet. So people with bigger bodies may want to opt for men's versions, whereas people with smaller bodies may prefer women's versions — regardless of gender.
1. Best for Walking on Concrete: Brooks Ghost 15
‌Cushion:‌ high
‌Support: ‌moderate
‌Feature:‌ breathable upper
The Brooks Ghost is a fan-favorite runner and one of the best pavement walking shoes, according to Garcia.
Standing or walking on concrete all day can transfer a lot of stress to your joints, which is why this high-cushion sneaker is a safe pick, she says. The Brooks Ghost is best for medium or high arches and offers neutral support.
2. Best Breathable Walking Shoe: New Balance Fresh Foam X 880v13
‌Cushion:‌ high
‌Support: ‌moderate
‌Feature:‌ supportive sock-like upper
If your feet get really hot or sweaty during walks, try the New Balance 880. It has a breathable Hypoknit mesh upper to keep your feet cool, according to Garcia. "It's a neutral shoe with a unique cushioning system," she says. "[It's] very versatile for training, walking or casual wear."
Check it out in a variety of widths from narrow to extra wide. Hint: The extra-wide version, which sports a roomy toe box, is a great shoe choice if you have bunions.
3. Best Trail Walking Shoe for Women: Merrell Antora 3 GTX
‌Cushion:‌ high
‌Support: ‌high
‌Feature:‌ waterproof material
If most of your walks take place on trails or involve some light hiking, Garcia recommends trying Merrell's Antora 3 GORE-TEX shoes. These are some of the best walking shoes for women and offer the lightweight comfort of a sneaker, while giving you the traction and support of a hiking boot, thanks to the grippy tread bottom and rock plate.
These have a breathable mesh upper with a rear strap to keep your foot in place. Plus, the fabric is waterproof, so you don't need to worry about puddles in your path.
4. Best Cushioned Walking Shoe: Nike Pegasus 40
‌Cushion:‌ medium
‌Support:‌ neutral
‌Feature:‌ foam tongue minimizes pressure from laces
The Nike Pegasus is a comfortable shoe built with React cushioning, giving you a springy feel, Garcia says. A light sneaker constructed with airy mesh, it has strategic padding to help reduce hot spots.
The balance of cushioning and reactivity makes the Pegasus one of the best shoes for walkers with obesity or higher body weights. Its soft, pressure-absorbing cushion helps reduce excess joint stress, making it a great walking shoe for those with bad knees or sensitive ankles, too.
5. Best Heavy-Duty Walking Shoe: Asics Gel-Kayano 30
Now in its 30th iteration, the Asics Gel-Kayano is a trustworthy shoe for long-distance walking. It's built with Asics' Gel technology in the forefoot and rear to absorb impact to your joints, meaning you stay comfortable for miles.
"There's lots of cushion throughout the shoe for comfort," Garcia says. "It's also another option for anyone looking for more structure."
The bottom of this shoe is constructed with heavy-duty rubber, which helps reduce wear, giving your walking sneakers a longer lifespan. Consider this pick another one of the best walking shoes for heavier individuals.
6. Best for Knee Pain: Brooks Adrenaline GTS 23
‌Cushion:‌ high
‌Support:‌ high
‌Feature:‌ soft but not squishy cushion
Do your knees give you trouble when you exercise? The Brooks Adrenaline GTS is one of the best walking shoes for bad knees.
"This shoe has similar cushioning to the Brooks Ghost, however it's a more structured option," Garcia says. Translation: It helps stabilize your entire lower body and reduce side-to-side knee stress. It's also super lightweight, making it ideal for longer strolls.
7. Best for Flat Feet: Hoka Clifton 9
‌Cushion:‌ high
‌Support:‌ moderate
‌Feature:‌ high heel fabric for easy pull-on
At first glance, Hoka shoes aren't conventional. But the brand's signature cushioned design is worth a try. This also makes it one of the best shoes for flat feet — especially if you have low aches or over-pronate. (All three issues are related!)
The Clifton is also great for heel strikers, meaning that, with each step, you place your heel on the ground before transferring onto the balls of your foot, Garcia says. "Known for the added meta-rockers, these shoes will feel like you are 'rocking' into your next step," she says. "These are also good options for those who are lacking ankle mobility."
The Clifton has a soft, plush collar that helps ease pressure and friction on the Achilles tendon. It also offers plenty of stability.
8. Best Walking Shoe for Wide Feet: Altra Escalante 3
‌Cushion:‌ moderate
‌Support:‌ moderate
‌Feature:‌ extra wide toe box
All Altra shoes are made with a wide toe box to give your feet plenty of room, Garcia says. That's important if you were born with wide feet or your feet have widened over the years. And when it comes to walking, the Escalante is the winner for the best shoe for wide feet.
It has a soft upper that feels like a sock on your feet, giving you lots of flexibility. The balanced cushioning also gives a stable, comfortable fit when walking with bunions, plantar fasciitis and heel pain.
Heads up that Altras are zero-drop, meaning the heel-to-toe difference is 0mm (most shoes are 5mm or more). If you're used to wearing higher drop shoes, you'll need to adjust to the zero drop over time.
9. Best Power Walking Shoe: Adidas Ultraboost 1.0
‌Cushion:‌ high
‌Support: ‌moderate
‌Feature:‌ springy midsole
When it comes to power walking, fast turnover is essential: Many speed walkers can complete a mile in 15 minutes. That means you need a shoe that offers a well-cushioned and supportive midsole. Enter the Ultraboost.
The shoe's springy but stable midsole is perfect for those who like to pick up the pace mid-walk, Garcia says. They also have a soft and comfortable knit upper that cradles your foot, while still giving you enough support for power walking.
10. Best Slip-On: Skechers Go Walk Arch Fit Iconic
‌Cushion:‌ moderate
‌Support:‌ neutral
‌Feature:‌ comfortable arch support
Planning to take a short walk around the block or quick trip to the grocery store? Slip-ons are as convenient as shoes come. And while most slip-on shoes aren't the most high-quality sneakers, that couldn't be further from the truth where these Skechers are concerned.
These shoes have a podiatrist-certified insole, offering way more support than the average slip-on walking shoe. The insole also molds to your foot, helping reduce the stress on your joints with each step.
6 Tips for Finding the Best Walking Sneakers for You
1. Prioritize Shoe Shape and Fit
Consider the width and shape of your feet when buying a pair of walking shoes. Shoes that are too wide or narrow can lead to calluses or blisters. Wide models are typically best for those with bunions.
If you want a large toe box meant to accommodate wide forefeet, Altra is your go-to.
For speedsters, the best shoes for power walking have a slightly snug fit without feeling too restrictive or pinched. You should be able to wiggle your toes around in the toe box but you also don't want your foot moving around as you pick up speed.
Depending on the height of your arches, you may need a shoe that provides more motion control or cushioning, Garcia says.
So do you need a walking shoe for flat feet or high arches?
Determine your arch type by doing an at-home wet test, per the American Council on Exercise (ACE). After getting out of the shower, step your wet feet on a piece of paper. Low arches, or flat feet, create a wider, full footprint, while high-arched feet create a very narrow footprint. Neutral-arched feet create a footprint that is in between, Garcia says.
3. Find Out If You Pronate or Supinate
If your ankles collapse outward (over-supination) or inward (over-pronation), you may need to look for a more stable, cushioned shoe.
Again, looking to the above wet test can help. People with flat feet tend to over-pronate, while those with especially high arches (less common), often over-supinate.
Another strategy? Place your phone on the ground and record a video of your feet as you walk away from the camera. Then, you can look closely at the film to figure out whether more stable shoes are right for you.
4. Try on Shoes in the Afternoon
When you go shopping for walking shoes, bring along your regular exercise socks and any insoles you wear. Your feet are larger later in the day due to water retention which occurs from being upright. Whether you stand, walk or sit during the day, shop in the afternoon or evening to ensure a proper fit, she says.
Have your feet measured by a professional fitter to confirm your foot size. There should be a half-inch between your big toe and the end of the shoe, and the width of the shoe should be snug, but not tight.
Walk around in the shoes at the store for 10 to 15 minutes before buying them. The shoes should feel comfortable right away. (No "breaking them in" necessary.)
Alternatively, if you buy online, wear your shoes around your house to guarantee fit before scuffing them up on concrete or the treadmill.
5. Look for Cushioning and Support
A shoe with ample cushioning and support absorbs the impact on the joints while keeping your knees and ankles in healthy alignment.
This is incredibly important if you have existing knee pain, foot troubles or a high body weight. Brooks, Asics, Hoka, New Balance, Altra and Nike all offer cushioned walking shoe models.
6. Pay Attention to Construction Materials
Walking shoes made with a leather or synthetic upper hold your foot firmly in place but tend to provide minimal ventilation.
Meanwhile, mesh uppers are lighter and allow for better air flow, Garcia says. Make sure your walking shoes, if made of a particularly stretchy mesh, keep your foot from sliding around.
Also, the bottom on the shoe, called the outsole, should be made of high-density rubber and have treads for traction and durability.