After an injury or surgery, crutches may be necessary to reduce the weight you place on your injured foot, knee, leg or hip. While crutches and your injury may keep you from doing your regular workout routine, they do not need to keep you inactive. Keeping fit while on crutches requires some workout adjustments and a change in muscle focus. Before starting any new exercise program, talk with your physician and physical therapist to find out exactly what you can do and what activities should be avoided.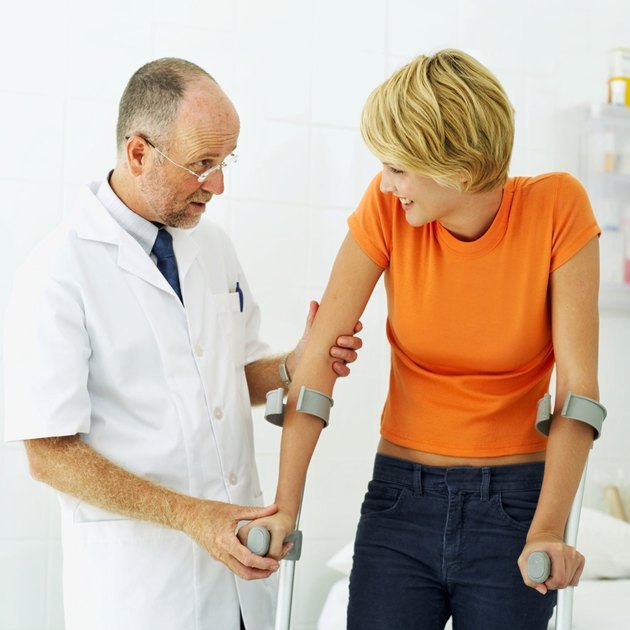 Make the Crutches Work for You
While walking with your crutches may be uncomfortable and a little awkward at first, those crutches actually work as an added piece of exercise equipment. Because walking with crutches is more difficult than basic walking, it requires more energy. In this way, basic crutch walking provides a cardio workout. Before you increase your crutch walking, have your physical therapist ensure that your crutches fit properly in order to reduce strain and increased injury. Begin walking short distances and gradually increase as you are able to.
Take a Dive
Swimming offers a cardiovascular workout that allows you to keep your weight off your injured leg. If you have had surgery and have sutures, it is essential to talk with your doctor before entering the pool. You may need to wait until the surgical site heals before swimming. Traditional swimming in the pool is not your only exercise option. With the use of a flotation belt, you can water walk, placing your injured leg through a range of motion while getting a cardio workout.
Time to Focus on the Upper Half
When crutches limit your lower body activities, take the time to focus on your upper body. Resistance training with the use of exercise machines, free weights or resistance bands allows you to work your arms, shoulders, back and chest. Exercise examples include biceps curls, bench press, hand cycling, chair dips and seated rows.
Don't Forget Your Core
When walking isn't an option, another area to focus your fitness training on is your core. These muscles work to stabilize your spine, pelvis, ribs and hips. Many exercises designed to target core muscles can be performed on the floor, without requiring support from your legs. Aside from basic crunches, other exercise options include reverse crunches, abdominal press and segmental rotation. For segmental rotation, lie on your back on the floor with your knees bent and feet flat. While keeping your shoulders and upper body flat to the floor, allow your knees to fall to one side as far as is comfortable. Hold for three seconds and repeat on the other side.