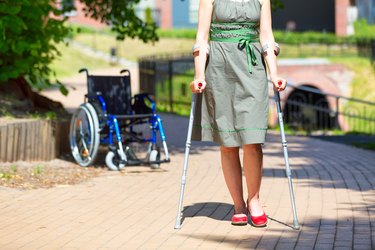 Crutches, used for balance and stability after a leg injury or surgery, may seem like an intimidating addition to your fitness routine. Don't despair! By modifying your cardio and strength training practice to a crutches workout, you can rest and heal while staying on track with your fitness goals.
Warning
While on crutches, it is vital to consult a doctor or physical therapist to plan your rehabilitation and post-rehab fitness. Don't begin any new crutches workout without first speaking with a medical professional.
Activity and Functional Fitness
Your doctor or physical therapist can prepare you to use crutches for weight-bearing movement, an important first step for building a crutches workout program. Depending on the seriousness of your condition, you may require physical therapy. It is vital that you wait until your doctor or physical therapist has cleared you for workouts before you head back to the gym, or before undertaking a program of functional fitness at home.
A study published in February 2014 in the Journal of the American Medical Association found that for people who had experienced a hip fracture, a rehabilitative program of functional exercises, like climbing steps, improved health outcomes even with minimal physical therapy. Any exercise you undertake after, or in addition to, your required rehabilitation must be approved by your healthcare team.
The US Department of Health and Human Services Physical Activity Guidelines for Americans says that adults should perform at least 150 minutes of moderate-intensity, or 75 minutes of vigorous-intensity, aerobic activity each week. In addition, each major muscle group should be trained with strengthening activities twice each week. The recommendations for aerobic activity can be doubled for even greater benefits, but may also be limited by your physical abilities. Ask your doctor how you can meet your fitness requirements.
Strength Training Workouts on Crutches
Talk to your doctor about lifting weights while on crutches. An experienced physiotherapist or personal trainer can help you create a routine to retain strength in your healthy muscles while sufficiently resting and rehabilitating those that need time to heal, and later to regain any strength lost during recovery.
The safest workouts for people on crutches are machine-based, so you don't have to worry about dropping free weights or having a spotter who is aware of how to work with your particular limitations. With medical approval, you can try chest presses, lat pulldowns, back rows, bicep curls, tricep presses and extensions, or the assisted pull-up machine, but only if you are able to get into and out of position safely. Some people may also be able to perform bodyweight exercises, such as modified push ups (kneeling, or on one leg only), one-leg assisted pull ups and core exercises like crunches.
Aerobic Crutches Workout Options
According to the Centers for Disease Control and Prevention, nearly half of all adults with disabilities do not get any kind of aerobic physical activity. As the Department of Health points out, many of the challenges faced by people with disabilities — such as low income, lack of social support, lack of transportation or accessible facilities — are negatively associated with exercise.
Walking and climbing stairs may be your limit while in crutches, but if you want a more strenuous routine, ask about accessing a hand cycle or hand ergometer. Depending on your injury, an indoor hand cycle (like a bike, but for your arms) could be a great option for getting your heart rate up. In a pinch, you may be able to use an under-the-desk "mini bike" as a makeshift hand cycle instead.
You can also ask your doctor if you are able to swim, as a pool's buoyancy allows you to work the large muscles in your arms or legs, without any of the pressure on your injury. You may find a pull buoy or other lower-body flotation device useful for keeping your legs up while focusing on your upper body.