The limp experienced by patients who have undergone a total hip replacement is most often caused by weakness in the muscles that keep your hips aligned when you raise your leg, according to the website TotalJoints.info. The muscles that are often the weakest are the muscles that allow you to move your leg to the side when your foot is off the floor. This limp is often referred to by doctors as a positive Trendelenburg's sign. Strengthening the affected muscles through exercise can minimize, or even eliminate, the limp, doctors say. You should always follow the advice of your doctor or therapist when performing rehabilitative exercise.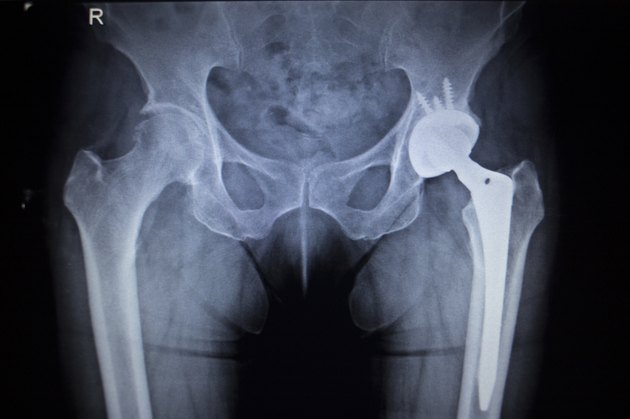 Ankle Pumps and Rotations
These exercises are often prescribed to a patient shortly after surgery to help strengthen the muscles in your hip and improve blood circulation, according to Dr. Nathan Wei on ArthritisTreatmentandRelief.com. The ankle pump is performed by slowly using the muscles in your leg and hip to move your foot up and down at your ankle joint. This exercise should be done several times daily, even every five to 10 minutes, as prescribed by your doctor. The ankle rotation is similar to the ankle pump, but is performed by rotating your foot in a circular motion. They should be performed five times in each direction three of four times daily, as directed by your doctor or therapist.
Leg Lifts
Stand near a table, chair or counter for support. Lift the leg that has been operated on to about 40 degrees off the floor, according to doctors at the Utah Hip and Knee Center. Pause for just a second as you get to the top of the lift and then slowly return to the starting position. The Utah doctors recommend devoting between 15 and 20 minutes a day to this exercise. Perform about 30 repetitions of this exercise during each session, they say.
Lying Supported Knee Bends
This exercise is performed when you are lying down on a bed. Bend your knee and slowly slide your heel toward your hip while keeping your heel in contact with your bed. Dr. Wei suggests that you should keep your knee completely vertical throughout the exercise. He suggests that you perform this exercise three to four times a day and do 10 repetitions each time.