Actions you may take for granted can become more difficult with age. Simply standing up from a chair is difficult for some seniors due to muscle mass and strength losses. Strength training regularly can make such daily activities easier. To be able to stand up from a chair without assistance requires strong leg muscles. Performing exercises that specifically target these muscles, at least a few days a week, will improve your ability to stand from your seat.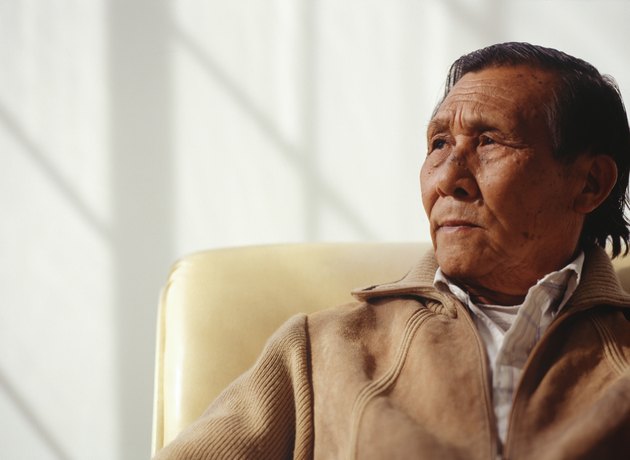 Modified Chair Sit-to-Stand
If you are already having difficulty getting out of your chair, a modified sit-to-stand exercise can help you become stronger. Place an extra cushion or pillow on the chair so you are not seated as low. Elevate the seat height to a point that allows you to stand up, but requires you to put in effort. After you have the cushions on the seat, stand with your feet hip-width apart, facing away from the chair. Without using your arms, slowly lower your behind into the seat. To stand up, place your heels directly under your knees, push through your heels while leaning forward and stand. Repeat this exercise 10 to 15 times. Remove seat cushions as it gets easier, until you can perform the move at the regular seat height.
Leg Extensions
Leg extensions specifically target the quadriceps, or muscles in the front of your thigh. If you have access to the equipment, you can perform leg extensions on the leg extension machine using a weight load that allows you to complete 15 to 20 repetitions. If you don't have access to the machine, or have been advised by your physician not to lift heavy weights, perform the exercise in a chair.
On the leg extension machine, adjust the seat position and weight load to accommodate your body. Place your ankles behind the padded bar. Extend your legs until they are straight out in front of you, then slowly lower your legs, and repeat.
In a chair the exercise can be performed the same way, by extending your legs straight out in front of you. Squeeze your quadriceps at the top and then slowly lower and repeat. You can make the chair version of this exercise more difficult by wearing ankle weights.
Stability Ball Squats
Use a stability ball to do assisted and modified squats to strengthen the muscles in your legs used for rising from your chair. Place the ball on the wall, above your hips. Place your back against the ball, with your feet slightly in front of you, hip-width apart. Slowly bend your legs and push your hips back as you descend, only go down a few inches until you get stronger. Press through your heels to stand up. Perform 10 to 12 repetitions of this exercise.