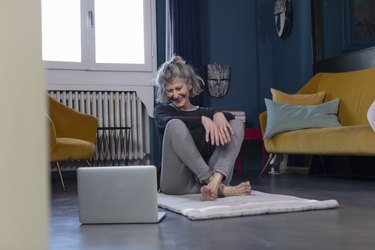 When you were a tyke, you probably plopped down on the floor to play and sprung back up just as seamlessly. But as we age, getting up with grace (and without grunting) isn't as easy.
Fortunately, with practice, you can strengthen your getting-up-from-the-floor game.
Here, Lee Hanses, PT, DPT, a physical therapist from Bespoke Treatments in Seattle, shares simple moves that can help you more easily get off the floor. Incorporate them into your workouts or do them whenever you find yourself hanging out on the floor.
Move 1: Split Stance Squat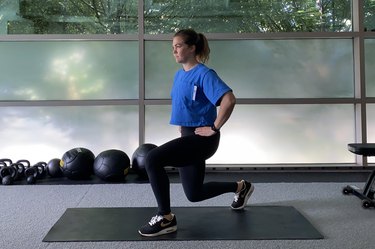 Begin standing and place one foot in front of the other Your hands can be on your hips or at your sides.
Bend your knees so your front thigh lowers as far as comfortable or until it's parallel with the floor.
Keeping your feet planted, come back up to a split stance.
Do all reps, then switch sides.
Move 2: 90/90 Hip Switch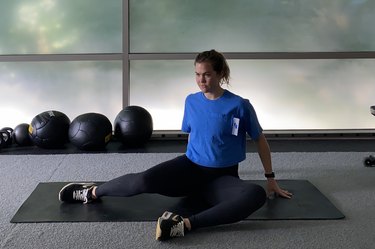 Sit on the floor with your knees up and feet planted wider than hip width. Your hands can be on the floor behind you for support.
Drop both knees to one side, keeping your feet in the same position. Hold for 5 seconds then switch them to the other side.
That's one rep.
This dynamic hip stretch improves lower-body mobility, which is essential for getting up from the floor, Hanses says. It also feels great on tight hips.
Move 3: Adductor Rock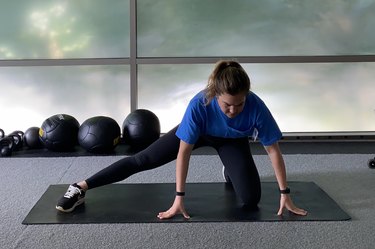 Get on one knee and stretch your other leg directly out to your side. (Place your knee on a pillow if you need cushion.)
Place your hands on the floor in front of you and sit your pelvis back towards your heel as far as you can.
Rock forward again, feeling a stretch through the inner thigh of the outstretched leg.
Do all reps, then switch sides.
This move helps enhance mobility in the muscles of your inner thighs, called your adductors, which play an important role in balance and alignment, Hanses says.
Move 4: Hamstring Stretch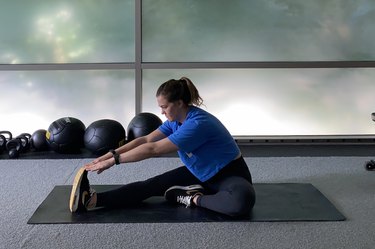 Sit on the floor with one leg outstretched and the other bent so the bottom of your foot is on the inside of the outstretched leg.
Keeping your spine straight, reach for the foot of the outstretched leg. Hold for 30 to 60 seconds.
Switch sides.
This stretch increases flexibility in your hamstrings, which may be shortened and tight if you spend a lot of time sitting.