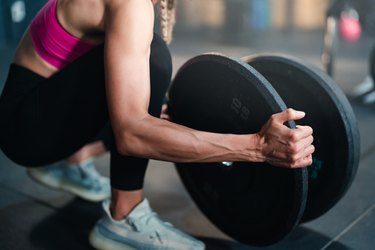 Most people think a landmine is an addictive internet game or an explosive device, but it's also the name for a piece of equipment that anyone who wants to get stronger needs to know about.
If you're not familiar, the landmine is a stainless steel "insert sleeve" attached to the floor that's designed to secure one end of a barbell to the ground.
"By bolting one end of a barbell to the ground, the landmine allows you to add weight to the other end of the barbell and move it multi-directionally," says certified strength and conditioning coach Jake Harcoff, CSCS, head coach and owner of AIM Athletic.
The tool has the power to transform a barbell from just a power and Olympic lifting tool into a device you can move vertically, horizontally and diagonally.
"The ability to move the barbell through a variety of different planes of motion gives you the opportunity to strengthen muscles that are normally under-developed," says physical therapist Grayson Wickham, DPT, CSCS, founder of digital movement platform Movement Vault. Over time, this can help reduce your risk of injury, while also giving your muscles a more 'full' look, he says.
Read on for three underrated landmine exercises to incorporate into your routine for stronger, more resilient muscles. (If you're new to the landmine or are looking for a few more common moves, check out our list of best landmine exercises!)
Tip
With all of these landmine exercisers, Wickham recommends starting with an empty barbell. "It's always best to learn the movement pattern with an unweighted device before loading weight," he says.
Shop Our Favorite Barbells and Landmine Attachments
1. Landmine Single-Leg Romanian Deadlift
Single-leg Romanian deadlifts are harder than, well, a rock in a hard place. Meaning: Very.
A unilateral deadlift variation, the standard single-leg Romanian deadlift requires that you balance on one leg while moving a barbell from your thighs down to the ground, then back up. It's a very effective exercise for improving hamstring and core strength, according to Wickham.
Because you're using one leg at a time, the movement helps you fix any muscle imbalances between your two sides, he says. "Most of us have a stronger leg due to the fact that we favor which foot we take off with when we walk or run, which unilateral lower-body movements will expose and solve," he says.
Here's the thing: The standard single-leg Romanian deadlift requires such a tremendous amount of balance it may not be accessible to everyone hitting the gym ‌—‌ and that's where the landmine variation comes in.
"The fixed barbell adds a support and grounding component to the single-leg Romanian deadlift," Harcoff says. This reduces the balance requirement, which allows more people to do it with sound form, he says.
Tip
Choose a weight you can crank out a high number of reps with.
Region
Core and Lower Body
Stand next to the side end of the free end of the landmine.
Hinge forward and grab the end of the barbell with the arm closest to the port, palm facing down. Then, return to standing. This is your start position.
Think about pulling down on your ribcage to brace your core.
Next, bend at your waist and let the foot closest to the barbell shift back behind you so that you're balancing on the other foot.
Continue hinging your hips and lowering weight toward the ground until you feel a stretch in your hamstring.
Drive through your planted foot to return to standing.
Repeat.
2. Lateral Landmine Squat to Press
A lateral landmine squat to press marries a landmine squat with a landmine overhead press, then adds a rotational flair. Sometimes known as a lateral landmine thruster, this full-body movement requires starting in a squat position then rotating to the side as they simultaneously press the weight overhead, Harcoff explains.
While the rotational element makes the movement more advanced, it also makes it more effective at improving your rotational strength, he says. Rotational strength is essential for being able to safely execute daily tasks like loading a dishwasher, transferring clothes from the washer to dryer or getting out of a chair.
But it's especially important for boxers, golfers, baseball players and hockey players who rotate regularly in their sport, according to Harcoff. "Because the lateral landmine squat to press incorporates energy transfer and a rotational component, it's really one of the best exercises for [those athletes]," he says.
Position your body to the side of the landmine, feet hip-width apart and toes turned out,
Grab the end of the barbell with your outside arm with an underhand grip and pull it toward your shoulder. This is your start position.
Keeping a tall chest, sit back into the bottom of your squat.
Press through your feet to stand explosively while pressing the barbell up overhead. As you're rising, simultaneously rotate toward the port, letting your far foot pivot on the floor.
Re-plant your pivot foot and return to the start position.
Repeat.
3. Landmine Single-Arm Wide Row
Put simply, the landmine single-arm wide row is the ultimate back attack. A variation on the row, this landmine exercise excels at working your core and upper back, according to Harcoff. As such, it can help improve posture.
"The upper back has a profound impact on your posture because it can help pull your shoulders back," he says. "When you train your upper back effectively with a movement like the wide landmine row, you'll see that you're less slouchy when you sit."
Region
Core and Upper Body
Stand next to the landmine, so the head of the barbell is directly over the laces of the shoe closest to the port.
Brace your core, hinge your hips back and lean your chest forward to grab the head of the barbell with the hand closest to the barbell with an overhand grip. This is your start position.
Keeping your core tight and hips still, pull your elbow straight back behind you until the barbell is at armpit height.
Squeeze your lats at the top of the movement before lowering the bar back to the starting position.
Repeat.