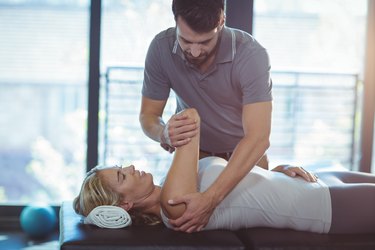 When you have an injury, you want to get better quickly so you can get back to exercise and the activities you love. A skilled physical therapist can help you heal and prevent any future problems resulting from an improperly healed injury. Once you are healed, you can work with a personal trainer who can design a fitness program to help you get back to your pre-injury fitness level -- or help you get even fitter.
Physical Therapist Scope of Practice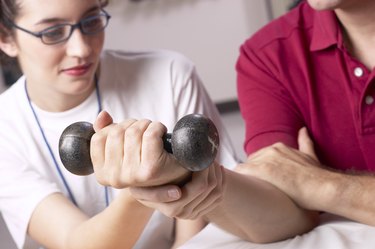 Physical therapists diagnose, treat and rehabilitate patients who have an injury or condition that limits their movement and prevents them from performing everyday activities as well as sports and exercise. Their job is to help patients move independently, alleviate pain and prevent disability.
To do this, physical therapists asses the patient's medical history and perform a movement and function analysis. They then develop an individual treatment plan that may include exercises, functional movement training, the use of equipment such as canes or crutches and manipulation of joints and muscles to enhance movement and ease pain.
Personal Trainer Scope of Practice
Besides designing exercise programs, personal trainers also coach clients to a healthier and more active lifestyle and help prevent injuries by ensuring proper exercise technique and safety. Once a client has been released from treatment by a physical therapist, a personal trainer may help the client follow through with the physical therapist's exercise recommendations.
Trainers may also screen movement patterns to ensure that clients can move well without pain or severe limitations. If limitations are discovered, trainers must not continue to train the client, but refer them to a qualified rehabilitation professional. Trainers should not attempt to diagnose or treat injuries or musculoskeletal abnormalities or imbalances.
Physical Therapist Education and Qualifications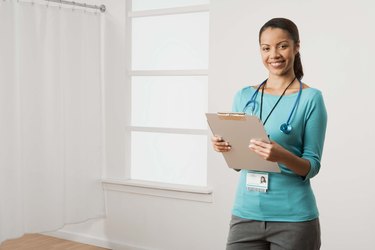 Physical therapists must earn a physical therapist degree from a program accredited by the Commission on Accreditation in Physical Therapy Education, or CATE. Most programs require enrollees to have earned a bachelor's degree prior to admission.
Physical therapists must also be licensed by the state they practice in, pass the National Physical Therapy Examination and fulfill individual state requirements such as jurisprudence exams, according to the Bureau of Labor Statistics. They must also take continuing education courses to keep their practice updated to maintain their license.
Trainer Education and Qualifications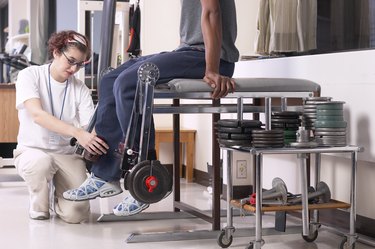 The profession of personal training does not have an educational standard and is self-regulated. Trainers can have a master's degree in biomechanics with five years of experience working at a clinical and athletic setting, or simply a weekend certification with no college education and no experience.
Employers often set requirements for hiring personal trainers. They may require personal trainers to be certified by a fitness organization accredited by the National Commission for Certifying Agencies, such as the American Council on Fitness. Personal trainers must study for and pass an exam to receive certification. They must also have a certification in first aid and automatic external defibrillator, or AED.
Expert Insight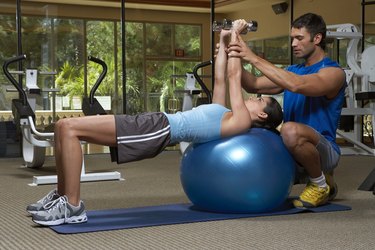 A personal trainer may perform the work of a physical therapist only if he is also a licensed physical therapist. Some personal training certification agencies provide a clinical exercise certification for trainers that qualifies them to conduct assessments and devise training programs for people with certain illnesses and diseases. The prerequisites for this certification vary, but typically a bachelor's degree in exercise science and some practical experience are required.
When you have an injury, it's always best to see a physical therapist first. Your physical therapist will devise a treatment plan which may include working with a qualified personal trainer or clinical exercise specialist.