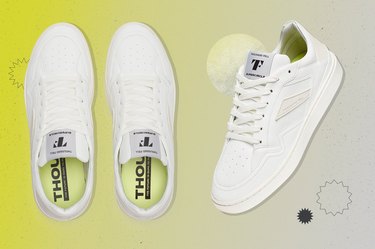 When it comes to just about any activity — traveling, running errands or just going for a leisurely stroll — you'll most likely find me wearing a classic pair of white sneakers. Not only are they a comfortable option for any occasion, but they also pair so effortlessly well with everything, from athletic outfits and summer dresses to the classic T-shirt-and-jeans look.
If you can't already tell, I'm a huge fan of casual shoes — especially when it comes to white sneakers. So, when I came across these Thousand Fell Court sneakers in white, which the company claims to be "the first recyclable sneaker," I was definitely intrigued and wanted to try them out for myself.
Plus, they look like almost an exact dupe of my Reebok Club C 85 shoes that I wear pretty much every day, wherever I go.
With that being said, here are my honest thoughts on the Thousand Fell Women's Court White Sneakers.
What I Love About the Thousand Fell Women's Court Sneakers
1. They're Ultra-Comfortable
My favorite aspect of the Thousand Fell Court shoes is that they are ‌super comfortable‌ to wear. Unlike most casual sneakers, I didn't have to break these in. I wore them straight out of the box to run errands and for casual walking during my daily walks but didn't experience any pinching, chafing or tightness.
The shoes — including the insoles — are made from recycled bottles and yoga mats, which provide plenty of cushion and support with every step you take. Plus, the mesh liner in the shoe is coated in aloe vera, which adds an overall soft touch to your feet (if you decide to wear them sockless).
They also fit perfectly for my petite and narrow feet when I wore them with thick athletic socks or even with sleek thin socks, making them my new favorite go-to pair of white shoes for anything I do.
This pair (which I got in a women's size 5.5) also didn't feel super wide or loose compared to other classic sneakers I've worn, like the Adidas Women's Superstar shoes that tend to run a bit more spacious.
The Court white sneakers run true to size in my experience, so you don't have to worry about sizing up or down. They come in 11 different sizes for women (from a size 5 up to a size 10, including half sizes) and in men's sizes 8 to 13.
2. They're Super Stylish and Clean-Looking
As I shared earlier, I tend to wear white sneakers on most occasions. These sneakers feature all-white soles, stitching and uppers that truly give them a fashionable, pristine and clean look.
Not only that, they are guaranteed to pair well with pretty much anything in your closet. I chose the Court sneakers in all white, but they do feature hints of off-white (almost like a light grey), which I think gives them a bit of personality.
But if you're looking for a small pop of color, the sneakers are also available in 13 different shades, including stone, dune, black, jade, starstruck yellow, pink and green. Some of the shoes only feature a hint of color on the tongue and heel, which I think is a great option that doesn't distract from the overall white look of the shoe.
3. They're Moderately Stain-Resistant and Odor-Free
If you own a white pair of shoes, you know how hard it is to keep them clean. But I found this pair stayed white after multiple wears outdoors.
That's because every pair is glazed with natural quartz, the same crystals used in watches, timers and clocks. This stain-proof and water-resistant coating can prevent things like dust, dirt or liquid from sticking to the shoe's surface and causing any dark scuffs or blemishes.
I will say I have accumulated some tiny scuffs and stains, particularly on the sole of the shoe, but they are moderately easy to remove with a damp rag or towel.
The shoes also have a breathable mesh liner with aloe vera and castor beans, which is meant to be sweat-wicking and breathable. These materials can also help combat bacteria and control foot odor, especially if you wear them without socks. (More on that later.)
4. They're Truly Sustainable
The last feature I appreciate about these shoes is that they are sustainable for the environment. Thousand Fell only selects and uses materials that are responsibly sourced, meaning materials that can either be biodegraded, recycled to make new shoes or upcycled into materials for new projects.
For example, they use aloe vera for the shoe's mesh sock liner, natural and recycled rubber for the outsole, recycled yoga mats for the insoles, recycled bottles and corn waste to make leather-like uppers and laces, and sugar cane and coconut husks to replace many of the plastic components commonly found in footwear.
In addition, they also have a sustainable recycling program that allows customers to send in used items in any condition that get recycled in return for store credit.
Plus, once your pair of Thousand Fell sneakers reach the end of their lifespan, you can return them to the company for them to recycle. They will clean and reuse most components of the shoe.
What I Don't Love About the Thousand Fell Women's Court Sneakers
1. The Lack of Breathability
While Thousand Fell claims their sneakers are breathable, especially with the use of natural products like castor bean oil-based foam, I didn't really have that experience. Because the shoes are form-fitting and fall more on the snug side, I felt that my feet got hot and sweaty quickly (that's also because I live in St. Louis and the weather conditions here get super warm and humid).
I also wore these shoes once without socks and didn't like the feeling of how sweaty and sticky my feet got. (Let's just say I won't be going sockless again while wearing this pair).
However, I found the odor-resistant claims seemed to be true (luckily, my shoes didn't stink after I wore them sockless)!
2. They're More Costly Than Other Options
The only other thing to be aware of is that these shoes are a bit costly compared to other options on the market.
The Court shoes cost $135 plus an additional $20 fee, which the company says is a "recycling deposit" that's returned to the customer in the form of a $20 credit toward the purchase of a new pair. This is an incentive from the brand for its customers to continue buying and recycling their products.
Compare that to other similar classic white sneakers on the market: Reebok Club C 85 ($75), Adidas Superstar ($100) and Nike Air Force 1s ($110).
Are Thousand Fell Shoes Worth Buying?
Overall, I think these shoes are a sustainable, stylish and odor-resistant alternative to some of the other options on the market. They fit well and feel comfortable, and they are versatile for any indoor or outdoor activity you decide to do (whether that be running errands or going for a light walk in the park).
These classic white shoes from Thousand Fell are also guaranteed to pair well with anything in your wardrobe.
While it can be a higher price point for some, I think it is fair to pay, especially with all of the sustainable and environmental perks that come with it.
These shoes have become my new favorite go-to white sneakers and you won't be disappointed if you decide to snag them too.
Is this an emergency? If you are experiencing serious medical symptoms, please see the National Library of Medicine's list of signs you need emergency medical attention or call 911.