Overview
Step 1
Walking offers many health benefits, such as helping you to burn calories and improve your cardiovascular stamina, reports the California Podiatric Medical Association. Unlike many other forms of exercise, taking up walking doesn't require a gym membership or expensive fitness gear other than a good pair of walking shoes. The American Academy of Orthopaedic Surgeons warns that it's important to get a shoe with proper ankle support and cushioning to help protect your feet and joints from injury.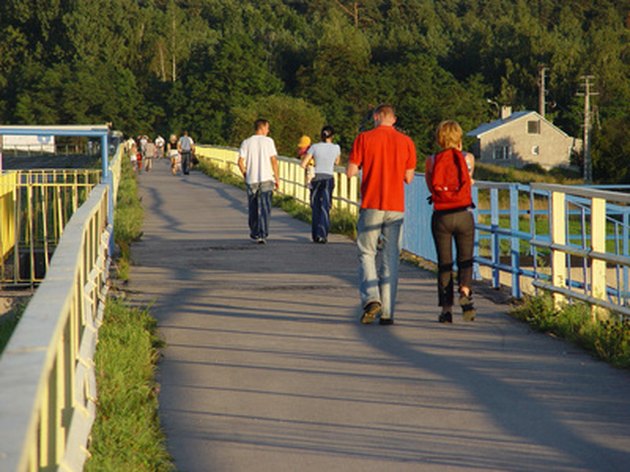 Rykä Muse Walk
Step 1
The Muse Walk was highlighted by "Health" magazine as the best walking shoe on the market. The editors loved its roomy feel. It's deep enough to handle inserts, says the magazine, and they report that it has great support and felt well-cushioned. Rykä makes it with a combination of leather, mesh and synthetic fabrics to ensure a light weight and proper ventilation, which is important on long and strenuous walks. A reinforced bar built into the sole helps to control your motion so as to keep your ankles from wobbling too much.
New Balance 905
Step 1
The New Balance 905 was highlighted as one of 2010's best shoes by "Men's Fitness" magazine. The editors found that it provided the optimal combination of "support and stability" and helped stabilize your ankles to keep your feet from rolling inward. New Balance built it with a proprietary stability system to boost its support while also keeping the shoe's weight down, and also added shock absorbers down the entire length of the shoe.
Avia A104W
Step 1
After testing dozens of shoes, "Consumer Reports" magazine, the official publication of the nonprofit Consumers Union, ranked Avia's shoe as one of the best performers in terms of comfort, support, stability and price. It's built with breathable fabric lining to help wick away moisture, while a proprietary stabilizing system keeps your feet from wobbling. The sole and body are made with injected plastic for durability and a lightweight feel.
Reebok Versawalk DMX Max
Step 1
Su Reid-St. John, the senior fitness editor for "Health" magazine, tested Reebok's walking shoe and found it performed exceptionally. She loved its snug fit and said they felt "cushioning" while also maintaining support for your ankles and feet. An emphasis on synthetic mesh for the shoe's construction keeps your feet dry. The only drawback that the magazine noted was the color of the shoes, which only come in plain white.