Walking is a fantastic way to burn calories and improve cardiovascular health, but finding effective ankle support shoes for your walks can be difficult. According to the American Council on Exercise, the risk of exercise-related injuries is 1 to 5 percent for walkers. While your risk for walking injuries is lower than for participants in other forms of exercise, it is still imperative that you find ankle support shoes that allow you to get your steps in safely.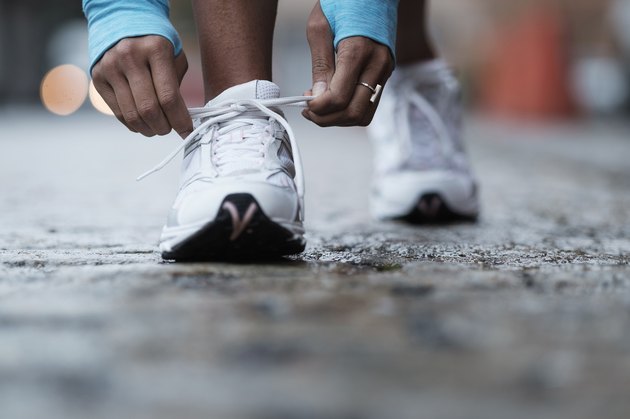 Tip
Asics, Saucony, Ryka, New Balance and Reebok offer some excellent walking shoes for ankle support.
Features to Look For
According to the Mayo Clinic, one of the fundamental parts of planning a walking routine is finding the proper footwear. You should look for comfortable shoes that fit your feet, and they should also have good shock absorption and be fairly lightweight.
If you're looking for walking shoes to support your ankle, you should pay particular attention to finding a comfortably snug heel collar, as it cushions and secures your ankle, although factors like tread, impact reduction and other aspects of comfort and support factor in as well.
When you're shopping for shoes, it is usually preferable to try them on in a store where you can be accurately sized and try walking around in them. Walking shoes should fit comfortably right away, and your heels should fit securely in both shoes so that you will be less likely to injure yourself while walking.
Asics GEL-CONTEND 5 Walker
ASICS have long been one of the most popular ankle support shoes on the market, and the Asics GEL-CONTEND 5 Walker is a shoe that could work for many different types of walkers. Gel supports in these shoes make them a solid choice for those with arthritis or foot and ankle problems.
This shoe offers a supportive fit, thanks to an internal heel counter, rearfoot GEL technology and the AMPLIFOAM midsole. The Asics Gel-CONTEND 5 walker is available in both men's and women's sizes and in two colors so that you can get your steps in style.
Saucony Omni Walker
Saucony has designed a supportive walking shoe with the Saucony Omni Walker. These shoes provide stability and balance with their Walk Trac outsole. This engineered asymmetrical sole is designed for smooth transitions when doing ankle-friendly cardio. The Omni Walker is available for both men and women and comes in different widths.
Ryka Women's Sky Walk
Made of leather and mesh with rubber soles, the Sky Walk is affordable and colorful, making it another potentially good choice for walkers looking for ankle support. These shoes come in seven colors, and they're lightweight and breathable. Their EVA memory foam outsoles provide you with support and stability on walks. The Ryka Women's Sky Walk walking shoe is available in two widths.
New Balance 1300 Men's Walkers
According to the Physical Activity Guidelines for Americans, adults should get 30 minutes of physical activity a day at least five days a week, meaning that you should look for a shoe that is not only supportive but also durable. These shoes are another solid choice if you're seeking ankle support shoes for walking, especially on natural trails (check out the waterproof outsides).
These rugged trail walking shoes could be a good choice for men in need of ankle support. The New Balance 1300 men's walking shoe uses specifically designed ROLLBAR technology to reduce ankle movement and guard against walking injuries on everything from a stroll to a power walk. These shoes are available in three widths.
Reebok Walk Ultra 6 DMX MAX
These walking shoes are available in both men's and women's sizes. The DMX MAX improves on the Reebok DMX by adding larger airpods for more supportive air transfer underfoot. These shoes also feature EVA midsoles for extra support and comfort-added ankle stability, in addition to MemoryTech memory foam sockliners to enhance walker comfort. Although a little heavier than most walking shoes (13.6 ounces), these shoes are a supportive choice. The Reebok Walk Ultra 7 DMX MAX sneaker is available in two colors.