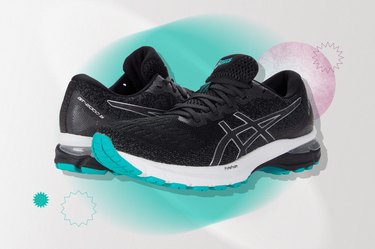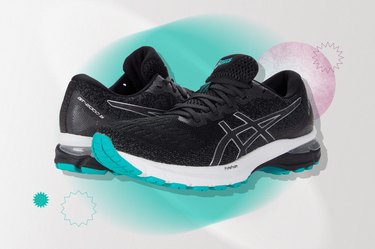 I didn't consider myself a runner when I tried on my first pair of ASICS GT-2000s. But more than 15 years later, I'm still running — and they're still my favorite running sneaker.
Like a best friend, the ASICS GT-2000s entered my life when I needed them most. After Achilles tendonitis and a stress fracture as a wobbly ankled, soccer-obsessed tween, I had to make some adjustments to maintain the same level of activity, my podiatrist said.
First came bulky gel inserts, then custom-made orthotics. Then, finally, a visit to a specialty running store for stability shoes to wear during my conditioning workouts.
I walked out with my first pair of what was to become many ASICS GT-2000s.
The Shoe That Keeps Me Stable
My athletic pursuits and physical fitness have roller-coastered since that first GT-2000 purchase, but my high arches, shaky ankles, sore shins and cramp-prone calves are constants, and so are the cushiony sneakers that support them.
GT-2000s are like realizing you're in love with your best friend: You might get distracted by other love interests until one day it dawns on you it's always been them. Other shoes might be flashier, zippier — but my GT-2000s are trustworthy, stable, always there. (And in These Uncertain Times, all I want is some stability.)
In my career as a health and fitness journalist, I've had the privilege of testing many other types of running shoes for free. Some have made it into my regular rotation for faster or shorter workouts, but I've only ever purchased ASICS GT-2000s — and I won't wear anything else for long runs.
After I became responsible for my own footwear purchases (hi, Mom and Dad!), I got into a rhythm of ordering a new pair of GT-2000s to replace my old sneakers every two years. I've kept it up for more than a decade.
To my surprise, I just realized I'm overdue: My Zappos history shows I should have bought new sneakers in 2020 — a lost year, indeed.
Lacing up the newest version always makes me giddy — and I'm very much looking forward to buying my next pair. (Yes, we runners are weird.)
The gel cushioning in the heel and forefoot is soft enough to feel like running on clouds. Stability features through the midfoot work against pronation to keep wobbly ankles from rolling inward. The running experts at JackRabbit call it "stride-stabilizing structure," and they are not to be argued with. This pro's tip: Lace them up over a pair of Balega running socks for the ultimate cushioned ride.
The breathable mesh upper hugs my feet without suffocating them. Reviewers of the GT-2000 10, the latest model, say the new knit upper is just as airy.
ASICS' signature Flytefoam in the midsole helps propel me forward and moves with me, unlike some other stability shoes that can weigh me down or feel stiff beneath my feet. In fact, I only ever notice hints of stiffness when it's time for a new pair.
It always happens the same way: I go on a couple of runs in a row where my shins feel a little cranky — not enough to stop, but enough to notice. I check that trusty Zappos order history to see when I last purchased my ASICS and it's always just about time to go shopping.
Which is why I couldn't be happier that my overdue shoe purchase aligns with the biggest shopping weekend of the year. If you're not itching for the newest GT-2000 10s, which will run you $130, you can snag GT-2000 9s on sale for 15 percent off. (And while there's a limited supply, the GT-2000 8s are an even better deal!) I have my eye on the Mako Blue/Grey Floss women's GT-2000 9.
ASICS, like many footwear manufacturers, markets running sneakers to women and men. The main differences between most women's and men's shoes are width and size. In some cases, men's shoes are built to support greater weights, so people with bigger bodies may want to try men's versions, while people with smaller bodies may prefer women's versions.
ASICS typically sells GT-2000s from women's size 5 to 13 and men's size 7 to 17, but availability varies depending on the model and color you prefer.