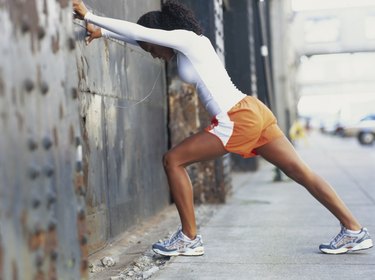 If you're a runner, or you engage in any other high-impact workout, chances are you've dealt with shin splints. A pain, soreness or tightness up the front of your shins (or your tibia), this injury ranges in severity from annoying to debilitating. The good news? You can add stretches and exercises to your routine to help prevent painful flare-ups, or extinguish some of the pain.
Some of these moves are so simple that incorporating them into your daily routine only takes a few extra minutes. Learn exactly what shin splints are and the pre-run exercises that might help treat or prevent the pain.
The Best Exercises for Shin Splints
Miriam Shestack, CPT, group fitness instructor at Equinox, shares her go-to shin splint stretches and exercises you can do before and after a run. Try incorporating these into your workout routine to help prevent or alleviate pesky shin pain.
1. Calf Stretch Against the Wall
Face a wall and press your palms into the wall at shoulder-width distance.
Step your left foot several feet back, keeping your right foot planted.
Lean into the heel of your back foot as you slightly hinge forward.
Hold for 5-10 seconds, and then switch legs.
2. Seated Dynamic Shin Stretch
Sit on the floor with your legs straight out.
Place a long-loop resistance band or long towel around one of your feet.
Gently pull the band towards you.
While keeping resistance in the band, flex and point your foot.
Repeat on each side.
3. Calf Muscle Foam Roll
Activity
Mobility Workout
Sit on the ground with your legs straight out, palms on the floor behind you.
Place a foam roller under your right calf muscle.
Cross your left leg on top of your right.
Keeping your toes pointed, roll forward and back across your calf.
When you're ready, switch sides.
Tip
Calf tightness leads to changes in your running gait that can not only cause shin splints, but can also lead to plantar fasciitis. This is why taking time to foam roll after long runs is so important.
"You should do a total-leg rolling session one to three times per week, as long as it is not creating more soreness," says Erin Truslow, a cycling and triathlon coach and founder of Big Pistachio Coaching and Training. "Rolling out your legs will help release the muscles and fascia around the calf."
4. Foam Roller Calf Flexion and Extension
Activity
Mobility Workout
Sit on the ground with your legs straight out, palms on the floor behind you.
Place a foam roller under your right calf muscle.
Cross your left leg on top of your right.
Point and flex your right toes.
When you're ready, switch sides.
"Over time, running causes a buildup of fascia in the calves, which pulls on the shins and causes shin splints to occur," Shestack says. "Foam rolling helps break up the fascia that has built up in the calves."
5. Shin Splints Foam Rolling
Activity
Mobility Workout
Kneel on the ground on all fours, palms flat on the ground at shoulder-width distance.
Place the foam roller under your right shin.
Cross your left leg over your right calf muscle.
Slowly roll back and forth on the foam roller, pressing your shin down.
When you're ready, switch sides.
Tip
If this shin splint exercise feels uncomfortable, don't cross your legs to ease off the pressure a bit.
So what causes shin splints? According to the AAOS, they're usually a result of repetitive activity (like running) that overworks the muscles and bones of your lower leg.
But you're especially susceptible to them if you've recently changed the duration, intensity, frequency or type of workout. Having flat feet or rigid arches, or running with worn-out shoes, also increases your risk injury, Hamilton says.
5 Ways to Prevent Shin Splints
Though they're painful, shin splints are also treatable, and you can reduce your risk of getting them. Make sure to follow these trainer-approved tips to help prevent shin splints after your next run:
1. Increase Your Mileage Gradually
Oftentimes, shin splints occur after a sudden increase in mileage, hills or speedwork, says Hamilton. So you want to build up your mileage foundation before trying more intense workouts, like hills and sprints. And always make sure to give yourself enough rest between long runs, Truslow adds.
2. Mix Up the Surface You Run On
Make sure your loading is varied from run to run by switching between concrete, asphalt, trail, track, treadmill and grass, Hamilton says. (This also applies to non-running workouts.)
Reduce pressure on your shins by mixing up your workout routine — so, try adding biking, swimming, or Pilates to your week. You can also use strength-training sessions to build strength in your legs without overdoing calf exercises.
4. Wear Proper Running Shoes
You need proper running shoes to run pain-free, especially if you're a new runner. If possible, visit a running shoe store to get fitted based on the type of arch you have and how much you pronate. Aim to replace your running shoes every 300 to 500 miles, Hamilton suggests.
Show your muscles some love before and after a run. Daily stretching — especially focusing on your calves — helps many runners avoid shin splints, says Hamilton. And as Truslow suggests, "a little self-care goes a long way."
Is this an emergency? If you are experiencing serious medical symptoms, please see the National Library of Medicine's list of signs you need emergency medical attention or call 911.