In 2018, I ran my first half-marathon. Throughout my training and during the race itself, I relied on a lot of gear to help make my miles smoother.
Arguably the most important item you need to successfully log these miles are the right pair of running shoes. An uncomfortable pair of kicks not only makes your runs miserable, but can also cause injury.
The Ultraboosts have been a mainstay for Adidas since the original launch in 2015, and the cushy, stable ride gets an upgrade every year. I trained in and ran the 13.1 in the Ultraboost 4.0, and I remember thinking these were the most comfortable shoes I'd ever run in. I had never found a shoe I completely loved, and I was always jealous of friends who had that one pair of shoes they relied on for all their miles. But I knew the moment I started running in the Ultraboosts, they'd be my go-to pair.
Fast-forward a few years, and I'm now running in the newest version: the Adidas Ultraboost 22. I honestly didn't think the shoe could get any better, but I was wrong. Because of it's cloud-like cushion and fashionable look, I'm more excited to go for runs — and walks! — than I have been in a long time.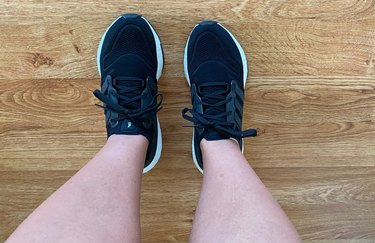 A Quick Language Note
We make deliberate choices about the language we use, but most manufacturers, like Adidas, market running sneakers to women and men. The main differences between most women's and men's shoes are width and size. In some cases, men's shoes are built to support greater weights, so people with bigger bodies may want to try men's versions, while people with smaller bodies may prefer women's versions.
The Adidas Ultraboost 22 shoes come in women's sizes 5 to 12 and men's sizes 4 to 18, but availability varies depending on the color you prefer.
Functionality and Features
When I first laced up, I only planned on going for a walk. But the minute I stepped out my door, I just had to go for a run. I ended up running 3 miles at an easy pace around my neighborhood, and it felt like I was running on a cloud.
I'm usually not a fan of a ton of cushion in my shoes because of the extra weight that usually comes along with it. I prefer a pair that's lightweight and bouncy. But the Ultraboost 22's manage to be cushioned without it feeling like I have bricks attached to my feet.
These shoes are on the heavier side — 10 ounces in weight — but they don't make you feel like you're dragging at all. In fact, the Ultraboost 22's have 4 percent more forefoot energy return than the previous model. But don't just take my word for it: Jessica Campbell-Salley, LIVESTRONG.com's senior fitness editor, tested these shoes and felt the same way.
"The responsiveness is huge and makes them extremely comfortable for workhorse running (solid, nothing-too-fancy — or fast — workouts) and everyday walking," she says. "It's much easier to get in your steps when you know your feet are going to feel great afterward."
If you're buying the women's version of the shoe, this latest Ultraboost model sports a few more updates specifically designed for a woman's biomechanics.
Adidas took 1.2 million female foot scans, and with that information, redesigned the shoe so it'd have a narrower heel, lower instep and softer cushioning to offer a snugger fit, avoid blisters and prevent overpronation. Campbell-Salley and I noticed these differences, and it really helped with minimizing heel slippage on our runs.
We both appreciated the shoe's sock-like fit — my heels didn't slip out and my feet didn't move at all within the shoe during my runs and walks. Campbell-Salley said that it made her foot feel securely locked in, which is important for logging distance. However, she found she had to wear thinner socks with the 22's, as that sock-like fit tends to compete with actual socks.
One last thing: The Ultraboost 22 is environmentally friendly, too. The shoe's upper is made with yarn containing 50 percent Parley Ocean Plastic, which is an upcycled material created from plastic waste found on shorelines that would have otherwise made its way into the ocean.
Get Your Perfect Pair of Adidas Ultraboost 22 Shoes
It's safe to say I'm a fan of Adidas Ultraboosts and will likely replace this pair with another one when it's time. But for now, the 22's help make my runs more enjoyable — and isn't that all any runner wants?
​​​Ready to log your most comfortable (and stylish) miles yet? Gear up with this perfect pair of running shoes.​
More Running Gear We Love