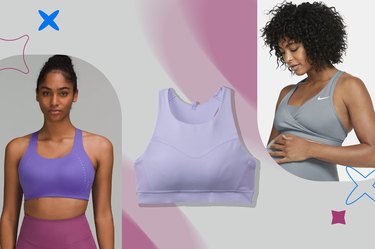 Not enough people talk about it, but minimizing discomfort is a big part of running successfully. After all, running is hard enough as it is — the last thing you want is your workout clothing to be a bother.
That's why choosing the best sports bra for running is a pretty high priority. Wearing a comfortable, supportive and sweat-wicking bra is a non-negotiable — but with so many products on the market, narrowing your search can be tricky.
So, we've done the work for you. After chatting with an expert, we found some of the best running bras on the market, so you can enjoy your long runs and speed sessions distraction-free.
We chatted with Adina Crawford, a Road Runners Club of America (RRCA) certified run coach and ambassador for Black Girls Run and Ciara Lucas, RRCA, LIVESTRONG.com health writer to learn all the ins and outs to buying a new running bra. We used her advice to narrow our top picks, based on the following criteria. You can learn more about how we cover products here.
Fabric quality
Size inclusivity
Support level
1. Brooks Drive 3-Pocket Run Bra
‌Support level:‌ High
‌Available sizes: ‌30A/B to 40D/E
Crawford and Lucas are huge fans of Brooks running bras for their high-quality fabric. Even after numerous washes, all her Brooks bras look practically brand new, she says.
"I love Brooks bras," Crawford tells LIVESTRONG.com. "They are so comfortable, moisture-wicking and fabulous. They wash well and wear well and don't leave an odor."
She also loves the size inclusivity Brooks bras offer. Finding a well-fitting bra is crucial (more on that below) because it helps ensure your chest stays stable and pain-free. The more size options, the more likely you are to find your perfect fit.
Plus, as the bra's name suggests, it has three pockets for max storage — you'll never have to figure out where to stash your keys or credit card ever again.
"As a marathon runner, I train for long hours and miles," Lucas says. "This bra keeps me comfortable and secure the entire time, and the extra pockets allow me to carry my phone and extra fuel without being too much of a burden."
‌Support level:‌ Moderate
‌Available sizes: ‌2 to 12
Crawford is a big fan of Oiselle's bras, too. And she especially loves a bra with a criss-cross racerback, thanks to the extra support.
This bra has a breathable liner, which is ideal for running in any kind of weather (hello, boob sweat). And it also has removable cups for those who prefer a little less support on their chest.
3. Lululemon Enlite Front-Zip Bra
‌Support level:‌ High
‌Available sizes: ‌30C to 40D
Although this Lululemon option is a little on the pricier side, running bras aren't a place you want to be too frugal, Crawford says. Ideally, your running bra should be made with high-quality fabrics that last you a long time. Often, that comes with a higher price tag.
This product is definitely worth the investment, though. Designed for running specifically, the Enlite bra has adjustable straps and a front zip, so you can get a perfect fit. The foam in the cups also gives a light lift, while still offering plenty of support.
‌Support level:‌ Medium
‌Available sizes: ‌XS to 2XL
This classic Nike sports bra has been around forever and as a top-rated product, it's no surprise they keep coming out with new colors and iterations. And as a triathlete myself, this bra takes me from long bike rides to a run with no issue.
And it also has a sweat-wicking polyester fabric, which is another must-have for running bras, Crawford says. Nike's Dri-Fit fabric pulls moisture off your body and quickly dries, so you don't spend your entire run feeling damp.
"The Nike Dri-Fit Swoosh bra is a tried and true piece for me," Lucas says. "This bra is also really versatile and great for other forms of movement and training, too."
5. RUNNING GIRL Sports Bra for Women
‌Support level:‌ Medium
‌Available sizes: ‌XS to 3XL
Although Crawford does encourage you invest in quality sports bras, that doesn't mean you need to totally neglect budget-friendly finds. After all, there's a reason people love buying their workout gear on Amazon: It's affordable with good quality.
And with a sub-$20 price tag and thousands of five-star reviews, this bra definitely falls into that category. This bra wicks sweat and offers enough support for all kinds of activities, including running, yoga or cycling.
6. Athleta Ultimate Zip Front Bra
‌Support level:‌ Medium
‌Available sizes: ‌XXS to XXL in D to DD cups
For people with larger chests, Crawford recommends front-closure bras. These are easier to put on and take off — and if you've ever peeled off a sweaty sports bra, you know it's a workout of its own. This Athleta pick zips in the front and is made specifically for D and DD cup sizes.
The zipper ends also have little fabric tabs to prevent unwanted irritation and chafing while you run. The fabric is also quick drying and has an open racer back, offering plenty of ventilation and breathability.
7. NikeWomen's Medium-Support Padded Sports Bra (Maternity)
‌Support level:‌ Medium
‌Available sizes: ‌XS to 2XL
When it comes to finding a good running bra, you don't want to neglect the small details, Crawford says. This maternity bra has an easy-to-adjust band, perfect for those who are pregnant and expect to need a roomier fit.
The bra is designed with several layers of fabric, making it easier to nurse or pump on-the-go, too. And the cups are made with a specific moisture-managing fabric that's perfect for sweat or nursing.
5 Factors to Consider Before You Buy
Buying a comfortable running bra is your top objective, according to Crawford. That starts with finding a support level that's best for you.
"Get fitted," Crawford recommends. When you get fitted by a seamstress or bra-fitting specialist (most department stores offer these services), you find out your exact measurements. So, when you buy a bra, you can read the size chart and know exactly your size with no guesswork.
These numbers can also help you find the best support level for your chest. For the most part, people with larger chests feel more comfortable in higher-support running bras whereas those with smaller chests can go with medium support.
No matter your chest size, though, you probably won't want to get a low-impact or low-support bra for running. These are generally better for exercises like yoga or Pilates where you don't have much sudden movement.
2. Moisture-Wicking Fabric
This applies to most workout clothing but particularly for running bras, you want a moisture-wicking, quick-drying fabric, Crawford says. Boob sweat is a struggle for just about anyone with breasts, but add a cotton bra into the mix and this common problem turns into a catastrophe.
Avoid cotton running bras at all costs — cotton absorbs moisture and dries pretty slowly. Instead, look for fabrics like nylon or polyester (or a blend of the two). These fabrics wick moisture off your body and dry while you train.
You can also read the product info of any bra you're considering to double check that the fabric has these qualities.
Don't neglect the little details, Crawford says. Yes, fit is the most important part of finding good running bra but the details can take a product above and beyond.
Look for a bra with as much customizability as possible. Chances are, your body is going to change over time, so having adjustable straps and/or an adjustable band can help keep your fit as perfect as possible.
Pockets are another nice bonus. Having side or back pockets for your keys or credit cards is helpful for those who love to take their runs outdoors.
As you may already know, sports bras can get pretty pricey. But splurging on a good, quality running bra is worth the investment, Crawford says. Most high-quality bras can last several years and don't loose their compression and support over time.
It all comes down to your budget, though. There are plenty of excellent options at lower price points (like our Amazon pick above). Shopping during a sale is another great way to save some extra cash, so keep an eye on your favorite sportswear websites around holidays.
Those who menstruate don't want to buy a bra around that time of the month, according to Crawford. Bloating and breast swelling is pretty normal during your period and can throw your sizing off completely.
So, avoid shopping for a new running bra in the week of and week before your cycle.