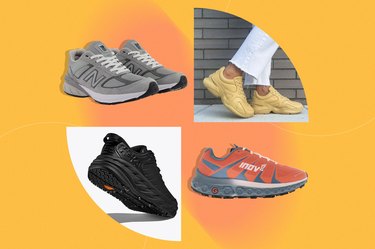 Walking shoes come in all shapes and sizes, which can make it tough to determine which one is best for you. If you're looking to maximize comfort, it might be worth looking into shoes with a wide toe box.
"Walking shoes with wide toe boxes are basically wide-fitting shoes with space around and above the toes in the shoe," Nelya Lobkova, DPM, a podiatrist and the founder of Step Up Footcare in New York City, says. The widest part of the shoe matches the widest part of the foot (the forefoot), and the tip of the shoe is rounded instead of pointed, she notes.
Some people benefit from wearing walking shoes with a roomy toe box, including people with wider feet or deformities in the forefoot, including bunions (a bony bump at the base of your big toe), hammertoes (a joint on your toe points up instead of lying flat) and neuroma (a tissue growth between the toes). For these folks, wearing a walking shoe with a wide toe box can prevent crowding and pain in the toes, Lobkova says.
If your toes need extra space, check out these women's walking shoes with a wide toe box.
Lobkova shared her favorite pairs of women's walking shoes with a wide toe box. She also outlined criteria to remember when shopping for a great shoe. The women's walking shoes below reflect Lobkova's expert recommendations, our own testing and the following criteria:
Cushion level
Arch support
Comfort
Price
Why Are Certain Walking Shoes Marketed to Men or Women?
Walking shoes are typically marketed according to gender, so we have listed women's picks below according to the language used by shoe manufacturers. The main difference between most men's and women's walking shoes lies in the shoe width and size. Often, women's shoes are built to support smaller bodies. We encourage you to wear the walking shoe that's most comfortable for your body size and weight, regardless of whether the shoe is marketed to men or women.
1. New Balance Women's Made in USA 990v5 Core
Lobkova likes that the New Balance MADE in USA 990v5 Core offers a wide toe box, lightweight cushioning, and an Ortholite insole for mild arch support. Plus, it's part of the New Balance Made collection that's been manufactured in the U.S. for more than 75 years.
These hybrid running/lifestyle shoes combine a sporty suede and mesh upper with midsole foam cushioning and a sturdy, stabilizing frame for all-day support and style.
Choose between three no-nonsense color combinations and four widths (narrow, standard, wide and extra-wide), in sizes 5 to 13.
"The HOKA [women's Bondi SR] offers a wide toe box and great cushioning for concrete streets, especially distance-walking," Lobkova says.
This shoe was designed specifically for people who spend most of their day on their feet, such as service industry and medical field workers. It's essentially the most cushioned shoe in the brand's road-shoe lineup, but with an updated silhouette. It features water-resistant leather, a slip-resistant tread and a cushioned midsole to ensure maximum comfort and support.
As one reviewer writes: "I have a lot of foot pain from a past ankle sprain and plantar fasciitis, but these shoes are the most comfortable for standing at work or walking long distances."
The Bondi SR is available in sizes 5 to 11. The only downside: Your color choices are limited to white and black.
3. Klaw Footwear Women's Klaw 528
Lobkova helped design these shoes with the goal of creating a walking shoe that checks the following boxes: a wide toe box, support for the entire length of the foot arch, a light midsole for shock absorption and a deep heel cup for stability. Plus, they have a forefoot rocker to help propel the start of every step.
According to one reviewer: "I have very wide feet and have quite a bit of trouble finding shoes that fit (even other brands that are marked 'wide').... These shoes are saving my feet."
In addition, the Klaw 528 walking shoe is made of soft, rainproof leather and features anti-slip tread to carry you through different environments and weather conditions. Choose between white, yellow, grey and black, in sizes 6 to 11.
The Kuru Women's Quantum makes Lobkova's list of favorites thanks to its spacious toe box, cushioned midsole and grippy tread. According to the brand, the broad toe box of this shoe is ideal for people with neuroma, hammer toes and bunions. It is also one of its best-selling styles for people with heel pain and flat feet.
This walking shoe also boasts airy mesh uppers and moisture-wicking linings to keep your feet dry and a wide, firm base to provide structure and stability with every step. And with nine colors to choose from in sizes 5 to 12, this shoe has the most variety on our list.
5. Inov-8 Trailfly Ultra G 300 Max Women's
Inov-8 shoes regularly make yearly best-of lists, and LIVESTRONG.com's Senior Fitness Editor Jessica Campbell-Salley loves these for their wide toe box and grippy soles.
"I have a wider foot and these make walks on all sorts of terrain comfortable," she says. "It's not always easy to find wider, trail-focused shoes that aren't zero-drop, but these fit the bill."
Built for trail running, these are made to last for miles and miles. If you're walking on anything besides pavement (and sometimes even then!) you need soles that won't slip. These have 4mm lugs made from an impressive rubber. "They're perfect for a bit of everything — roads, forest tracks, grass, mud, snow and more technical rocky bits," one reviewer says.
They come in three colors and range in size from 5.5 to 11.
What to Consider When Buying Women's Walking Shoes With a Wide Toe Box
Even if a shoe is marketed as having a wide toe box, you won't be able to gauge width unless you try it to check how it fits your foot.
When trying on a walking shoe with a wide toe box, pinch the shoe at the tip to ensure you have room above the toes. "You should be able to create a dent in the shoe above the toes," Lobkova says.
Also, try to flex your toes inside the shoe, as if you're picking up a pen with your toes. "All 10 toes should be able to flex without resistance or pressure from the shoe upper," Lobkova says.
2. Soft and Flexible Upper Material
Check that your walking shoes have a soft, flexible upper material, such as soft leather, mesh or neoprene. "This will accommodate any forefoot deformity without causing friction or irritation around the skin," Lobkova explains. Tougher, less-flexible materials won't conform to your feet well and may be more likely to rub against your toes and the tops of your feet.
There is a dearth of research on heel-to-toe drop (the height difference between the heel and toe) and how it might affect walking. Lobkova usually recommends walking shoes that have a heel-to-toe drop between 4 millimeters (mm) and 8mm. "This places less stress on the Achilles tendon and allows for more efficient transfer of energy during the walking cycle," Lobkova says.
Meanwhile, flat shoes (also called zero-drop shoes) provide less support to the Achilles tendon, but experts point out that lower heel drop shoes create a more fluid walking gait. Unless you have a specific restriction at your ankle or Achilles, you may want to try lower-drop shoes (0mm to 3mm).